Mexican authorities are investigating a new rash of highway robberies where groups of Gulf Cartel gunmen are stopping truckers and innocent motorists in Reynosa to take wallets, loose cash, cell phones, and other valuables before allowing passage.
Dashcam video from a commercial truck revealed the moment when the driver was forced to stop along the Libramiento Sur after gunmen carrying AK-47s parked a blue pickup across the highway. The South Loop highway is a toll road around Reynosa connecting the Pharr-Reynosa International Bridge with to the industrial city of Monterrey.
In the video, the gunmen can be seen approaching the truck and are heard demanding the driver's wallet, watch, and other personal items of value. They go through the trucker's bag, stealing various items to include a pair of soccer gloves.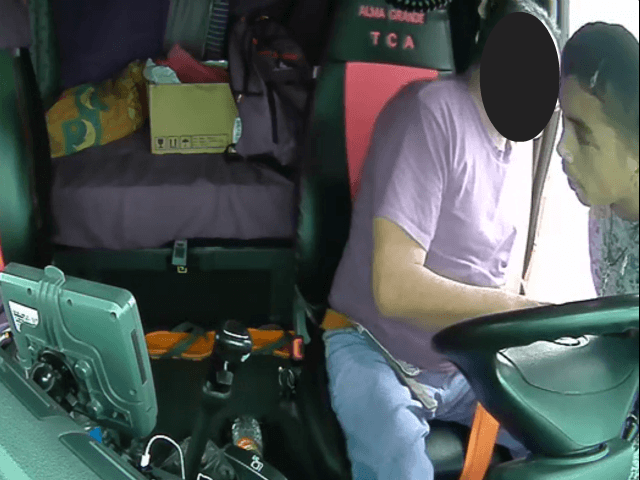 As the gunman steps out of the truck, he yells at the driver, calling him several expletives while identifying with a Gulf Cartel faction under the leadership of a man named "Pezon or Nipple." Comandante Pezon is currently fighting for control of the Reynosa faction, a group at one time known as "Los Metros."
Breitbart Texas spoke with Mexican law enforcement officials who confirmed the authenticity of the video and revealed there is an ongoing investigation into the case. The source added that the robberies are apparently connected to a shortage of cash by the Gulf Cartel, causing gunmen to resort to petty crimes.
While the South Loop is meant to ease traffic for the manufacturing industry in Reynosa to reach Monterrey, the highway was the scene of several gun battles and is routinely used by the Gulf Cartel to rob motorists or steal late-model SUVs.
Ildefonso Ortiz is an award-winning journalist with Breitbart Texas. He co-founded Breitbart Texas' Cartel Chronicles project with Brandon Darby and senior Breitbart management. You can follow him on Twitter and on Facebook. He can be contacted at Iortiz@breitbart.com. 
Brandon Darby is the managing director and editor-in-chief of Breitbart Texas. He co-founded Breitbart Texas' Cartel Chronicles project with Ildefonso Ortiz and senior Breitbart management. Follow him on Twitter and Facebook. He can be contacted at bdarby@breitbart.com.     
Tony Aranda and "A.C. Del Angel" from Breitbart Texas' Cartel Chronicles project contributed to this report.