The Oakland A's called up pitcher Pat Venditte from Triple-A ball on Friday morning. On Friday night, he became the first pitcher to throw with both arms in the big leagues since 1995.
Venditte was playing for the Triple-A team in Nashville, Tennessee when the A's called him up just before Oakland's scheduled game against the Red Sox in Boston on Friday.
The two-handed pitcher uses a specially made glove with two separate thumb holes giving Venditte the freedom to pitch either with his right or left hand.
The human curio debuted at Fenway Park to Judy Collins' "Both Sides Now" in the seventh inning on Friday night. Southpaw Venditte induced a ground out from lefty Brock Holt. As a righty, he allowed a Hanley Ramirez single. Still using his starboard side, Venditte got Mike Napoli to hit into a double play to end the inning.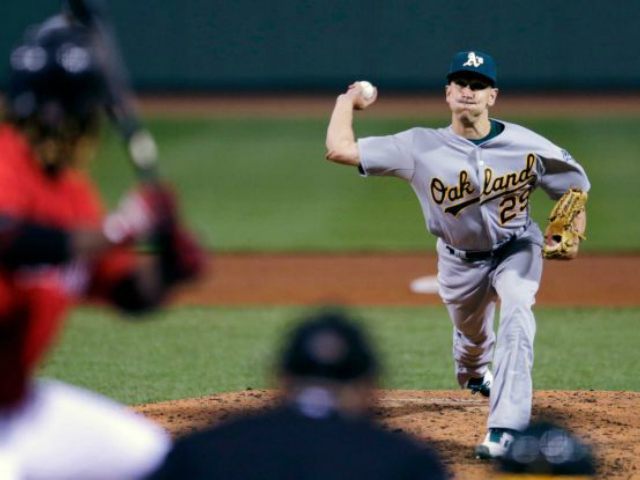 Though Venditte arrived in the majors as advertised, Oakland couldn't overcome the Red Sox, who won the game 4-2. A broken bat flying into a woman's face sitting along the third baseline overshadowed the ballgame. Boston police described the victim's injuries as "life threatening."
Friday's feat makes Venditte the first ambidextrous pitcher since Greg Harris, who bounced around the majors for fifteen seasons before the Montreal Expos allowed him to put both arms to use in his second-to-last big-league game in 1995.
Like Venditte, Greg Harris also pitched righty and lefty and had a special ambidextrous glove made for him. Though his peculiar glove, to say nothing of his unique skill set, served as a conversation piece for years, managers refused to bow to the wishes of the fans until Felipe Alou allowed Harris to record three outs with both arms during an inning in 1995.
An ESPN video profile details that Venditte's dad compelled him from a young age to write, play musical instruments, and throw footballs with both hands to train him as a switch pitcher.
Follow Warner Todd Huston on Twitter @warnerthuston or email the author at igcolonel@hotmail.com