In another example of how the Chicago Public School (CPS) system is failing the Windy City's students, recent data suggests that only 17 out of 100 Hispanic students can read at grade level.
Worse, CPS policies seem to insure that students won't be able to keep up with their reading capabilities.
For instance, CPS automatically advanced its 2021 3rd grade Hispanic students to the fourth grade, even though only 12 percent of them were able to read at grade level, according to Wirepoints.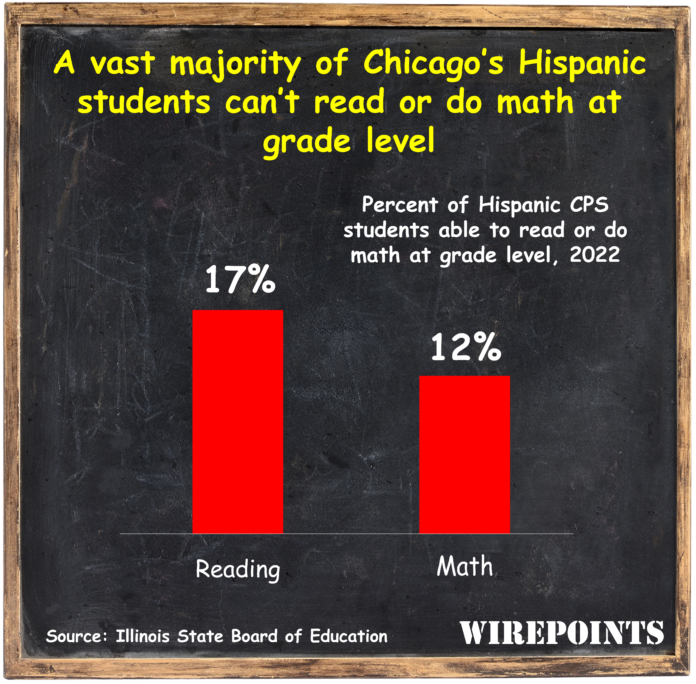 The advancement scheme was typical through the entire system, Wirepoints added.
School officials told parents that 85 percent of freshman students were "on track" to graduate, even though a mere 16 percent could read at grade level. Wirepoints added that the Illinois State Board of Education (ISBE) maintains that the "on track" designation is a "key predictor of high school success."
Further, 19 percent of Hispanics who graduated from high school in 2022 could read at level.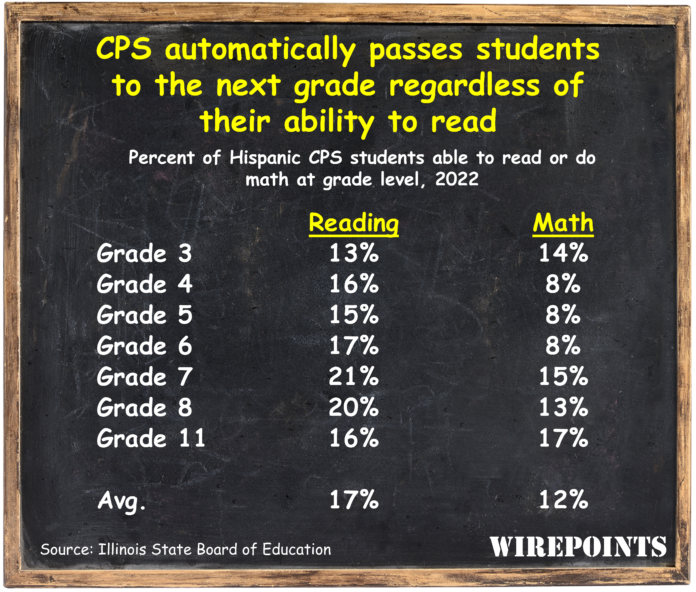 Amazingly, state school board officials rated 101 of Chicago's 148 Hispanic-majority schools as "commendable," even as only 15 percent of their students could read at grade level.
The data comes on the heels of another Wirepoints report that found that 55 CPS school had zero students proficient in math or reading.
Twenty-two CPS district schools had no students reading at their grade level while 33 said none of their students could do math at grade level.
Fifty-three schools across the state said they had no students proficient in math, while 30 more schools said they had no students who were skilled in reading at their grade level.
Not a single student can do math at grade level in 53 #Illinois schools. For reading, it's 30 schools. Not 1 single student. Education data from @ISBEnews

It's yet another indictment of the state's educational system. Via @Wirepointshttps://t.co/rMZlnHjcgK #twill #SchoolChoice… pic.twitter.com/meKyUDo7sk

— Wirepoints (@Wirepoints) February 14, 2023
Wirepoints pointed out that these education failures are putting Chicago's children at risk.
"It's hard enough for today's graduates to succeed in a competitive work environment that becomes increasingly more technical. For those with little-to-no reading and math skills, it will become a near impossibility," the site said.
Money isn't solving the problem, either.
"Just this fiscal year alone, Illinois has allocated $9.4 billion to Chicago Public Schools and the federal government has allocated an additional $1.8 billion to the school system through the American Rescue Plan," Fox News reported in February. But despite the cash, students are not graduating with sufficient skills.
CPS claims that its results are "consistent" with other school districts.
"As 2022 academic scores were reported last fall, Chicago Public Schools (CPS) saw that, by and large, our scores were consistent with other large urban districts. We have reminded our community that these scores are a direct reflection of the pandemic challenges, not a reflection of the extraordinary talent and potential of our students and staff. We expect a strong recovery this year and next and are hopeful these gains will be reflected in our internal assessments, grades and classroom engagement, as well as State assessments," district officials told Fox News.
Follow Warner Todd Huston on Facebook at: facebook.com/Warner.Todd.Huston, or Truth Social @WarnerToddHuston