Note: There's language in this story that's NSFW. And that's fine by us.
When news of Andrew Breitbart's death hit the internet on Thursday, one friend of Andrew's spoke up on Twitter. His name is Daniel Knauf, and he's a major producer in town: creator of HBO's Carnivàle, writer on Supernatural and My Own Worst Enemy, writer-producer on Spartacus: Blood and Sand, and the upcoming HBO/BBC American mini-series Year Zero. Here's what he tweeted:

Knauf is a conservative, you see. And as all conservatives in Hollywood know, being a conservative is the Mark of Cain. After receiving a series of hate tweets about Andrew, Knauf had enough. Here's what he tweeted: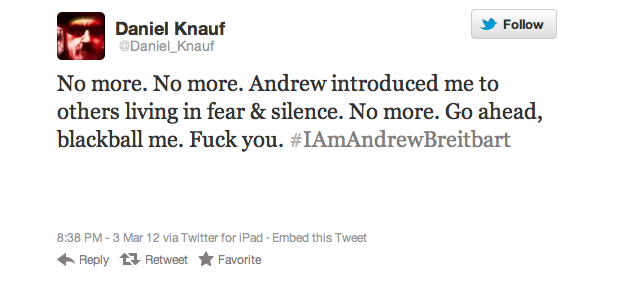 Knauf started out as what he calls a "Kennedy Democrat."
I was pretty much apolitical. The closest I came to studying issues was to pick up one of P.J. O'Rourke's books for a giggle or two. But then, I also got a kick out of Michael Moore's first film, Roger and Me. Politically, I was the proverbial wise-ass kid with a permanent seat in the rear of the classroom where I could safely heckle the nuns without collecting too many stripes across the back of my knuckles.
Then, on September 11th, 2001, everything changed.
Knauf quickly found out that standing with America in the war on terror could get you blackballed in Tinseltown. He didn't stand up, and didn't say anything – but he saw what happened to those who did:
Over the ensuing years, I continued to remain silent whenever confronted by the toxic, batshit-crazy, knee-jerk, anti-intellectual, when-in-doubt-blame-America Leftism that pervades Hollywood. I saw what happened to others if they spoke up or disagreed with the party line. I actually witnessed one writer, who foolishly expressed his support for the war in Iraq, set-upon and viciously berated by no less than six crew-members for almost 20 minutes straight.
That night, he found his car had been keyed in our secure lot.
Hmm… must've been a random vandal.
Incidentally, though he had a storied career, an amazing list of credits and is one of the most versatile, talented writer-producers I know, the jobs gradually dried up for him and now he can't, as they say, get arrested in this town.
But Knauf still kept his mouth shut. Until he met Andrew Breitbart.
Then I met Andrew Breitbart.
Andrew introduced me to others–lots of others–in the industry who shared my belief in the exquisite beauty of the American Constitution, my love for this country and my firm conviction in its exceptionalism.
Not dozens of people, mind you. Not even hundreds.
There are thousands of us.
But there are tens of thousands of them.
Knauf talks about how he only met Andrew "three or four times." But Andrew's death hit Knauf hard.
When he died, my first thought was, "Oh my God. What're we gonna do now?"
We are in the middle of a War of Ideas. At stake is nothing less than the principles of inalienable rights and freedom upon which the United States was founded.
And Andrew Breitbart is dead.
And Knauf knew it was time to stand up.
But last night, something snapped.
12 years of silence. 12 years of cowardice. 12 years of humiliating self-censorship. 12 years of hiding what I think, who I am and what I believe in order to protect my livelihood.
And Andrew Breitbart is dead.
It all just started bleeding out of me, white hot, 140 characters at a time. All my rage. All my indignation. Like the jetting pulse from a slashed carotid, for the whole world to see.
Then came the emails. And the Follows. 1,000 in about an hour. My jaws clenched, tears blurred my vision as I typed (as they blur them now as I type): My hero is dead. Andrew Breitbart is dead.
Long live Andrew Breitbart.
#IAmAndrewBreitbart.
In upcoming days, we will talk with Mr. Knauf. Follow him @daniel_knauf on Twitter. It's time for Hollywood to stand with Andrew. And it's time for us to stand with our friends in Hollywood. For our country.