Many of the elements that made 2013's The Conjuring such a spooky but sweet surprise (and a box office hit) return in the spin-off/prequel Annabelle. Although R-rated, the frights come from everything but violence and gore, the story centers on a functional, loving family, and Christianity plays a central role both in the plot and thematically. Though not lacking in legitimate and honest scares, the unfortunate plot is simply too thin to grab hold of your interest.
As you may recall, Annabelle is the hideous doll haunting roommate nurses in The Conjuring's prologue. This new chapter is set a year prior and tells the tale of how the doll came to be possessed.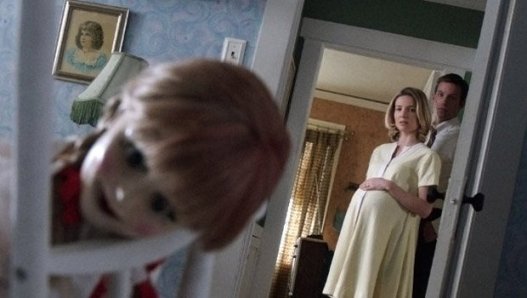 Mia (a very good Annabelle Wallis) and John Gordon (Ward Horton) are the perfect, young, early 1970's Southern California married couple: blonde, beautiful, toothy, earnest, church-going, and pregnant with their first child. She's a happy homemaker. He's starting his residency. Charles Manson and his followers have just been arrested. All is well until Annabelle arrives.
Mia's always wanted an Annabelle, and this earns the cherished doll a special place in the couple's new nursery. The tense set-up and shocking execution of Annabelle's possession is a thing of chilling beauty (and the only truly violent scene), as is a later sequence set in the bowels of a Pasadena apartment complex. There are plenty of other chills, but the lack of a meaty plot makes the stretches in-between feel longer than they really are. It also feels a little repetitive and episodic.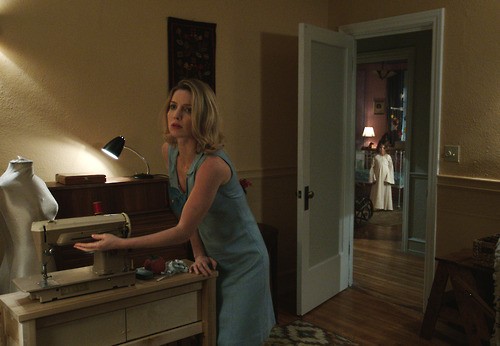 Made for just $2.1 million and ably directed by John R. Leonetti (The Conjuring's cinematographer), Annabelle does look like it belongs on the big screen and owes an awful lot to Rosemary's Baby (Mia's probably named after "Rosemary" star Mia Farrow), but pales in comparison. You do come to empathize with Mia. Missing, though, is a sense of growing dread, paranoia, and claustrophobia – as is any kind of sense of humor.
The great Alfre Woodard is wasted in a subplot that, with a bit more scripting, could have paid off with an emotional one-two. As is, it feels like a bit of a cheat.
Nonetheless, Annabelle will scare you, and its unmistakable pro-life/anti-abortion theme is both cutting edge and refreshing in 2014 America.
John Nolte on Twitter @NolteNC