Here at Breitbart News Network, we're about sharing culture because it reflects the values and beliefs of the social world in which we live. 
This following story is about a Los Angeles-based visual artist whose controversial work often reflects his resistance to mainstream American society as well as human defecation.
Artist Paul McCarthy reportedly sparked outrage in Paris after he placed an 80-foot inflatable sculpture that resembled a sex toy in the heart of Place Vendome.
The artist referred to his contemporary exhibit as "abstract work" that began as a joke about an "anal plug." According to McCarthy, the name was appropriate because it vaguely looked like a Christmas tree.
"At first, I found the anal plug had a similar form to Brancusi's sculptures," he explained. "Afterwards, I realized it resembled a Christmas tree, but it is an abstract work. People can be offended if they want to think of it as a plug, but for me it is more of an abstraction."
Locals apparently didn't approve of the jolly green giant, as it created a storm on French social media. Members from a group called "French Spring," were the first ones to take offense to the statue. 
The organization sent out a tweet on Wednesday that reads: "A sex toy giant 24m high will be installed at Place Vendome, this is where your your tax dollars are going!"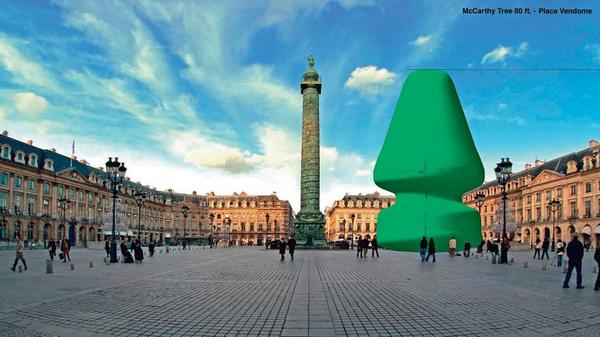 Un sex toy géant de 24 m de haut va être installé ces jours-ci place VendômeContribuables, voilà où vont vos impôts! pic.twitter.com/zl76ar8qE2

— Printemps Français (@nelachonsrien) October 15, 2014
The next day, they reportedly called the Christmas tree "disfigured" and said it humiliated Paris. BBC News said McCarthy was attacked on the street, slapped three times, by a man who shouted because he wasn't French, therefore his work wasn't welcomed.
Vandals seemingly took matters into their own hands when they deflated the massive Christmas tree. Police say they are doing everything in their power to capture the offenders. 
"French Spring" shared an image this morning with the caption: "oops …"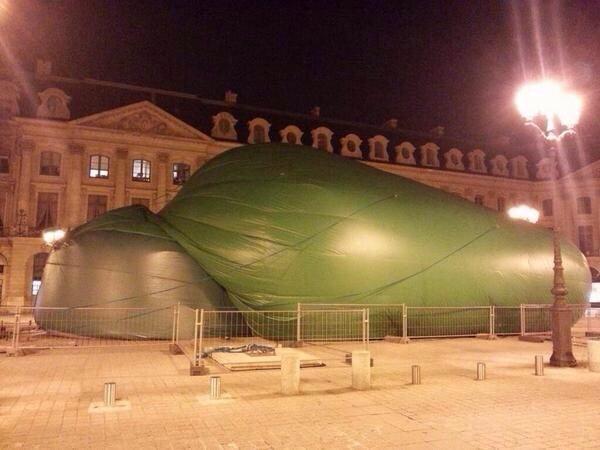 In April 2013, McCarthy placed an inflatable statue in Hong Kong called "Complex Pile" that reportedly resembled a turd. The ending was similar to his "Tree" art. 
Reports blamed extreme weather conditions for its destruction, but a spokesperson for the West Kowloon Cultural District indicated there was a small hole on its side. They did not suspect vandalism.
McCarthy is responsible for the caricature "George Bush and the Seven Dwarfs" that shows the former President having sexual intercourse with pigs.