Actors David Duchovny and Gillian Anderson, stars of the popular sci-fi series The X-Files, took a knee in protest while on the set of their show this week in the latest example of how the NFL's ongoing National Anthem protests have spilled over into the entertainment world.
In a photograph posted to Anderson's Twitter account Monday night, the two longtime co-stars are pictured kneeling on the ground while linking arms.
The photo is captioned simply: "#TheXFiles #TakeAKnee."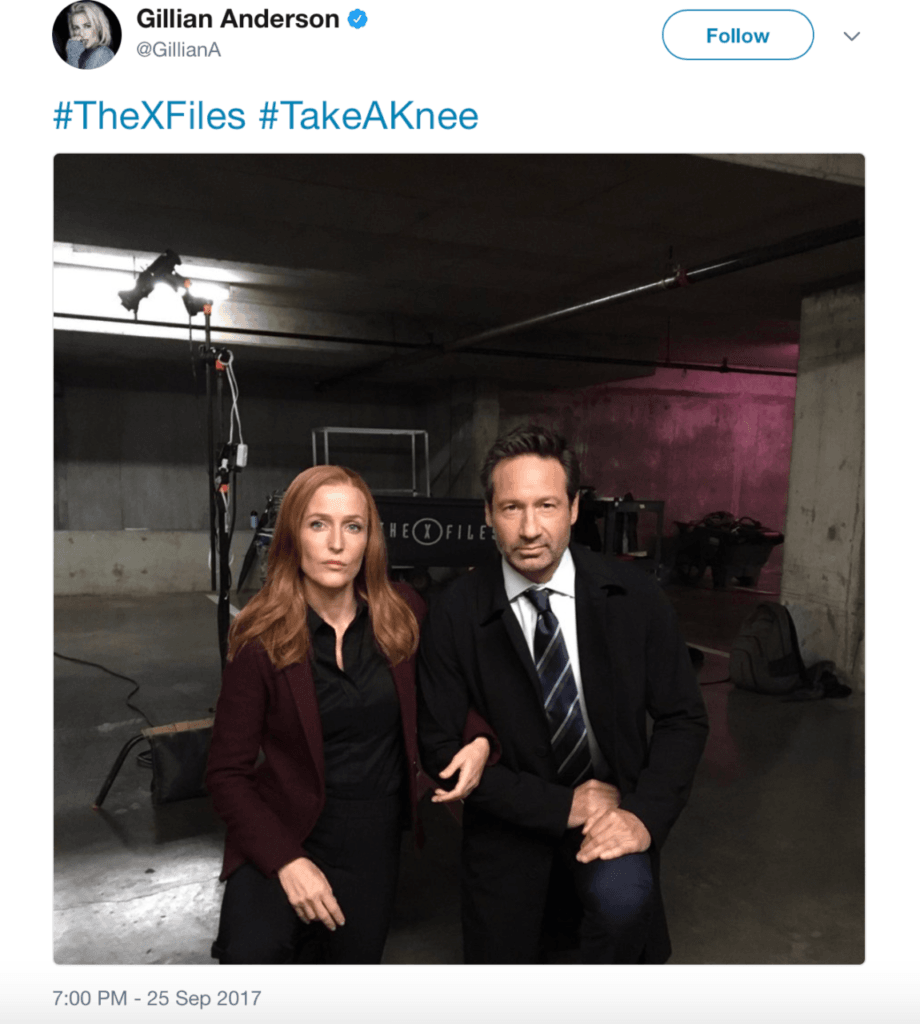 Duchovny and Anderson are currently filming the latest season of the hit sci-fi thriller, which was revived after a long absence from TV in 2016.
Kneeling protests reached new heights this weekend after President Donald Trump on Friday called for NFL team owners to fire players who disrespect the flag and country by kneeling during the National Anthem before football games.
"We're proud of our country. We respect our flag," Trump said during a rally in Alabama Friday night. "Wouldn't you love to see one of these NFL owners, when somebody disrespects our flag, to say get that son of a bitch off the field, right now, out? He's fired."
Trump's comments and subsequent follow-up criticism on Twitter caused a firestorm around the league, with the majority of teams staging demonstrations during the singing of the Anthem ahead of Sunday's games.
But the protest has since spread far beyond sports and into music and television.
Musicians Stevie Wonder and Pharrell Williams each took a knee during recent concerts, while Latin pop star Marc Anthony blasted the president on social media Monday evening, telling him to "shut the f*ck up" about the NFL.
Meanwhile, on the film and television side, a photograph of the cast of CBS' Star Trek: Discovery posing while taking their knees promptly went viral Monday, while actors Chadwick Boseman and Sterling K. Brown, stars of an upcoming biopic about Thurgood Marshall, expressed support for the protesters in a Monday interview with the Associated Press.
Trump continued to tweet about the NFL protests Tuesday morning.
"The NFL has all sorts of rules and regulations. The only way out for them is to set a rule that you can't kneel during our National Anthem!" he wrote.
In an interview with The Guardian in March, Anderson said she does not like to discuss her political views in public, because political discussions are "best left" to people who understand their complexity.
"Not for a second am I going to pitch in, because I don't really know what it is that I'm talking about," she told the paper. "I have opinions, but I don't think my opinions are more valid because I'm an actor and have more of a platform than others."
Follow Daniel Nussbaum on Twitter: @dznussbaum