When you are one of the most photographed women in the world like First Lady Melania Trump is, there are only so many times you can wear a dress.
Some ensembles are obviously never to be worn again, they are part of a moment in time. Take Mrs. Trump's Inaugural gown from French-American designer Hervé Pierre. Even if Mrs. Trump wanted to wear the dress again (she never would), she would not be able to as the piece is now a part of the First Lady Smithsonian National Museum of American History collection.
Even stand-out, style statements like her recent grey Dior ensemble in Paris will likely never be worn again by Mrs. Trump.
But not every dress of Mrs. Trump's wardrobe has to be immediately archived (I'd kill to see her closet)! The solid-colored dresses that the Slovenian-born former model often opts for in her day-to-day White House work can be easily repeated multiple times, as Mrs. Trump has illustrated this week.
On Friday, Mrs. Trump joined President Donald Trump in the East Room of the White House to present the Presidential Medal of Freedom to several heroic civilians. Mrs. Trump recycled a cobalt blue Roland Mouret sheath dress that features a thick silver zipper up the back.
Mrs. Trump first wore the number to a March 2016 Republican primary presidential debate in Detroit, Michigan. For that evening, Mrs. Trump paired the dress with a matching blue clutch and a dark navy coat.
Two and half years later, Mrs. Trump has brought the sheath dress back out, this time pairing it with no accessories and only her favorite Christian Louboutin slick black stilettos.
As Mrs. Trump walked out of the East Room, photographers got a glimpse of the stilettos' red soles and the silver zipper on the dress. You can't go wrong with a blue, silver, and red color combo.
Earlier in the week, Mrs. Trump gave a speech at the annual Family Online Safety Institute in Washington, D.C. wearing a Ralph Lauren grey knit dress (Perfect for the freezing cold!).
Days after her husband had won the 2016 presidential election, Mrs. Trump wore the Ralph Lauren knit dress to have lunch with her son, Barron, in New York City.
For the lunch date, Mrs. Trump was Manhattan chic, throwing a rich red jacket over her shoulders, donning a pair of black square sunglasses, carrying a matching red leather Chanel handbag, and black and white snakeskin Christian Louboutin stilettos. So New York!
Nearly two years later in Washington, D.C., Mrs. Trump has paired down the Ralph Lauren dress, keeping it simple with just some tan pointed stilettos by Christian Louboutin, a fresh face, and her signature smokey eye.
And voila! It's a new dress!
And it is not only dresses Mrs. Trump is re-purposing these days. In March Mrs. Trump strutted out of the White House in a navy coat with a funnel-like collar by French luxury brand Chloé and breathtakingly rich Gianvito Rossi knee-high Italian leather boots.
The boots tucked under a coat harks back to the styles of the 1980's that have been revitalized at all the major fashion houses — think of the recent collections from Celine, Saint Laurent, Balenciaga, and Marc Jacobs.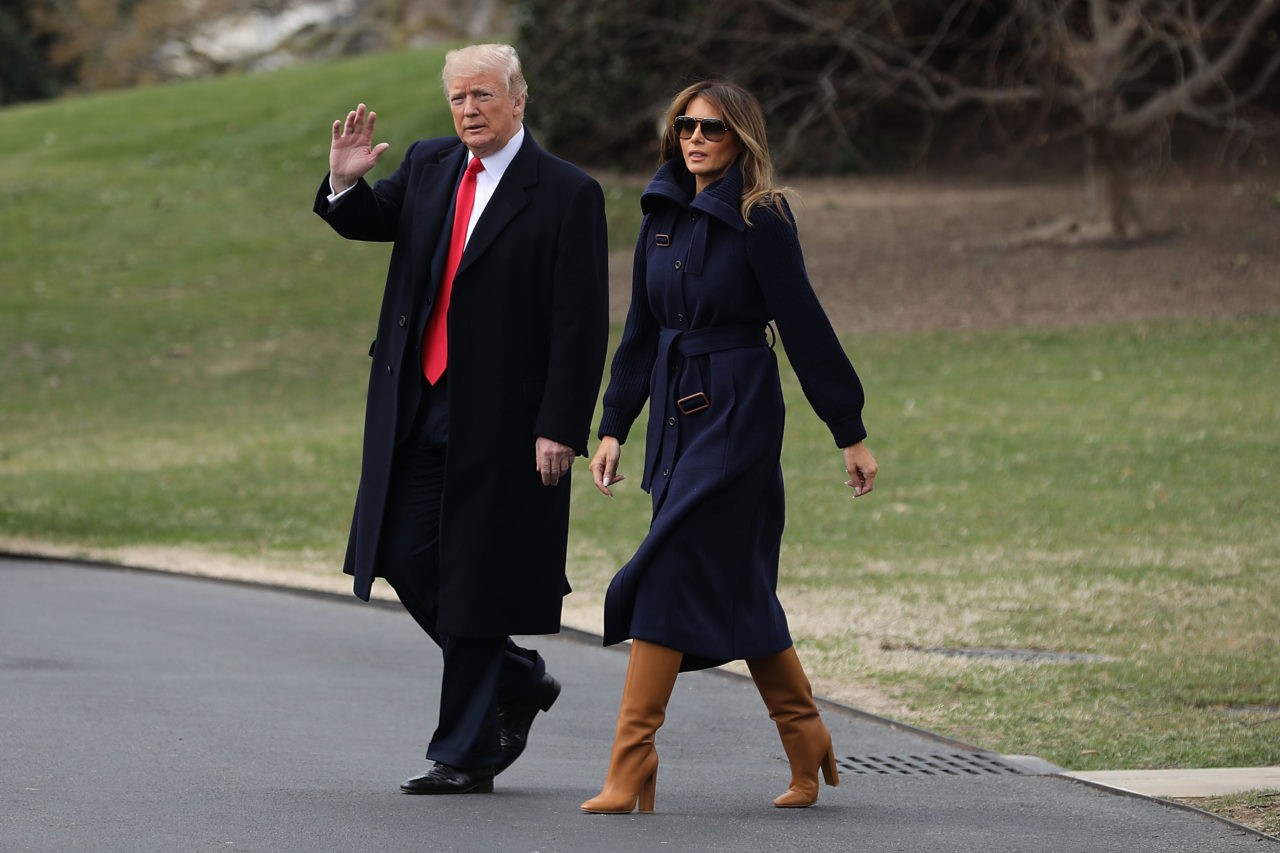 Though she has yet to re-wear the gorgeous, high-collared Chloé coat, Mrs. Trump stepped out to greet U.S. Marines in Washington, D.C. in a black and white flannel winter coat by Danish designer Malene Birger and, once again, the Gianvito Rossi tan leather boots.
This fashion adaption is merely about keeping the same silhouette, that 1980's vibe, but switching out something as simple as the color or pattern of the coat. Easy enough!
John Binder is a reporter for Breitbart News. Follow him on Twitter at @JxhnBinder