LONDON, United Kingdom – Today's anti-Israel protests in London reportedly attracted around 150,000 according to organisers, making the rally the largest since Israel's war against the terrorist group Hamas began over a month ago.
The Independent newspaper quotes London's Metropolitan Police in saying that the march from the BBC's studios on Regent Street to Hyde Park "was entirely peaceful and no arrests were made". 
But photos obtained exclusively by Breitbart London show a dark side of the protests that mainstream media organisations refuse to report.
The march, which was attended by Members of Parliament, media commentators and more, also played host to Hezbollah supporters, people with effigies of Israeli Prime Minister Benjamin Netanyahu, and even activists with British Prime Minister David Cameron's head on a stick – a particularly disturbing image considering recent calls by jihadists for Cameron to be "beheaded".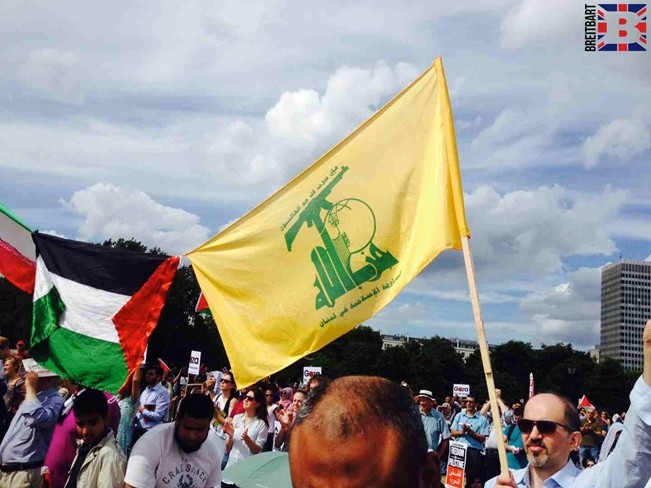 A flag of Hezbollah, the Iranian-sponsored terrorist organisation in Lebanon, flies high at the anti-Israel protest in London, flanked by the Palestinian flag.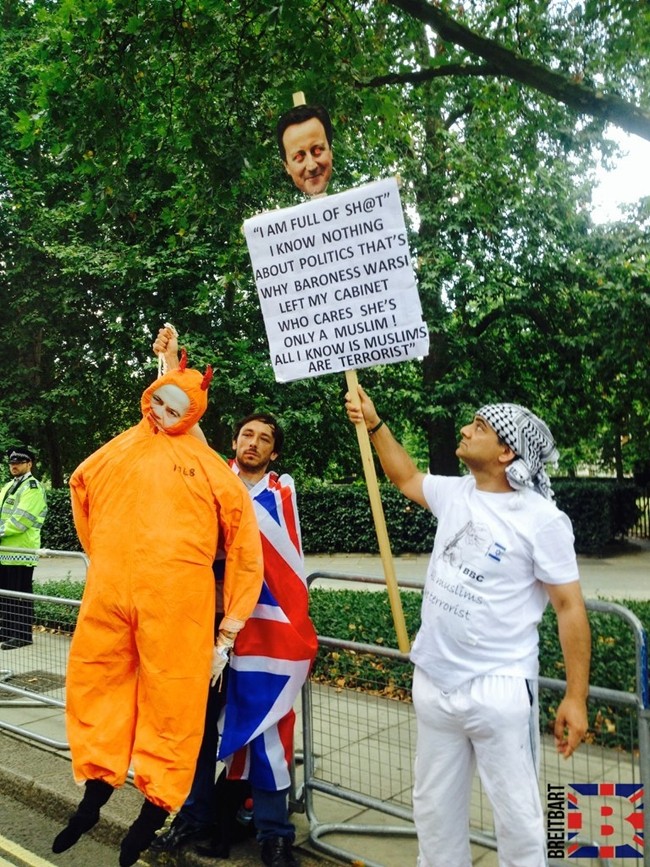 An effigy of Israeli Prime Minister Benjamin Netanyahu, being hanged by the neck, with a prisoner's outfit on and devil's horns on his head is held up next to a 'beheaded' David Cameron. The text of the placard reads, "I am full of sh@t. I know nothing about politics that's why Baroness Warsi left my cabinet. Who cares, she's only a Muslim! All I know is Muslims are terrorist". 
Prime Minister David Cameron has a first class degree in Politics, Philosophy, and Economics (PPE) from Oxford University, where he studied under the world renowned Prof. Vernon Bogdanor, who described him as one of the "ablest students" he had ever met. It is unclear what qualifications in the field of politics the man holding the placard has.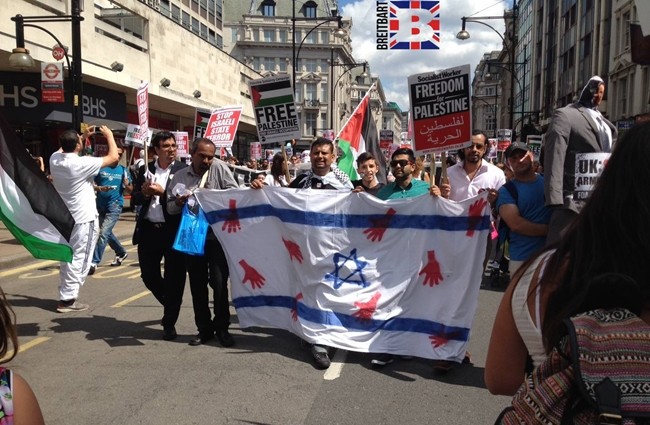 A mock Israeli flag is paraded around next to an effigy of Prime Minister David Cameron. There are red hand prints plastered across it. Placards being waved are those of the 'Socialist Worker Party' – a hard line, Marxist organisation. Another reads 'Palestine Solidarity Campaign' – the name of a group whose logo is the entire State of Israel plus the Palestinian territories draped in a Palestinian flag; a fact that has led to criticism of the group for effectively calling for Israel to be wiped off the map.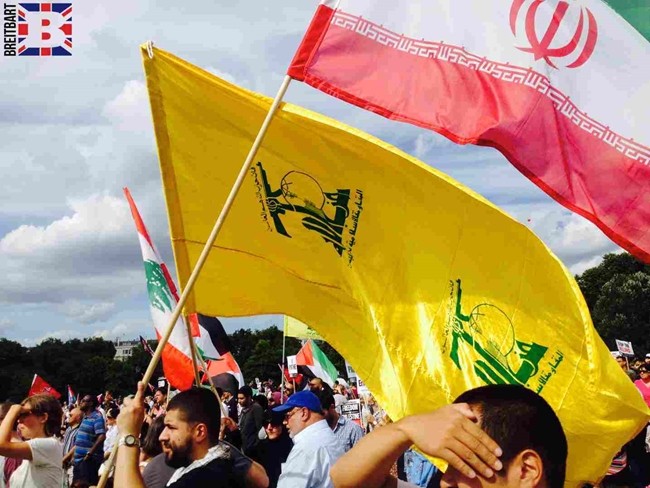 The Hezbollah flag, as well as the flags of Lebanon and Iran – the latter being one of the largest state-sponsors of global terrorism – fly alongside the Palestinian flag at the protest in Hyde Park.