West Midlands have confirmed they are investigation a racially aggravated attack against a white woman who had recently moved to a flat in Coventry.
Sammie Sunter, 24, received a note saying 'This area is black so f*** off' after racist locals stuck it through her front door. The attackers, who apparently believed the area should be the exclusive preserve of one social group also smeared the front door with paint and what was described as "human faeces" just five days after she moved in, the metro reports.
The mother, who lives with her two sons Harvey Anderson, two, and Oscar Rock, five, was told that the flat she had just moved into was 'for black sisters and brothers'. She was handed the keys from housing association, Whitefriars, last Wednesday and then worked hard decorating her son's bedrooms. She left the flat at 1600hrs on Sunday to return the next morning to the filth on her front door.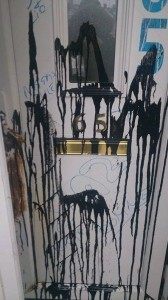 And inside was a note, put inside an envelope marked 'Message inside oyinbo b****' – Nigerian slang for a white person, while another message inside read: 'Black power. Don't stay too long or else…'.
It is not the first time the property has been the subject of an attack and Ms Sunter said she feels the housing association should have warned her instead of putting her and her children in danger.
She lashed out against her racist neighbours, saying 'These people make Willenhall to be some sort of ghetto.'
Ms Sunter, who has lived in Willenhall for fifteen years, said she had never experienced anything like this before.
'The whole point of this is that it's not right. I'm not going to sit there and take it.
'I had to have a police escort away from my property and I knew I was being watched. You hold your head up high but it's disgusting.'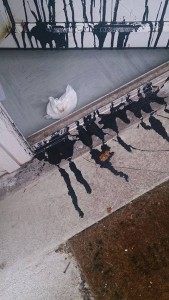 'They say it's their area but it's really not – there's a little old white man living in the flat below.
'I had to explain racism to my five-year-old. It's just not acceptable. He wanted to know why they hated us.
'I told him that whoever was responsible was going to get punished, but who knows if that will happen.'
West Midlands Police is treating the attack as racially aggravated criminal damage.
Sergeant Stewart Lewis, from Coventry Police, said: "We were called after racist graffiti was daubed on a property in Mary Slessor Street overnight on Sunday 15 February. An offensive letter was also put through the letterbox.
"We are taking this report very seriously and are currently following up several lines of enquiry.
"Anyone with information that could help our investigation is asked to contact us on 101 or call Crimestoppers on 0800 555 111."
Door to door enquiries have been made and forensics are studying the note and liaising with Whitefriars. Police are hopeful for lines of enquiry because the flat looks out onto a busy street.
Carmel McCarthy, director of housing and neighbourhood services, said: 'We absolutely deplore the actions reported and are working closely with the police to identify the culprit and to press for the strongest possible actions to be taken against them.
'There had been a previous incident reported at the property, which we passed on to the police for investigation. We closely monitor these events and in this case it appeared to be a one-off incident.
A UKIP spokesman told Breitbart London the situation was "a terribly sad endictment of modern society in Britain."
"It rings of the infamous comments by Enoch Powell", he added, saying the country "needed to move towards an acceptance of our difference while being a united British society."