Plans to tear down a refugee tent camp and replace it with a "container village" at an Austrian army barracks have provoked a local row. The Mayor of Wals-Siezenheim says the container homes suggest a permanent residential solution, as opposed to the temporary tented one previously agreed.
The Local reports the Federal Interior Ministry's new plan for the town in the Austrian state of Salzburg is opposed by Wals-Siezenheim's mayor, Joachim Maislinger. He says he did not agree to replacing the refugee tent camp with a "container village" and believes if containers will be used for accommodation purposes they need building permits.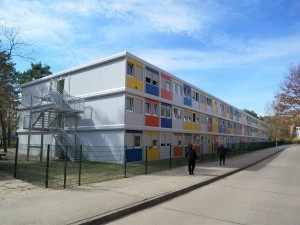 The containers are already widely used on building sites, university campuses and school playing fields. The come fitted out with windows and doors, and plumbing and electrical connections as standard.
Soldiers are already setting up the refugee tent camp at the Schwarzenberg barracks, which were first constructed for the US Army in 1951. They began distributing food to 50 refugees who arrived on Sunday.
Tents house the first 250 beds, but Interior Ministry spokesman Karlheinz Grundböck said that these will be replaced with the containers by Friday. He highlighted the urgency of the situation saying around 1,000 new shelters will be needed in the coming weeks.
Mayor Maislinger says 250 refugees is too many for a local community of only 13,000. He had originally planned to accommodate just 150 for a few weeks and now feels the Interior Ministry is taking advantage of his community's initial willingness to help. As with other towns and cities across Europe, Austria's central government had reassured the residents of Wals-Siezenheim that while it was imposing migrant camps upon them such moves were a temporary measure.
Refugee support groups  are also critical of container housing, but for a different reason. They warn that what is meant to be a short-term solution, albeit less so than tented accommodation, can easily end up becoming a permanent situation with migrants living in contained villages for years.
Austria has become a main target country for migrants mainly from Afghanistan and Syria, arriving in Europe via Greece. Interior Minister Johanna Mikl-Leitner talks of an "asylum emergency". The Local previously reported that this year more than 80,000 asylum applications are expected – previously estimated to be 70,000 – which represents three times the number Austria received in 2014. In fact the Interior Ministry said in July it had received more asylum applications per capita than any other European country the previous month and in the first five months of 2015 it received 20,620 applications, an increase of 183 per cent.
The Local says that Austrian-based company Containex, Europe's largest manufacturer of container housing, reports demand for their product is also strong in France, Switzerland and Germany where the influx of migrants has proved problematic as well.
Follow Sarkis Zeronian on Twitter:

Follow @SarkisZ

or e-mail to: szeronian@breitbart.com