A wedding between a white Christian man and an Asian Sikh woman has been called off after a gang of more than twenty "fanatical thugs" stormed the temple where it was due to take place. The attack is part of an increasing trend of Sikh groups attempting to stop what they call "insulting" and "outer faith" weddings in temples.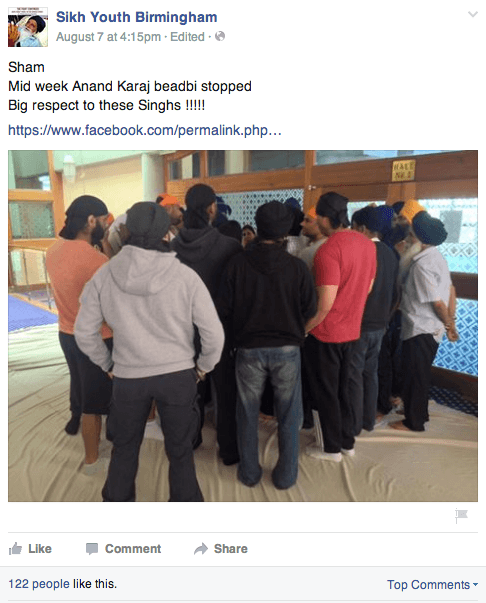 Members of the Sri Guru Singh Sabha Gurdwara temple in Southall, London said that as they made final preparations for the wedding on Friday, a group of 22 men arrived to put a halt to proceedings.
"They were all thugs," Sohan Singh Sumra, vice-president of the temple, told the Independent. Adding: "… It was because it was a mixed marriage… they just came here to spoil it and intimidate us."
The wedding was between a Catholic Polish man and an Asian Sikh woman. Police were called, and the wedding has been suspended for now.
According to the online translation of a video of the incident: "The thug says if the wedding is not stopped he would bring down a thousand of his friends to make sure it didn't go ahead," which was interpreted at a threat of violence.
Blogger Sunny Hundal added: "One of the men filming the disruption is seen talking to the giani [priest] about upholding Sikh principles. The same guy on his Facebook profile has pictures of him going out and drinking alcohol."
"…This gang-mentality puritanism will end up with the Sikh version of the Taliban and destroy the community," he wrote.
There has been a marked increase in attacks on inter-faith marriages by Sikh gangs since The Sikh Council UK issued guidelines last year saying that inter-faith marriages were not permitted in temples.
One Sikh youth group said they would be "peacefully" protesting all inter-faith weddings in temples. They are reported to have already "stopped" two; the first was between a Muslim man and Sikh women in Shepherd's Bush, London, and the second between a Gujrati man and Sikh in the West Midlands.
Mixed faith marriage at Leeds road Bradford now. #beadbi #stopbeasvk

— gursimran singh (@GursSingh1) July 19, 2014
The ego of the youth of today is unbelievable. Read the Bani, it's written clearly that the Anand Karaj is just for Sikhs. #AnandKaraj

— Bic Singh Gill (@BicGill) August 12, 2015
Sikh Birmingham Youth's Facebook page posts updates on "Sikhs protesting outer faith weddings." On the 7th of August they proudly posted about the wedding in Southall: "Daily Sikh updates regarding outer faith Anand Karaj [wedding] ceremony that was stopped by Singhs [Sikh men] earlier today."
Earlier that day, they brazenly posted a photo purporting to show a group of men in the process of stopping a wedding, captioned: "Sham. Mid week Anand Karaj [wedding ceremony] beadbi [insult to Sikh religion] stopped. Big respect to these Singhs !!!!!"
The group has posted several links to the website dailysikhupdates.com, which claims that temples only allow the "insulting" practice for financial gain. The website links to a talk given at Kent University, titled: "Why do some Gurdwareh [temples] allow interfaith Anand Kaaraj [marriage ceremonies]?" The popular Sikh speaker also makes this claim.
British Sikh celebrities such as BBC DJ Bobby Friction claim to have received threats of violence since speaking out against the practice of attacking inter-faith weddings.
I will not be silenced by a minority of people within the Sikh faith in the uk who think it's fine to physically shut down someone's wedding

— Bobby Friction (@bobbyfriction) August 12, 2015
In June this year, a UKIP council candidate was named and shamed in the Guardian and fired from his job as a coach driver after making seemingly bigoted comments on Facebook about inter-racial marriage. The Guardian has yet to report the phenomenon of Sikh bigotry towards mixed marriages.