A BBC journalist has been forced to delete a tweet after questions were raised by Breitbart London over the improper use of a BBC-linked Twitter account. Former UKIP candidate Peter Bucklitsch tweeted about the deceased Syrian child who washed up on the shores of Turkey, and was rounded on by the political left, and BBC journalist Alex Morrison, on Twitter.
Morrison, a BBC web journalist, tweeted a link to Bucklitsch's now deleted tweet that read: "The little Syrian boy was well clothed and well fed. He died because his parents were greedy for the good life in Europe. Queue jumping costs."
Morrison's own tweet included the judgement: "Worst human alive tweets…"
Bucklitsch's words, though clumsy, were also those used by Conservative Party MEP Daniel Hannan just one day before, in the Guardian newspaper.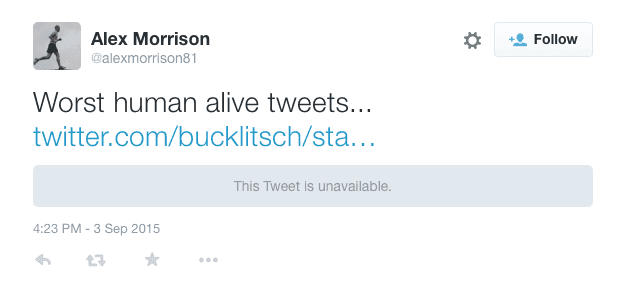 The BBC confirmed to Breitbart London that Morrison's use of his BBC-linked Twitter account was inappropriate, and that the licence fee-funded journalist had removed the comment.
A spokesman for the organisation said: "The BBC has clear social media guidelines which staff must adhere to, even when using personal accounts.
"We have spoken to Alex and reminded him of his responsibility to uphold our guidelines. He has deleted the tweet."
Bucklitsch attracted attention earlier today after posting the "grotesque" comment on his social media account, according to UKIP's Member of Parliament Douglas Carswell.
But Mr Carswell's close friend Daniel Hannan MEP had written just one day before, in the Guardian: "Instead of taking the people who have applied properly and waited in line, we allow people to jump the queue by breaking the law."
UKIP said of the incident: "Peter Bucklitsch is not a candidate or officer of the Party, and his opinions on social media in no way represent the views of party."
Mr Bucklitsch initially defended himself online before removing his Twitter account. He said: "Predictable unthinking outrage. Turkey is not a place where the family was in danger. Leaving that safe place put the family in peril."