The 'Quiz a Muslim' Islamist rally held two weeks ago, precisely as Islamists committed mass murder on the streets of Paris, is going on a UK-wide tour with Birmingham confirmed as the first stop.
"Yes that's right, Quiz a Muslim is coming to Birmingham next month, insha'Allah!" wrote organiser and Islamist blogger Muhammad Dilwar Hussain on his Facebook page.
He has said the tour will give British Muslims an opportunity to discuss the "noble" aim of establishing a "Caliphate" and "liv[ing] under God's law", which would stop them being "radicalised".
"The West Midlands is definitely our next destination and we are looking to put a panel together in Birmingham next month," Mr. Hussain told the Express and Star.
"We want to take it to the main cities first. After that Wolverhampton, Walsall, Tipton, other places with Muslim communities. We will only go where we are invited", he said.
The full list of speakers will be confirmed in December, but one Shaykh Zahir Mahmood, who describes Hamas terrorists as "heroes" and "freedom fighters", is expected to feature.
Mr. Hussain also claims he will invite the head of Birmingham Stop the War Coalition Salma Yaqoob and Perry Barr MP Khalid Mahmood.
Breitbart London was the only major news organisation to report from first event held in the town of Bedford, just North of London.
On the night, panelists insisted Islam is a religion of "war and peace", called British values "meaningless", demanded that Muslims should "define" British law, and appeared to suggest Muslims were already at war with Brits.
Mr. Hussain has used his website 5Pillarz to attack Breitbart London for covering his event numerous times, describing the report as "a case of unadulterated Islamophobic propaganda executed in the most thuggish manner by Breitbart".
In the same blog post he once again defended his aim of mobilising British Muslim to "struggle" for a totalitarian theocratic dictatorship.
"Inevitably, the noble concept of a Caliphate, which was an integral part of Islamic history for over 1,300 years, was discussed [at the Bedford event] in the context of how the struggle for its revival has been tarnished by the actions of ISIS, and bastardised by the western media and governments," he wrote.
Adding: "All the speakers agreed that Muslims who have a vision and desire for the return of a Caliphate in the Muslim world and to live under God's law, was a positive and laudable sentiment."
As Maajid Nawaz, a government counter-extremism adviser, explained on Facebook:
"Every single one of these speakers is a Caliphate-advocating Islamist, they believe in every core principle ISIS believes in, and they reject ISIS merely because they made their move for a Caliphate 'too soon and too fast'."
Mr. Hussain claims the event was "sort of like a Muslim Question Time" designed to "create dialoged" which would work against "radicalisation."
With the all male panel of "community leaders" unanimously supportive of political Islam and the supremacy of Quranic law, the event felt more like an extremist sermon. Some of the speakers had previously called Jews "filth", homosexuality a "disease" and encourage wife beating.
"The issue of radicalisation is multi-causal," Mr. Hussain told Express and Star, refusing to recognise any connection with the anti-Western, anti-democratic, "non-violent" extremism voiced at his events.
"There are so many aspects to consider. Lack of education and mental health issues can lead to an acceptance of fringe views", he said.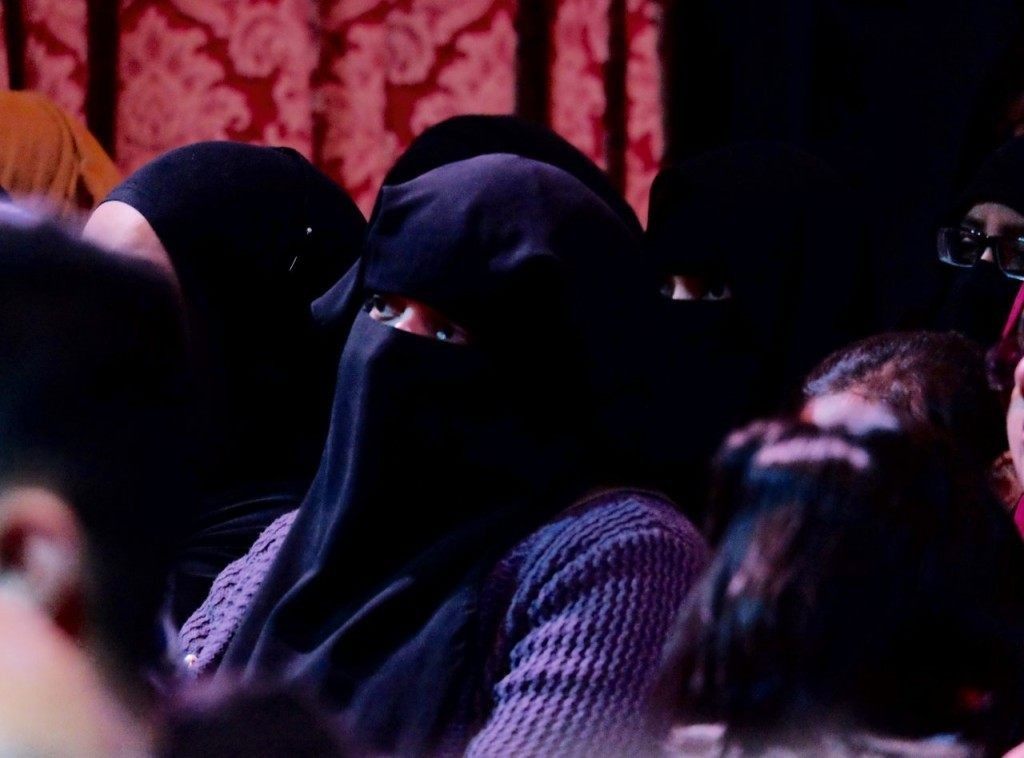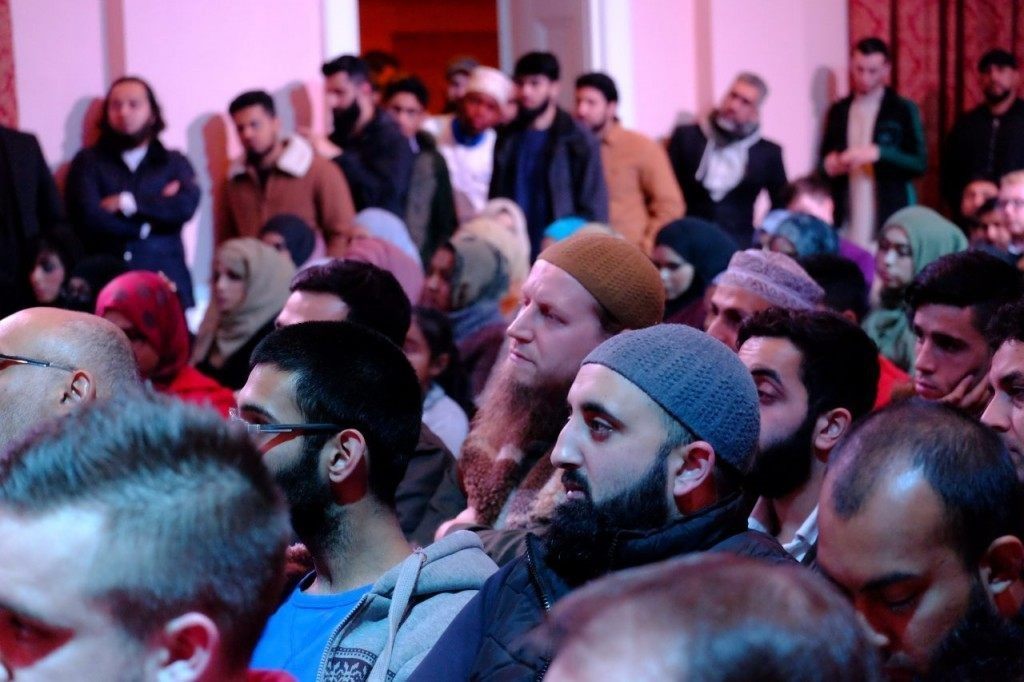 (Audience at the Bedford event – Breitbart London/Rachel Megawhat)