Tyson Fury shocked the sports world by upsetting Wladimir Klitschko on Saturday. Then he upset much of the rest of the world through shocking comments.
"Before the end of the world can happen, all them three must be made legal," Fury said of pedophilia, abortion, and homosexuality in a video recorded prior to wresting the lineal heavyweight championship from Klitschko. "I didn't say it was right, wrong, or indifferent," he noted, adding: "But I am against it, by the way."
The freewheeling, hour-plus interview with iFilm London TV witnessed Fury encourage his brother "Big Shane" to beat up a journalist, discuss killing pedophiles, call friend and former boxer Clifton Mitchell "a big, black rasta," describe mixed-martial arts as "for white kids who can't box," and ask interviewer Kugan Cassius, "Did you $#!+ yourself?"
Though one senses he believes what he says, the heavyweight champion comes across as playful rather than hateful. He tells viewers to tweet him "#oral or anal" as proof that they watched the entire interview.
"Who am I to say 'don't do that cause you're a girl'?" he says of women in combat sports. "But I believe a woman's best place is in the kitchen and on her back. That's my personal beliefs. Making me a good cup of tea—that's what I believe."
The mouthy Mancunian, who hails from Irish Traveller stock, dressed as Batman prior to his fight with the soft-spoken Klitschko, vowing to rid boxing of the "joker." Fury proceeded to outwork Klitschko and use length to frustrate the Ukrainian en route to a unanimous decision in Dusseldorf. He subsequently accused his opponent of attempting to cheat, going so far as to say he dehydrated himself rather than drink water that he suspected as tainted with drugs. Klitschko announced four days after the fight an intention to exercise a rematch clause in the contract. The second fight, unlike the first one overlooked as another jab-and-grab sleeper, figures as the first global-event boxing match of 2016.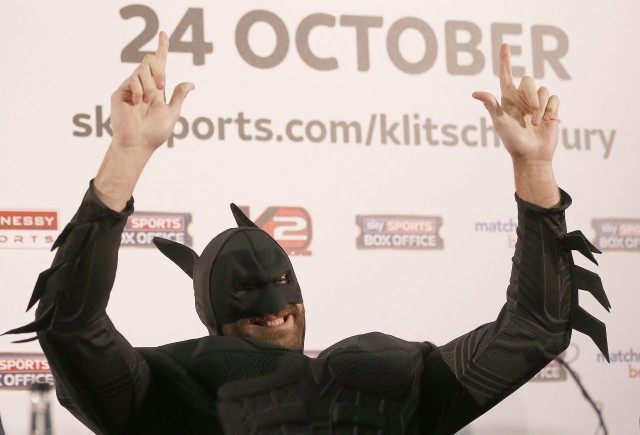 As a six-foot-nine man who moves gracefully, Fury fights as a unique figure in the history of boxing. But his mouth puts him firmly in the established tradition of Muhammad Ali, James Toney, Adrien Broner, and other verbal knockout artists.
"Women in boxing?" he asks. "I think they are very nice when they're walking around that ring holding them cards. I like them actually. They give me inspiration after when I'm tired and I see them wiggling around with their round two, round eight, round ten. I think women in boxing is very good."
Fury says of UFC women's fighter Ronda Rousey "she's quite hot" and notes that Olympic gold medalist Jessica Ennis-Hill "slops up quite well." He observes of the British heptathlete, "When she's got a dress on, she looks quite fit."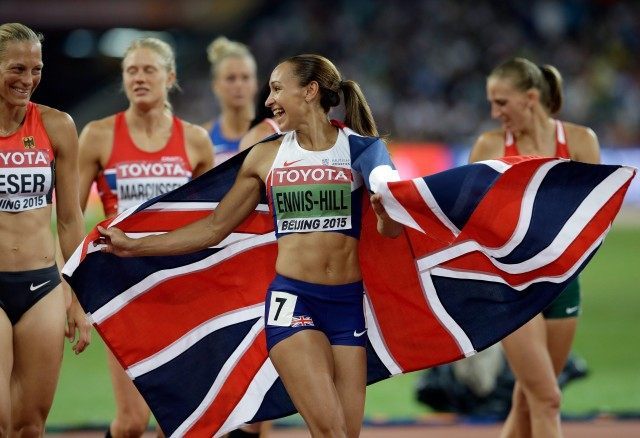 At several points, the journalist attempts to end the interview only for Fury to coax him back into discussion. "I've got tons of stuff to say—tons," Fury notes in the midst of eating a plate of spaghetti. "I could talk here all day." His interviewer calls continuing the discussion a "dangerous thing." Fury responds, "What else can we talk about?"
A Change.org petition asks the BBC to remove Fury from consideration for a "Sports Personality of the Year" award because of his remarks. "Homophobia has long been a barrier to the participation of LGBTI people in Sport," the petition, supported by 48,000 people, holds. "Young people need sports personalities that they can look up to not people who express outrageous homophobic views, which can cause bullying and self-harm."
Both Fury and his conversation mate responded:
Hopefully I don't win @BBCSPOTY as I'm not the best roll model in the world for the kids, give it to someone who would appreciate it,

— Gypsy King (@Tyson_Fury) December 4, 2015
In 50 years time, we will still be talking about Tyson Fury's achievement, not your attention-seeking petition @ScotCuthbertson

— Kugan Cassius (@KuganCassius) December 4, 2015
Seems to be a lot of jealousy towards me since I won the title,remember that I'm a Gypsy I'm the best fighter on the planet, it must hurt!!!

— Gypsy King (@Tyson_Fury) December 4, 2015
Since Saturday, fans talked about the first man to beat Wladimir Klitschko in 11 years. Now they talk about his politically-incorrect talk. In a sport of independent contractors rather than employees, the unguarded tongue comes with few dangers. Adrien Broner, Floyd Mayweather, Ricardo Mayorga, and others earned attention rather than suspensions for controversial statements. The giant who speaks with the gloves off may understand that fans of a politically-incorrect sport may actually appreciate politically-incorrect statements.
But Fury's interlocutor could only take so much. After one hour and four minutes, the interviewer finally threw in the towel, claiming a depleted battery as a means of escape. The talkative tinker maintained, "I could do a better job of interviewing myself."