Kurdish protestors have stormed the Conservative Party headquarters (CCHQ) in Westminster, demanding the British government stop supporting the Turkish state which is "murdering" Kurds, "colluding" with jihadists and "Islamizing" Turkey. 
Protestors caught security off guard just before 3pm, brazenly walking in through lobby. Police arrived soon after, and Breitbart London was the only news outlet to make it inside before they sealed off the door.
The crowd of around 100 mainly British Kurds, old and young, chanted "wake up Britain" and "stop the genocide".
In September this year, the last time tensions peaked in Turkey, there was a wave of bloody violence between Kurds and Turks on European streets. Dozens were arrested and a bomb throw in Stockholm, Sweden; clubs, bottles and stones were used on the streets of Frankfurt, Germany; and two people died in Bern, Switzerland as the two ethnic groups "went to war".
Today, protestors demanded to speak to politicians. The police claimed that none were in the building and warned the activists that unless they left they could be charged with "aggravated trespass" and "removed" from the building.
Inside CCHQ now. Kurdish protest. Police on all doors. pic.twitter.com/59dBHNwuAM

— Liam (@liamdeacon) January 5, 2016
After a tense half-hour of negotiations with police, the leader of the demonstration agreed to deliver a letter to MPs and left peacefully. A smaller number remained inside.
Before leaving CCHQ, the man leading the demonstration told Breitbart London:
"We have spoken to the police officer in charge and agreed that a three person delegation is going to walk over to Parliament and hand over the file that we have to a representative of the Conservative Party. Then, we will return here and the others will leave this building".  
The spokesman also claimed that, "the British government have arms deals with Turkey, they are very close to Tayyip Erdogan who recently cited Hitler's Nazi Germany as a model for a future government system in Turkey".
He said that Mr. Erdogan "is working to Islamise Turkey, and Britain should not be supporting him as he does this". He said that "the Kurdish people want freedom and democracy, and David Cameron is betraying his so-called 'British values' by not supporting us".
Before leaving, he added that "[President Erdogan] has been supporting Jihadi groups in the Middle East and Syria", claiming that "at the beginning of the civil war in Turkey Britain supported [the Al Quaeda linked] Al Nusra Front".
The delegation returned just after 4pm, and the final few protestors did leave. The same spokesman gave the following speech as they left, where he said that the Kurds are a "bulwark" against "jihadi terror".
Tension between the Kurds and the Turkish state has escalated greatly in recent months as the civil war in Syria and the battle against Islamic State continues.
Conflict between Kurdish insurgents and the Turkish army were thought to be over as recently as 2013. However today several towns are under curfew and part of the south-east Turkey have been described as sliding towards civil war.
The group organising today's protests claimed in a press release:
"Curfews declared by the Turkish state in Kurdish towns and sieges by Turkish state forces have been ongoing since August 14th 2015. At least 170 civilians have been killed in tank shelling, sniper fire and mortar attacks by the Turkish army and special operations police teams. Hundreds of people have been tortured, injured and arrested, including town mayors and Kurdish activists.

"3-month-old baby Miray and her 80 year old old grandfather were killed by sniper fire Cizre while 57 year old Taybet Inan was shot and bled to death in Silopi as state forces prevented her body from being recovered for seven days."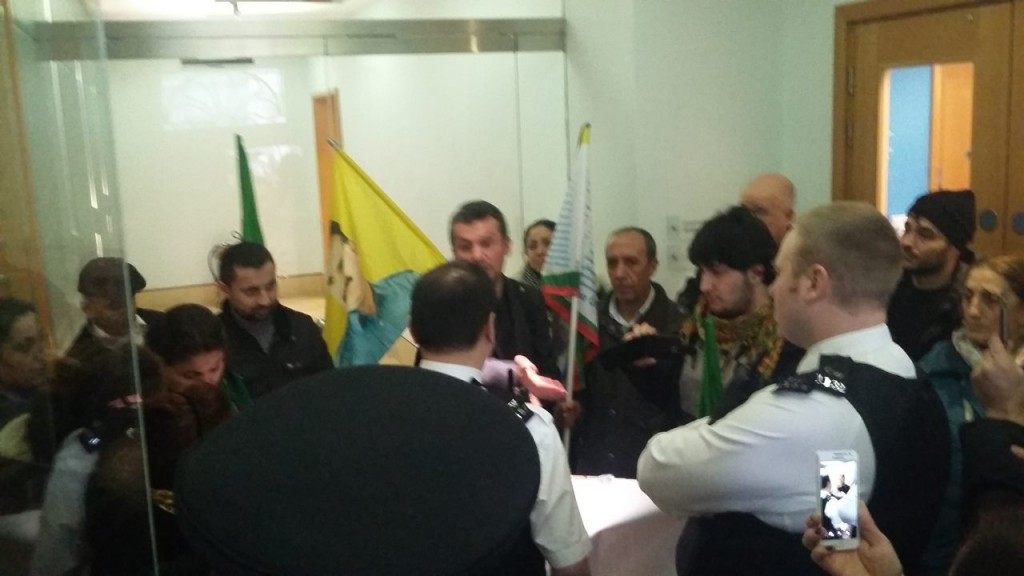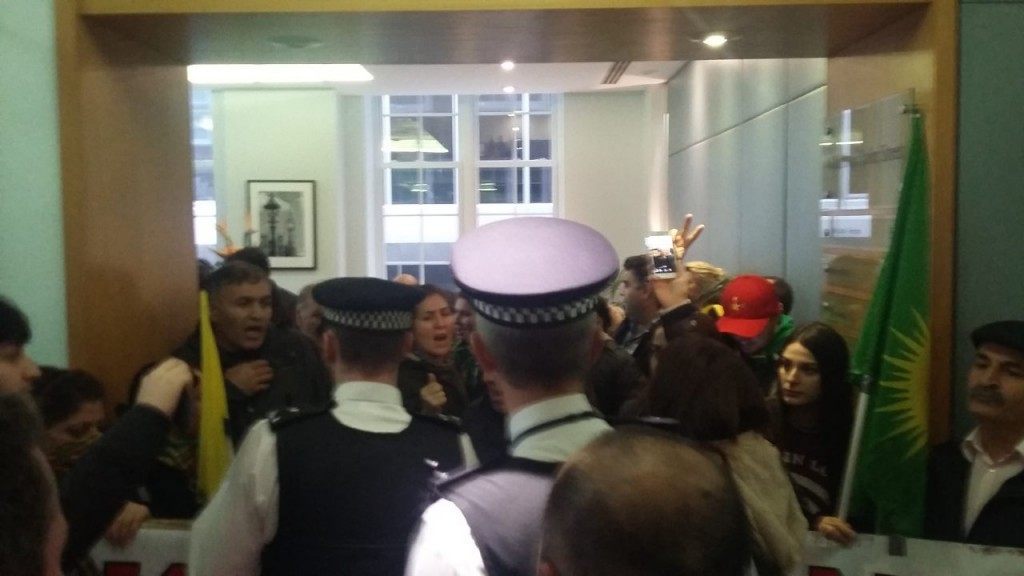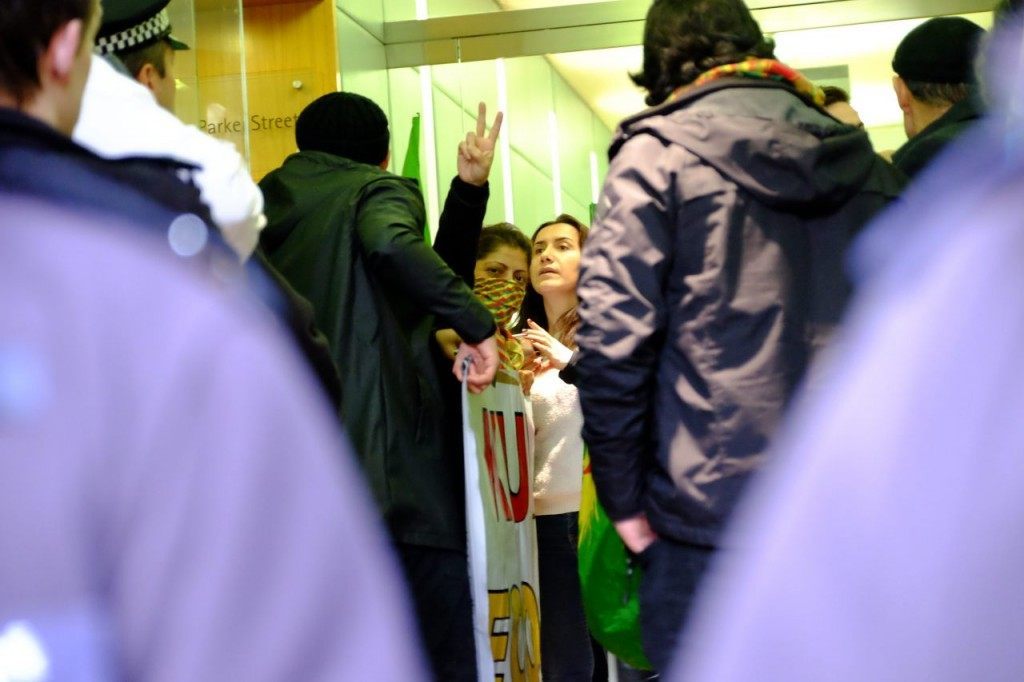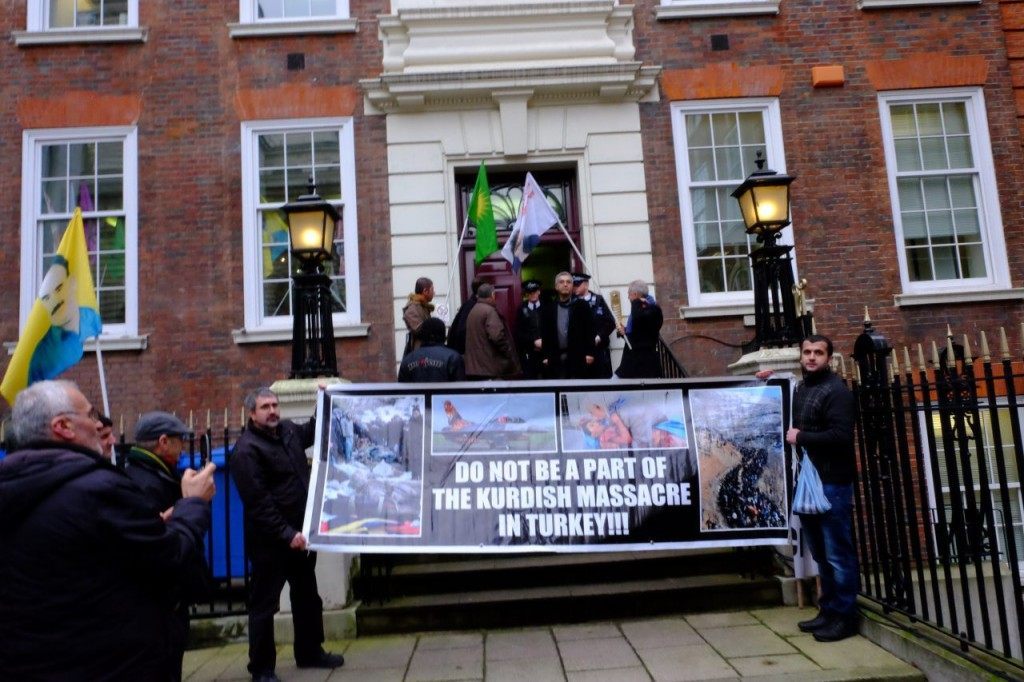 The march had began at around midday, with demonstrators passing by Parliament.