An official report into the Cologne sex assaults has concluded the attacks were by men "almost exclusively" from a migrant background, and links them to the 'Taharrush' phenomenon where large gangs of men attack women in the Arab world.
Yesterday, Breitbart London reported how German authorities now fear a repeat of the New Year's Eve attacks. Although they sexual assaults were most severe in Cologne, almost every other major German city reported some incidents that evening.
Today's report says that such attacks were previously unknown in German society, and that the fact they were perpetrated mainly by migrant men of Arabic and North African descent, suggests a new form of rape culture has been imported into the country.
Breitbart London wrote yesterday how taharrush, also known by the longer name taharrush gamea, has been particularly prevalent in Egypt, where large gangs of men assaulted female journalists during protests in Tahrir Square.
The concept was previously obscure but is now gaining momentum in the German media – and across Europe – as a key way of explaining why so many men thought it was fine to commit mass sexual assaults.
Major German news websites have already begun using the term in headlines, for example:
Focus writes: "After Cologne sex attacks: BKA [federal criminal police] wants to fight the phenomenon of "taharrush gamea"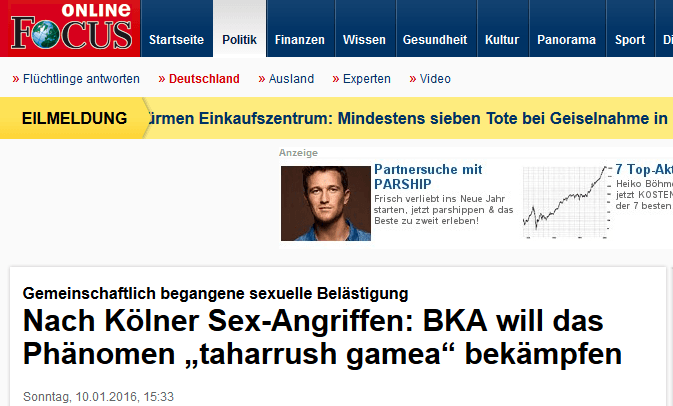 Express writes: "New Year's Eve Mob – The horror has a name: taharrush gamea"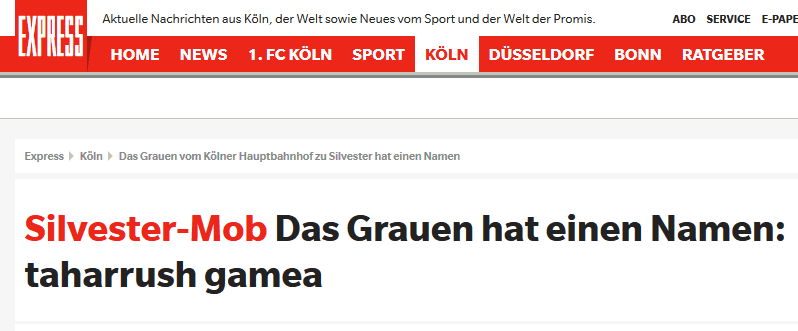 Die Welt says: "The 'taharrush gamea' phenomenon has arrived in Germany"

An article on the subject has even been created on the German version of Wikipedia, which says that such offences usually take place in large crowds of people, mentioning especially the incidents in Tahrir Square and the Cologne assaults.
Breitbart London mentioned yesterday how online journal Jadaliyya had written that the word was new even in Arabic. Sexual assaults had happened long before the term was coined, but were traditionally referred to as nothing more than "flirtation".
"In Egypt, sexual harassment is widespread and touches the lives of the majority of women whether on the streets, in public transportation, or at the work place, the super market, or political protests," the journal said.
With widespread concern that such incidents could happen again in Europe, the term will likely become more significant as year goes on.
Follow Nick Hallett on Twitter:

Follow @NickJHallett

or e-mail to: nhallett@breitbart.com