A woman who claims to have smuggled a pregnant migrant into the United Kingdom has spoken exclusively to Breitbart London, recalling how she was duped into believing that the asylum seeker was Syrian when in fact she was Tunisian.
The woman, who spoke on condition of anonymity to Breitbart London, recalls how she was interested in the help being given to Calais migrants by activist groups. "A girl I had met once or twice was a Facebook friend, she was taking clothes, etc, to the refugees in Calais," she began. "I was interested and did a fund raise".
Her story came to light after Breitbart London found deleted Facebook posts from the open borders campaign group on Facebook called "Calais Migrant Solidarity (No Borders)". The group is associated with migrant violence in Calais, as confirmed by a French police official in early December 2015.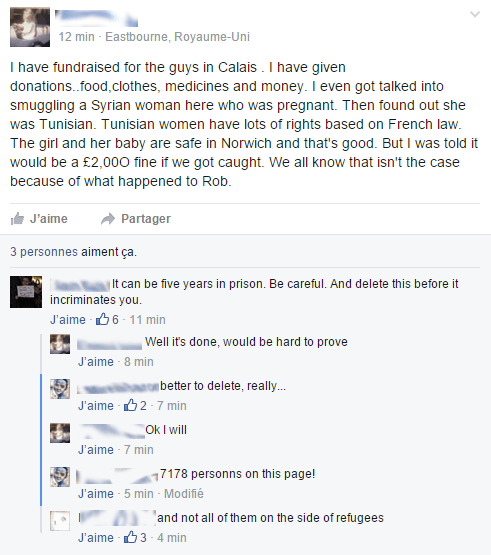 The original Facebook post was started by a woman who told a story of how she was tricked into smuggling an illegal migrant into the UK. In the post she stated: "I have fundraised for the guys in Calais. I have given donations, food, clothes, medicines, and money. I even got talked into smuggling a Syrian woman here who was pregnant. Then found out she was Tunisian. Tunisian women have lots of rights based on French law. The girl and her baby are safe in Norwich and that's good. But I was told it would be a £2,000 fine if we got caught."
Her story sheds light on the relative ease with which people smuggle migrants into the UK, along with the attitude of the activists who may have been involved in pressuring her into committing a crime.
"My partner and I now live in Spain," the woman told Breitbart London, "but we used to have a place in France.
"We often drove there and saw the [Calais migrant] Jungle. My partner had little sympathy but I did. The day I was supposed to give clothes, food, money to my friend I had a hospital appointment and I wanted to cancel that. My partner wouldn't let me and said he would take me to the Jungle."
Asked who told her to smuggle the Tunisian into the UK, she replied, "I don't even know if I was in that Facebook group. I told my friend (the one I was going to give supplies to) she said there was an emergency. A pregnant Syrian woman. She asked me to help her get to UK. Her [boyfriend] was in UK. She and some others paid for [the lady] to stay in a guest house as she was poorly. She'd hurt her leg whilst trying to board a lorry and was about 8 months pregnant. My friend, let's call her Clare, knew I was going to Calais with supplies. She asked if we would bring the girl home on our return as the person who was supposed to had bottled out. Obviously I was shocked and said it was up to my husband. We did it because she was pregnant."
"No she didn't have passport," our unwitting smuggler reveals, going on to state how her friend also believed the Tunisian woman was a Syrian, and that they had met her in the car park of a Leroy Merlins – a DIY chain in Europe.
When asked what happened when the three approached the British border, she replied: "Nothing happened at [the] border" – a common problem with the Eurotunnel crossing, where large queues can force border guards to fast track commuters. The woman is believed to have slept in the boot of the car.
They used the Eurotunnel, and she recalls: "The worst thing is I was told she was Syrian. She was Tunisian. A mutual friend told us. I don't think it's normal. Most do it for money. So they say."
But she says she was not paid herself, but rather committed the act out of kindness for what she thought was a Syrian refugee fleeing war.
"All I know about people smuggling is what I have read in mainstream press," she told Breitbart London.
"Clare got a later boat back to [the] UK and we drove [the lady] to Clare's house where her husband and five kids were waiting. My husband drove. At the time we were happy and pleased to get the woman out of that filthy jungle. I wasn't best pleased to then find out she's Tunisian and was upset when I found out I could have gone to prison!"
Ask if she would still have taken the woman if she had known she wasn't Syrian, however, the woman told Breitbart London: "Maybe I would have."
Soon after the incident, the woman posted on the Calais Migrant Solidarity group on Facebook, claiming: "No regrets, just shocked I did [it] and having nightmares about it".
But users quickly encouraged her to remove the post and cover up her crime, stating: "It can be five years in prison. Be careful. And delete this before it incriminates you". Another said, "better to delete, really… 7178 persons on this page!" A Facebook user followed up: "…and not all of them on the side of refugees".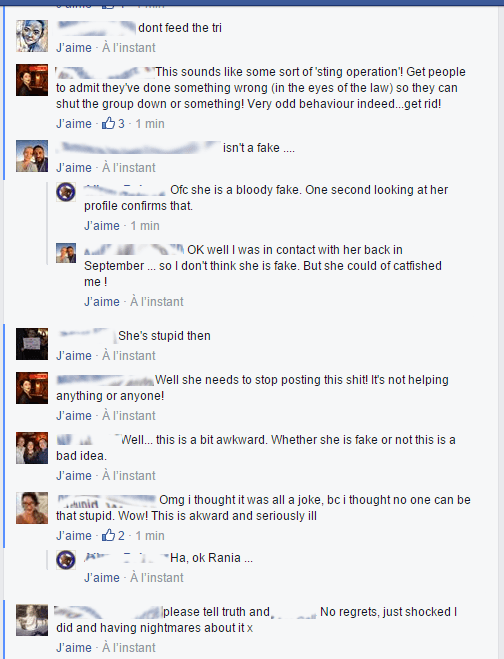 As the Facebook conversastion, now deleted, continued, people accused the woman of being "a fake" who may have "catfished" members of the group.
"Well she needs to stop posting this shit! It's not helping anything or anyone!" said one. Another replied: "Stop posting about it and delete your previous post, you could be threatening the existence of the group of all we know!"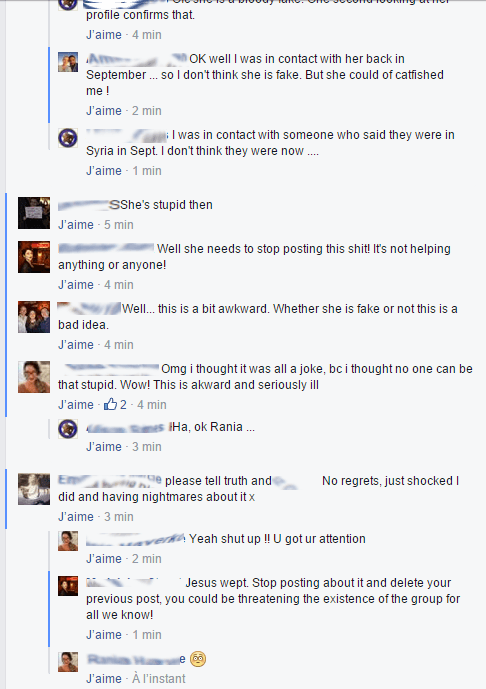 Calais is currently a hotbed of violence and controversy all focused on the migrant camp called the "Jungle."
Residents of the town have been evicted, threatened with violence, and it was the site of the arrest of the former head of the French Foreign Legion General Piquemal who participated in a PEGIDA march against the current migrant policy of the French government. Visitors to the Jungle camp, including journalists, are routinely attacked as two Dutch filmmakers recently found out. Even a Shakespeare play, put on for the migrants by left-wing activists, was stopped early due to the activities of knife-wielding migrants.
This weekend a video emerged showing a Calais native detailing a life filled with "iron bars and… Molotov cocktails" in the besieged port town, now home to one of Europe's most notorious migrant camps.
"I don't know how it happened but one day we found ourselves with thousands of migrants. Actually there are 18,000 at the moment in what they call the 'Jungle'… the police can't even enter the Muslim part [of the Jungle], it is prohibited", said Simone Héricourt.