Mayor of London Boris Johnson set the 'Brexit' debate aflame yesterday by declaring that he would be campaigning for 'out'.
But his words delivered outside home in North London were very carefully chosen. He nailed his colours to the establishment campaign 'Vote Leave' mast – now famed for advocating a "double referendum" and "criminal" tactics to circumvent spending rules.
So it was not a surprise then, to hear from long-standing referendum campaigners that they are skeptical that Mr. Johnson's is actually campaigning to leave the European Union. He wants to use a 'Leave' vote to enter into another round of renegotiations with the EU, sources tell me. Indeed his words outside his house yesterday were relatively opaque, and lend to the 'Associate Membership' argument made by made Conservative Party 'eurosceptics'.
There's was no "let's get out of the EU as soon as possible!" rhetoric, but rather, he said: "I would like to see a new relationship based more on trade, on co-operation, but with much less than this supranational element, so that's where I'm coming from" he said, adding: "I will be advocating Vote Leave… or whatever the team is called". He went on: "I want to be in a reformed EU, and that's my hope. An EU that's based more on trade… and fundamental treaty change. I don't think that has been really offered".
In his Telegraph article, Mr. Johnson says:
There is only one way to get the change we need, and that is to vote to go, because all EU history shows that they only really listen to a population when it says No. The fundamental problem remains: that they have an ideal that we do not share. They want to create a truly federal union, e pluribus unum, when most British people do not.

It is time to seek a new relationship, in which we manage to extricate ourselves from most of the supranational elements. We will hear a lot in the coming weeks about the risks of this option; the risk to the economy, the risk to the City of London, and so on; and though those risks cannot be entirely dismissed, I think they are likely to be exaggerated. We have heard this kind of thing before, about the decision to opt out of the euro, and the very opposite turned out to be the case.

I also accept there is a risk that a vote to Leave the EU, as it currently stands, will cause fresh tensions in the union between England and Scotland. On the other hand, most of the evidence I have seen suggests that the Scots will vote on roughly the same lines as the English.
Sources in the Grassroots Out and Leave.EU camp have long expressed their concerns over this strategy and the clear wiggle room that Mr. Johnson has given himself over the past 24 hours.
But critics have argued that they are letting the "perfect be the enemy of the good" – as Boris Johnson's declaration for voting "leave" at this referendum is enough in and of itself.
It may be the case that Mr. Johnson is using a "softly softly catchy monkey" approach to lure the middle-of-the-road voters into voting to leave – especially the establishment Tories who still aren't sure. But unless all the leave campaigns feel comfortable with his position, they won't deal with him, and given his popularity, they need to.
Perhaps Mr. Johnson needs to sign a "I want to leave the European Union, good and proper" pledge.
UPDATE: Vote Leave Campaign Director Dominic Cummings has said that invoking Article 50 (A50) after Britain votes to leave "would be mad". Brexit campaigners are furious, and are now claiming the "Vote Leave" group has no intention on Britain leaving the European Union: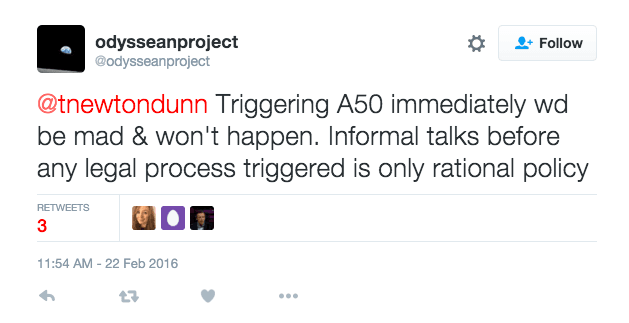 Journalist Paul Waugh seems to understand: