MIGRANT CRISIS LIVE WIRE – You can follow all the latest updates below.
This page is edited by Breitbart London's Raheem Kassam, Chris Tomlinson, Oliver Lane and Donna Rachel Edmunds. Newest updates will appear at the top of the page.
*      *      *      *     *
---
THIS IS AN ARCHIVE – You can read all the latest updates here
---
31/03/2016

– 

GOTHENBURG, Sweden 

– Bomb Squad Deployed To Airport

Gothenburg Landvetter airport is experiencing the second bomb alarm this year as a large contingent of police and bomb quad officers were deployed after a threat was telephoned in this morning. A "suspicious" plastic bag was discovered at one o'clock this afternoon.

Air traffic to and from the airport has not yet been affected, reports Aftonbladet. The airport was closed in January after a London — Stockholm flight was diverted there after a threat was made of a bomb on-board.
---
31/03/2016

– 

OSTERGOTLAND, Sweden 

– Politician Found Dead In Burnt Out Car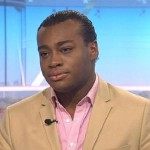 Moderate party (Liberal-conservative, pro mass migration) Alexander Bengtsson (pictured) has reportedly been found dead in a  burnt-out car, according to reports in local media. The 20 year old man was known for work against "racism and homophobia", reports Sweden's Aftonbladet, and has spoken publicly about threats against him in the past.
He had recently been subject to a knife attack. The car was found in flames last week, and police are awaiting the results of the autopsy to confirm that it was indeed Mr. Bengtsson, and whether it was an accident or if they shoudl begin a murder investigation.
---
30/03/2016

– 

VIENNA, Austria 

– ISIS Attack "Likely" in Austria

Austrian terrorism expert, Nicholas Stockhammer has admitted that a terror attack like in Brussels is likely to happen in Austria soon. Stockhammer, who advises the Austrian government, warned that Europe is facing a battle against terrorism that could last more than 20 years, reports Local.at.
---
30/03/2016

– 

Libya 

– 800,000 migrants waiting to sail

Austrian paper Kronen Zeitung reports that over 800,000 migrants have collected at the coast in Libya ready to cross into Europe at any time. French Interior Minister Jean-Yves Le Drian admitted to press that hundreds of thousands will likely come and that the EU currently has no plan to deal with the problem.
---
30/03/2016

– 

BONN, Germany 

– Woman brutally beaten

An 22 year old female Iraqi migrant out with her boyfriend on Sunday was attacked by a gang and hospitalised by the ferocity of the kicks and punches, reports the German Express. The perpetrator is described as being a man of around 20 and of "Southern" appearance, accompanied by two young women. Because the victim was a foreigner, state security have been notified.
---
28/03/2016

– 

DORMAGEN, Germany 

– Baker Sacked Over Facebook Post

A school baker who posted on Facebook that he was scared of Germany being overrun with North African migrants was fired after students at the school found his comments on social media. The baker, who runs an independent business, says he is not a racist and he, like many other Germans, is merely afraid for the future of his country reports Die Welt.
---
28/03/2016

– 

COLOGNE, Germany 

– First New Year Sex Assault Suspect To Be Tried

While other migrants have been tried for theft during the New Years sex attacks, A 26-year-old Algerian man will be the first to be tried for groping women and sexually attacking them. No trial date has yet been set though, reports TheLocal.
---
28/03/2016

– 

SKOPJE, Macedonia 

– State of emergency extended

The Macedonian parliament voted today to extend the state of emergency for the rest of the year, enabling the military to remain at the borders and to use force. The state has been in place since August.

The majority of the re-enforcements at the borders are at the Greek and Serbian borders, reports Kronen Zeitung.
---
27/03/2016

– 

PISTOIA, Italy 

– Muslim Migrants Hold Service In Church

Archbishop Fausto Tardelli slammed the idea of local priests to allow Muslim migrants to hold Islamic prayers in their Roman Catholic church. The local priests told media they were doing it to allow the migrants to feel more "welcome."
The Archbishop told Italian press, "Offering a respectful welcome to people doesn't mean providing them with spaces for prayer in Christian churches. There are plenty of better and more appropriate places available," reports Local.it.
---
27/03/2016

– 

EBERSCHWANG, Austria 

– Young woman raped

Two Afghan migrants have been arrested after they raped a 20 year old Austrian woman. Kronen Zeitung reports the woman met the men at a restaurant and she went home with them, when the alleged rape took place. Drugs may have also been a factor.

Both men, aged 24 and 23 deny rape.
---
26/03/2016

– 

NAPLES, Italy 

– Italy Arrests ISIS Linked Migrant

The Italian police forces have arrested an Iraqi migrant who is thought to have direct ties to the Islamic State. The man is also wanted in Switzerland on accusations of rape. Police refused to comment whether the man has links to the Brussels or Paris attackers reports theLocal.
---
26/03/2016

– 

BAVARIA, Germany 

– Party wants to Stop Giving Migrants Cash

The ruling Christian Social Union party in Bavaria wants to see an end to cash benefits for migrants. They cite the need to reduce the incentives for more migrants to come to Germany and would like to replace the system by giving food and clothing directly to existing and incoming migrants, reports Junge Freiheit.
---
26/03/2016

– 

STOCKHOLM, Sweden 

– Migrant unrest, car burnings

Stockholm's "immigrant suburbs" have seen their second night of unrest, with fireworks and stones thrown at police, bridged blocked with burning tyres, and cars burned out. Police detained one man for disturbing the peace but released him before midnight and there were no arrests, reports Länstidningen Södertälje.

Four cars were burned Friday on the second night of violence reports FriaTider. The report to fire crews was put out at around 11pm.
---
25/03/2016

– 

LESBOS, Greece 

– Doctors Without Borders Pulls Out

France24 reports that Doctors Without Borders (MSF) has pulled out of a migrant camp in Lesbos citing their opposition to the new EU-Turkey summit deal that will potentially see thousands of migrants sent back to Turkey.

Marie Elisabeth Ingres, the head of the medical organisation's mission in Greece said, "We took the extremely difficult decision to end our activities in Moria (on Lesbos) because continuing to work inside would make us complicit in a system we consider to be both unfair and inhumane.

"We will not allow our assistance to be instrumentalised for a mass expulsion operation and we refuse to be part of a system that has no regard for the humanitarian or protection needs of asylum seekers and migrants".
---
25/03/2016

– 

WICKER, Germany 

– Hostel Vandalism is Political Act

A Hostel in Leipzig was vandalized with paint after left wing agitators found out they had let rooms to members of the anti-mass migration Alternative for Germany (AfD) party.

Police said the attack was carried out with red and brown "paint bombs". 'No AfD' was painted on the walls. Officers are currently looking for suspects, but said the crime was political reports N-TV.
---
25/03/2016

– 

WICKER, Germany 

– Syrian Migrants Molest Under-age Girls in Spa

Two Syrian migrants aged 19 and 29 are said to have sexually assaulted three German girls aged 10-13. The men surrounded the girls in a flume and touched the girls "repeatedly in indecent areas".

The girls informed the lifeguard who held the men until police arrived. Police say the men, who have been released, deny the allegations but they will likely be charged for sexually abusing children reports Junge Freiheit.
---
25/03/2016

– 

IDOMENI, Greece 

– Migrants Set Selves On Fire in Protest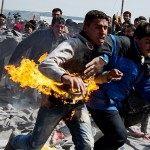 Two migrant men attempted to light themselves on fire in Idomeni to protest not being allowed through the Macedonian border.
The two men doused themselves in gasoline before setting them selves alight and shortly afterwards running to a nearby ambulance. Their current condition is unknown, reports Tagsspiegel.
---
22/03/2016

– 

BAVARIA, Germany 

– Migrants Climb Former Power Station in Protest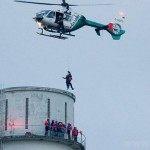 Migrants from a local asylum home in the district of Vilshofener Pleinting climbed a disused power station tower to protest conditions at their asylum home. Areas of the former plant hold reception centres for asylum seekers.
150 members of the emergency services including mountain rescue and helicopters had to be called to retrieve the climbing migrants. The participants were not specifically identified but are thought to be Syrians, reports Passauer Neue Presse.
---
22/03/2016

– 

CELLE, Germany 

– Teacher murdered by Afghan migrant

A German teacher who volunteered at his local migrant shelter and befriended the asylum seekers there was found dead after he was beaten to death by one of the men he met at the camps. A 58 year old Afghan was arrested and confessed to beating the educator and volunteer translator with an iron rod. The suspected killer arrived in Germany in December. Police are investigating the circumstances around the murder, reports Welt.
---
22/03/2016

– 

HAMBURG, Germany 

– Seven year old girl gang raped

Five "Arabic men" are being questioned by police in Germany after a seven year old girl was gang-raped at a migrant centre on Tuesday the 19th of March, reports Bild. German media has described the suspects as being Arabic speaking and has revealed that pending trial they have all been released by German police.
---
22/03/2016

– 

BRUSSELS, Belgium 

– Suspected Islamist Bombing Kills At Least 30

Three closely spaced blasts at Brussels airport and a city centre metro station have killed dozens and wounded hundreds more. Eyewitnesses have reported there were shouts in Arabic before one of the explosions and Belgian police have confirmed an AK47 rifle was found by a slain attacker. Read the full story at Breitbart London.
---
21/03/2016

– 

BERLIN, Germany 

– 14 Millionth Dutchman is a Migrant

REUTERS — The official Dutch population counter has ticked over to 17 million amid speculation that the landmark may have been reached with the registration of a migrant rather than the birth of a child.

Earlier this month, the Central Bureau for Statistics said the 17 millionth inhabitant "could be a baby, a refugee from Syria, a worker from Poland, a student from China or a returning Dutch person."

It added "the chance is bigger that it is an immigrant than a baby" because more people are arriving in the country than are being born.
---
21/03/2016

– 

BERLIN, Germany 

– Police question migrants after child found dead

Police discovered a dead child near an asylum home in Berlin who had died very recently after being born. The authorities have requested DNA samples from all women at the nearby asylum centre to determine who the mother of the baby is and possibly find the cause of death, which is still unknown reports Die Welt.
---
21/03/2016

– 

BELLINZONA, Switzerland 

– Islamic State Supporters Sentenced

Four Iraqis were on trial for helping plan attacks in Europe for the Islamic state. Three were sentenced to several years in jail and one was acquitted due to lack of evidence. The three migrants were said to have tried to obtain information and materials to carry out terror operations on behalf of ISIS reports N-tv.de
---
21/03/2016

– 

FRANKFURT, Germany 

– Jihadi Arrested at Frankfurt Airport

22 year old Tarik S. is now in custody after police arrested him due to his ties to the Islamic State. Tarik is said to have appeared in propaganda videos for ISIS and participated in ISIS atrocities in Syria reports Local.de.
---
21/03/2016

– 

BRANDENBURG, Germany 

– Neo-Nazi Politician Implicated in Asylum Home Burning

German NPD politician Maik Schneider has been issued a warrant for his arrest in connection to a case of arson involving an asylum home in August of last year. He is said to be the head of a group that coordinated the attack and investigators said he might have links to another attack on a leftist politician reports, N-TV.
---
18/03/2016

– 

VIENNA, Austria 

– Smuggling Crime Boom Thanks To Migrant Crisis

New crime statistics in Austria show a massive increase in the number of cases of smuggling of people and goods across the Austrian border. Smuggling saw a record 84.9 percent increase since 2014 with 9,569 cases reported. Europol estimates a doubling or tripling of smuggler profits for 2016 reports the Kurier.
---
18/03/2016

– 

OOSTROZEBEKE, Belgium 

– 13 Migrants Found in Truck bound for UK

13 migrants were discovered by a truck driver in the back of his refrigerated trailer while delivering meat to a butcher. The migrants sneaked onto the truck the night before, when the driver was in France. Police say many of them hoped to sneak through the border to the UK reports Belgian site 7sur7.
---
17/03/2016

– 

OSTERSUND, Sweden 

– 'Earth Hour' cancelled because of rape risk

Towns and cities world wide will turn off street lights and municipal building illuminations for an hour on Saturday this weekend to highlight global warming, but one Swedish municipality is to keep the lights on after a series of sex attacks.

Town councillor Ann-Sofie Andersson says "we want everyone to feel safe" in response to the decision to keep the street lights on after dark, as the town has seen 14 reports of women and girls harassed in the past couple of weeks. The perpetrators of the attacks are described as "third world" men who act in groups. Read the full report on Breitbart London.
---
17/03/2016

– 

VIENNA, Austria 

– Austrian Government Wants Every Police Officer Armed

The Austrian Interior Ministry has tabled a proposal to make every Austrian police officer required to carry a firearm. They cite the Bataclan massacre and say that if only two police had been there armed the attack may have been prevented. The Interior Minister Johanna Mikl-Leitner is considering allowing Police to carry weapons even when off duty reports Kurier.at.
---
17/03/2016

– 

PARIS, France 

– Four Arrested Plotting Terror Attack

Three men and one woman have been arrested in the French capital on suspicion of plotting a terror attack similar to the attacks at the Bataclan last year. French investigators found an AK-47 magazine, a stun gun, USB sticks and a safe at the suspects house and said they considered the four a major threat to French security, reports Heute.
---
17/03/2016

– 

ZWICKAU, Germany 

– Migrant Sentenced Over Anti-Semitic Remarks

A Palestinian migrant was sentenced to one year in prison after he called a social worker a "fucking Jew" and threatened to kill her family as well as saying "Hitler didn't do his job properly." The 49 year-old illegal migrant spent 10 years in prison for arson and only got out in 2014 reports Junge Freiheit.
---
17/03/2016

– 

BORAS, Sweden 

– Egyptian to be deported for rape

An apparently integrated Egyptian migrant who has a Swedish wife has been sentenced to 18 months in prison before deportation to his home nation after he raped one of his wife's friends. After the woman complained she had an aching neck, the 25 year old man offered to give her a massage, but started licking her ears and then raped her.

The Boras court heard the man said "Only God knows how my DNA got in her ear" and his wife leapt to his defence calling him a "gentleman" with "no disparaging views of women", reports Frida Tider.
---
16/03/2016

– 

FLANDERS, Belgium 

– Yacht carrying migrants to UK intercepted

Belgian maritime police discovered 11 illegal Syrian migrants on-board a yacht en-route to the United Kingdom at the weekend. The men travelled to Nieuwpoort having failed to gain access to Britain at Calais, reports Flanders News. A Turkish people smuggler was arrested on-board.
---
16/03/2016

– 

VIENNA, Austria 

– Migrant dragged girls into basement for rape

Two young women were dragged into the basement of a Vienna building on Saturday as a 16 year old Libyan they met on public transport tried to rape them. As he tried to pull the girls into the underground room by grabbing their arms, the 20 year old escaped, and was able to call police.

Her 18 year old girlfriend was less lucky and was pulled down, where she was pressed to the ground and molested. She managed to prevent the rape by fighting back but was injured in the process, reports Kronen Zeitung. Police arrived and arrested the man responsible, who has been described as a Libyan "asylum seeker".
---
16/03/2016

– 

GRAZ, Austria 

– ISIS Preacher Sentenced to Six Years in Prison

An Islamic state affiliated preacher has been sentenced to six years in jail in Austria. the 42 year-old Imam recruited young men to fight for ISIS in Syria. After one of the men he convinced to fight for ISIS died the Imam married his widow and convinced her to join the Islamic State as well. He was convicted in a Graz court on charges of terrorism.
---
15/03/2016

– 

IDOMENI, Greece 

– Three migrants die in illegal border crossing attempt

Three migrant men attempted to cross the Greek-Macedonian border over a river and drowned. The men are part of a group of more than a thousand migrants who left the migrant camp in Idomeni to find ways through the Macedonian border defences. A further 12,000 migrants currently wait at the border.

Read more about the migrant crossing attempt, and the European no-border activists who led them on the death march at Breitbart London.
---
14/03/2016

– 

THURINGIA, Germany 

– Pipe bomb detonated at migrant accommodation

A crude pipe bomb, reportedly adorned with a Swastika was detonated outside a house of Syrian migrants on the night of March the 4th. There were no injuries but police have only just made the apparent attack public and are investigating a potential "xenophobic" motive.
---
14/03/2016

– 

OBERHAUSEN, Germany 

– Girls aged 11-14 molested at pool

Eight asylum seekers aged between 18 and 21 from Syria and Tajikistan have been arrested after three girls aged between 11 and 14 were "massively molested" at a swimming pool. The girls reported being touched on the buttocks and chests.

The girls reported their assault to a pool employee immediately after they escaped the gang on Saturday afternoon, and the pool called police officers to the scene, according to a force report. German newspaper Welt reports there was "heated discussion" on the Facebook page of the Oberhausen police after it transpired the suspects were released from custody.
---
14/03/2016

– 

NORRKOPING, Sweden 

– Migrants unhappy with free accommodation

Two immigrant families caused traffic chaos in central Norrköping last week after they refused to get off their government transfer bus at their new home. The group had been given free use of an apartment in the historic, fashionable Nygatan district in the city centre but were apparently still dissatisfied.

A police spokesman said "We are still at the address because it is a bit messy there right now. The families are not satisfied with the standard of the apartment and therefore refused first to get off the bus", reports Norrköpings Tidningar.
---
12/03/2016

– 

VIENNA, Austria 

– Arrests Made After Migrant Gang War Attacks

Two Afghani migrants have been arrested in connection with what has been called a gang war on the streets of Vienna last weekend. The 18 and 20 year old men were arrested in a Vienna apartment and have admitted to being at the scene. They have both denied participation in the attack on a rival Chechen gang which saw multiple stabbings occur, reports Kronen Zeitung.
---
12/03/2016

– 

ST. JOHANN, Austria 

– 15 year old abused by marijuana migrants

A 15 year old Afghani migrant was sexually abused by several other migrant teens after they had smoked an unknown quantity of marijuana. The victim was threatened at knife-point and abused by four attackers in a sports field with another migrant filming the entire ordeal on his smartphone. Police have so far arrested 2 of the attackers and say the other three are being sought in connection with the crime, reports Kleine Zeitung.
---
12/03/2016

– 

BAUTZEN, Germany 

– German President Told to "Get Out" By Angry Locals

German Federal President, Joachim Gauck, paid a visit to the Saxon town of Bautzen to talk about the migrant crisis ahead of this Sunday's regional elections. Locals met the president with cheers of "Gauck get out" and "Gauck disappear." Around 30 people protested the visit and the President said he may look at filing charges against the demonstrators for "abusing" him reports Spiegel.
---
11/03/2016

– 

HELSINKI, Finland 

– Migrant rapists charged

Three men from Syria, and one from Iraq have been charged in court for their part in a gang rape in Helsinki railway station in November last year. Three of the men are described as being in their twenties while a fourth is around 40 years old. The victim is described as being a female "young adult", reports Svenska.
---
11/03/2016

– 

VIENNA, Austria 

– 15 Illegals discovered in van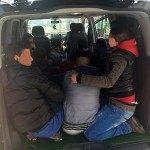 A small van driving from Morocco to Europe was stopped on Thursday when it was found to be crammed full of Moroccan migrants, all of whom immediately claimed asylum upon being discovered.
The 34 year old driver, a Tunisian, was arrested he was found to be carrying 1,000 Euros in cash, reports Kronen Zeitung.
---
10/03/2016

– 

LEIPZIG, Germany 

– Leftists Set Army Trucks on Fire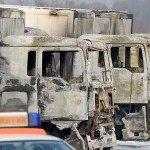 German army trucks and trailers were set on fire to protest the "militarisation" of the migrant crisis outside of Leipzig, and responsibility for the attack has been claimed by a leftist website, reports NTV.
The group claimed "we have contributed a part to disarming German dreams of grandeur and torched several vehicles of the Bundeswehr in Leipzig." A total of eight trucks and two trailers were destroyed in the arson and damages are expected to be over 100,000 euros. Police are presently searching for suspects.
---
10/03/2016

– 

COLOGNE, Germany 

– New Years Eve Attackers Arrested

Only a day after police released pictures of suspects in the Cologne New Years eve attacks police say they have managed to arrest two suspects involved. A 26 year old and a 31 year old, both Algerian men were arrested for sexual assault and attempted robbery. There is also concern they may have violated the arms act by shooting an unknown weapon into the air on the same night. Read more at Breitbart London.
---
10/03/2016

– 

UPPSALA, Sweden 

– No candy bars, so migrant torched home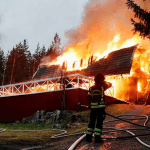 A 16 year old Afghan migrant to Sweden has been sentenced to juvenile detention after he burned down his migrant accommodation, which had dozens of other minors and government staff in at the time. The young man had told staff there if they didn't buy him candy, he'd "destroy everything", yet despite the threat was still allowed to carry a cigarette lighter, reports Aftonbladet. Days later, he building was razed to the ground.
The court heard how the boy had been extremely violent toward staff, throwing plant pots at them and attempting to extort money. It is reported that before he set the fire, the migrant also cut the cables to the smoke detector, and the building was completely destroyed.
---
10/03/2016

– 

SVEAVAGEN, Sweden 

– Violent rapist charged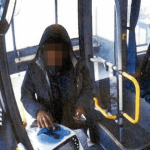 An "African" man who violently assaulted a woman in Sweden in December is being prosecuted for attempted rape and aggravated robbery. The 27 year old reportedly struck his female victim from behind and beat her "excessively" around the head and face, leaving her with skin abrasions and a shattered nose.
The woman passed out due to the beating she received, but that didn't stop the man continuing to punch and kick her, and attempting to rape her. It isn't clear whether he succeeded but the woman was admitted to hospital with "semen on her underwear", reports Aftonbladet. The man was arrested when, two days later, he used his victim's bus pass and was caught on security camera.
---
10/03/2016

– 

VIENNA, Austria 

– Woman sexually harassed on train

A 25 year old woman was touched on the breasts and between the legs while travelling on the Vienna to Baden train on Wednesday, an attack that continued despite multiple attempts to end the assault. The alleged perpetrator, a 44 year old Indian citizen who was found to be drunk by officers is to be charged by the public prosecutor, reports Kronen Zeitung.
---
10/03/2016

– 

MALMO, Sweden 

– Man shot dead in migrant crime hotspot

A man reported to have previously known to police has been shot dead in a parked car in Malmo, the migrant crime hotspot city that has been the focus of frequent reports by Breitbart London. Witnesses heard at least three "bangs" and the driver-side door was observed to have been "shot to pieces".

The deceased is reported to have been a resident of trouble-spot Rosengard, where Swedish police recently built a new station after discovering the old structure was insufficiently bomb and bullet proof. Speaking to Expressn, one resident said after the latest shooting: "The area does not feel safe… I myself am not scared, but my wife does not go out after dark".
---
09/03/2016

– 

HERRENBURG, Germany 

– Mentally handicapped girls molested

Men described by the lifeguard as "of Arab origin" molested two girls aged 12 and 17 in a hot tub in full view of other bathers, reports Die Welt. The girls are both mentally handicapped and were in the hot tub alone at the time.

The perpetrators were told to get out by a lifeguard but fled the scene before police could arrive. Police are currently searching for witnesses to help identify the suspects.
---
08/03/2016

– 

KLAGENFURT, Austria 

– Asylum seekers throw themselves in front of cars

A number of migrants have thrown themselves in front of moving cars in order to launch spurious injury claims against drivers. One such example is of a 27 year old asylum seeker on Saturday who waited by the side of the road before launching himself onto a moving car. Taken to hospital, doctors could find absolutely no injuries.

The individual is now under investigation for fraud. A similar incident earlier the same day saw a driver launch a claim for criminal damage against a jumping migrant for denting his car, reports Kronen Zeitung.
---
08/03/2016

– 

FREIBURG, Germany 

– Migrants snatch pram from mother

A young mother of 22 years was walking with her child in a pram when she was attacked by two "black Africans" at the end of February, according to a report by German police. One of the assailants snatched the pram, and when the mother attempted to get her child back she was pushed to the ground, being cut on the face and arm by an "unknown object" in the process.

Taking money from the woman's purse, which had been attached to the child's pram, the two men fled. Both are said to have talked in an unidentifiable foreign language. Police are appealing for witnesses, or a whistle-blower to come forward.
---
08/03/2016

– 

ROSTOK, Germany 

– Migrant Centre Arsonists Sentenced

Two perpetrators of an arson attack on a migrant camp in Lueswitz 18 months ago were sentenced each to five year prison terms. The court brought the two men ages 25 and 26, on charged of arson and attempted murder of migrants who were inside the camp. 38 migrants including 18 children were in the camp at the time but none were injured in the attack reports N-TV.
---
06/03/2016

– 

UELZEN, Germany 

– Pensioner wounded by gun-toting thief

A man described as being between 30-40 years of age, of dark complexion "possibly North African" held up a kiosk on Tuesday, threatening the owner with a gun and demanding cash. When the owner refused, the perpetrator fired his weapon at the ceiling several times and fled on a bicycle. A 61 year old man was wounded in the arm during the failed robbery.
---
06/03/2016

– 

UELZEN, Germany 

– 18 year old sexually assaulted

A young woman was sexually assaulted in the early evening of the 21st of February, being persued by two men, one of whom took her hand and placed it on his abdomen. The men, dressed in dark clothes were described by police as speaking in a foreign language. Police are appealing for witnesses.
---
06/03/2016

– 

OSLO, Norway 

– Muslim in Court for Recruiting Seven Jihadis for ISIS

Ubaydullah Hussain appeared in an Oslo court Thursday charged with recruiting at least seven men to joint he Islamic State in Norway. He is also charged with threatening a witness in the case among other chrages. The 30 year old was arrested in December and the court prosecutor accused him of trying to recruit from the most vulnerable in society going after drug addicts and criminals Local.no reports.
---
06/03/2016

– 

COLOGNE, Germany 

– Migrant jumps from balcony to avoid deportation

An 18 year old Armenian migrant who was set for deportation at Cologne-Bonn airport attempted to flee by jumping off a balcony. The migrant broke at least one leg in the 22 foot drop according to police who said he just wanted a cigarette. His sister was also deported back to Armenia the same day. The 18 year old is currently in hospital due to the severity of his injuries N-TV reports.
---
05/03/2016

– 

IDOMENI, Greece 

– Migrants Block Rail Tracks to Protest Border Closure

Hundreds of Migrants have blocked the railway tracks and have made all traffic come to a standstill. The large crowd blocked the path of a freight train going from Greece to Macedonia. Among the protesters were No Borders activists who encouraged migrants to chant "open the border". An estimated 11,000 migrants wait at the border to get though according to N-TV — although some estimates not put the figure as high as 30,000.
---
04/03/2016

– 

VIENNA, Austria 

– Another Teen Girl Arrested for Trying to Join ISIS

An 18 year old Chechen-born girl was given a sentence of six months after she was convicted of involvement in a terrorist organization. The teen attempted to join ISIS in order to marry an Islamic state fighter in Syria. The verdict comes int he wake of another teen from Sweden who was arrested in Austria after attempting to go to Syria to also join ISIS.
---
04/03/2016

– 

KIEL, Germany 

– Police Find Photos of Victims on Migrant Smartphones

Police have found photo evidence that supports the claims of two young girls who were sexually harassed by a mob of migrants outside a shopping centre, reports Welt. Police had earlier claimed there was no evidence of the harassment which turned out not to be true. The 2 Afghani asylum seekers were arrested after violently resisting police but have since been released.
---
04/03/2016

– 

TRAISKIRCHEN, Austria 

– Donation Centre Burned to the Ground

Catholic charity Caritas had their donation centre burned down in the Austrian town of Traiskirchen which has been made a hub for migrants. Some 120 pallets full of clothing and hygiene products were destroyed in the blaze, reports Kurier. Eleven fire brigades and a total of 130 men helped put out the fire and police have so far not indicated they have any suspects and say it is too early to tell who might have set the fire.
---
04/03/2016

– 

POTSDAM, Germany 

– Migrant centre responsible for crime-wave

Over 500 cases of violence were recorded at a single Asylum centre last year in Brandenburg. Also included were at least 16 sexual offenses including three that involved the abuse of children. Two homicides were also recorded by police. "We need more police and a stringent deportation of criminals," said a spokesman for the Alternative for Germany (AfD) party.
---
04/03/2016

– 

MUNICH, Germany 

– PEGIDA Man Fined €2,100 for speaking

"Do you want total war?" was enough to land a PEGIDA speaker a 2,100 euro fine after using the sentence in a speech at a meeting in Munich last October. The judge ruled that the sentence had once been uttered by Nazi propaganda chief Joseph Goebbels in a 1943 speech at the Berlin sports palace during the second world war, and so the man had broken German law.
---
03/03/2016

– 

LINDESBERG, Sweden 

– Man murdered in asylum accomodation

Police were called to a migrant house at 05:18 this morning and responded to reports that a man had been stabbed in the neck. The victim was pronounced dead at the scene. Police have arrested two men on suspicion of murder, but a third suspect was able to flee into a wooded area and remains on the run, reports Aftonbladet.

As is usual with criminal cases involving migrants in Sweden, the police have released no details regarding the identities of the suspects or victim, a policy dating back to September 2015 and intended to defend the force from accusations of being "racist".
---
03/03/2016

– 

VIENNA, Austria 

– 'Sharia police' on patrol

Vienna's Millennium City shopping centre has been visited by self proclaimed Islamic guardians of public morality, who have harassed women and hospitalised two men, reports Kronen Zeitung.

Patrolling on Friday night, the Chechen men of the patrol harassed a woman, her daughter, and their female friends as they walked from a nightclub near to midnight, shouting at them loudly. When the woman called her husband to come to her aid, the gang pounced, beating him to the ground. A bystander who witnessed the assault was also hospitalised.

Police are investigating.
---
03/03/2016

– 

KARLSKRONA, Sweden 

– Newspaper blocks anti-migrant advertising

Despite facing a sharp decline in advertising revenue, the Karlskrona based Sydöstran newspaper has rejected a lucrative full page advertisement from the Sweden Democrats, described as the local equivalent of Britain's UKIP. editor Gunnar Svensson told industry publication Medievärlden that despite his money woes he still thinks "it is right to deny the Sweden Democrats advertising in the newspaper".

The paper publishes in one of the Sweden Democrats' most successful areas, and the policy has resulted in cancelled subscriptions and arguments with readers over the telephone. When asked whether there were any other organisations he would ban from advertising, the editor said he would also turn down money from "Muslim terrorists" and a dissolved Nordic Nazi party.
---
03/03/2016

– 

LINZ, Austria 

– Roma camp burns

A migrant tent city burned in Linz last night, the third time in a month fire crews were called to a suspected arson. Police said there was no evidence that the fire was started by the "xenophobic or extreme right". There were no injuries, reports Kronen Zeitung.
---
02/03/2016

– 

BERLIN, Germany 

– Pro-Migrant Party Leader Drugs Arrest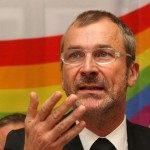 The leader of Germany's Green party stood down this afternoon after he was arrested for carrying crystal meth, reports Deutsche Welle. Volker Beck, a proponent of mass migration to Germany compared being critical of immigration to violent crimes including arson, and said "Germany has no refugee crisis, but a crisis of democracy," while railing against PEGIDA and Alternative for Germany almost every day on twitter.
Beck is also infamous for trying to decriminalize sex with children in Germany in 2013 which led to a scandal. Since the drug bust he has resigned all of his government posts but will remain an MP.
---
02/03/2016

– 

BRANDENBURG, Germany 

– Young girl kicks attacker in testicles

A 15 year old girl was dragged into an alleyway last week by two men, who tried to remove her clothing. Suspecting she was about to be raped, the girl put her foot "firmly" into the "soft tissue" — genitals — of one attacker, and was able to flee.

Police are seeking witnesses who may have seen the men, which the girl described as being between 25 and 35, speaking broken German, and being "geographically Turkish-Arab". Investigators are treating the incident as an attempted sexual offence.
---
02/03/2016

– 

GROSSENLUDER, Germany 

– Migrant camp employee assaulted

Police arrested a 44 year old migrant last week after he assaulted a 29 year old employee of his asylum accommodation. The woman was assisting in the evening distribution of medication to inmates, when he sexually assaulted her, touching her body and forcing a kiss on her. The man was released the next morning, reports Fuldaer Zeitung.
---
02/03/2016

– 

LANGFELD, Germany 

– 13 year old assaulted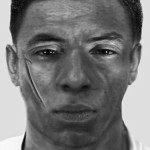 Police are appealing for witnesses after they were unable to trace a man who propositioned a 13 year old girl for sex, offering her money, and then head-butted her after she refused. The attacker, who struck in late January has been described as having "shiny" black skin, "very short, black curly hair" and a "conspicuously long scar on the right cheekbone".
The man, who spoke broken German with a foreign accent left the girl with minor injuries, reports Express.
---
02/03/2016

– 

WEILHEIM, Germany 

– Woman sexually assaulted in church

A 21 year old Nigerian man has been arrested after a sex assault in December, in which he is said to have dropped his trousers in a church and molested a woman. He is also thought to be responsible for other sex assaults in the area, reports the Ausberger Allgemeine.
---
02/03/2016

– 

HARBURG, Germany 

– 14 year old raped, left to die

Police are now investigating an attempted murder dating from February after a 14 year old girl in the care of Wandsbek youth services hostel was taken out of the home by a 15 year old 'friend' and taken to an apartment. There the two met four men, aged 14, 16, 16, and 21, who fed the young girl so much alcohol she passed out.

The men then gang raped the young girl, with her 'friend' filming the acts on her mobile phone. The girl was then dumped outside, unconscious, in the freezing February night where she very nearly died, police are now treating this act as attempted murder.

The four men, who are thought to have come from Serbia to Germany, may have already left the country, reports MOPO.
---
01/03/2016

– 

NORDERSTEDT, Germany 

– Girls aged 14, 18 raped at water park

Schleswig-Holstein police are investigating after two young girls were raped in the pool on Sunday afternoon, reports Bild. Two refugees aged 14 and 34, both from Afghanistan, are being held in police custody.

This is the second migrant attack at the pool. In 2014, a group of "Southern" men attacked five girls between 15 and 17 years old, touching the, between the legs and on their breasts. The manager of the pool said at the time "We are doing everything possible to prevent such incidents in the future".
---
01/03/2016

– 

DORNBIRN, Austria 

– Teenager sexually assaulted

A 19 year old woman was sexually assaulted on Monday by a "Mediterranean" appearance man in a subway leading to the town railway station. The perpetrator pushed the woman to the ground and started to attack her, but she put up a spirited resistance and screamed for help, causing the man to flee. Krone reports the man escaped on a bicycle.
---
01/03/2016

– 

HAMBURG, Germany 

– Afghan man poured boiling oil over wife

A 49 year-old Afghan migrant is in court after throwing boiling oil over his wife's face last September. The migrant accused her of cheating on him as the reason for the savage attack. After being in critical condition for days afterwards the victim lived. "I wanted to make her unattractive to another man," he said in court.
---
01/03/2016

– 

KLINGENBACH, Germany 

– Migrant attack with wooden bench

A 23 year old asylum seeker from Morocco attacked two Afghan teens on Friday with a wooden bench injuring the pair. The intoxicated North African resisted police who arrived on the scene, and attempted to throw a cup at them. The 23 year old was arrested and remains in Police custody, reports the Kurier.
---
28/02/2016

– 

DUSSELDORF, Germany 

– Islamic state militant sentenced in Germany

A 25 year old man has been sentenced to four years in prison after confessing that he travelled to Syria to participate in acts of terrorism. 'Nils D' of Dinslaken confessed to prosecutors and gave up 12 other German jihadis who had also gone to Syria to fight for the Islamic state. He confessed to crimes of terrorism and torture after pictures were released showing him with mutilated victims of the terrorist group.
---
28/02/2016

– 

STOCKHOLM, Sweden 

– Asylum seeker abandons baby at Government Office

A baby was abandoned at the Swedish Migration Board office by a migrant woman of unknown identity. The woman gave the baby to a security guard while she said she was going to the toilet and never returned. The guard became suspicious and found a note written in French that said, "take care of me and my siblings." The child is under one year old, but no brothers or sisters have so far been found.
---
28/02/2016

– 

STOCKHOLM, Sweden 

– Migrant arrested for war crimes

A 31 year old Syrian asylum seeker was arrested Tuesday by Swedish police. The man is accused of committing war crimes while fighting for Bashar Assads' Syrian Arab Army. The prosecutor said that the crime occurred in Syria and that they had picture evidence, though regret that they can not travel to Syria to conduct a more thorough investigation.
---
28/02/2016

– 

DUSSELDORF, Germany 

– Man fired for being member of anti-migrant party

A private contractor was fired from his position of allocating housing for migrants after Dusseldorf city administration learned he was a member of the Alternative for Germany party. City Manager Burkhard Hintzsche said "his party membership does not fit into this workplace." The city told media he would be replaced as soon as possible.
---
26/02/2016

– 

KIEL, Germany 

– 30 migrants harass trio of young girls

Three 15-17 year old girls were followed by two Afghanis who recorded them with their smartphones. Once the group reached a restaurant 30 more migrants showed up. Police say that the migrants likely sent the pictures and videos to the others, who came to join in.

The girls were able to shake off 20 of the men but 10 followed them and harassed them. Police have not confirmed if there was sexual contact at this point in the investigation. Migrants attacked police when they arrested the two original Afghanis.
---
26/02/2016

– 

The Netherlands 

– Mosques receive menacing letters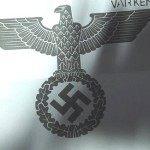 Dozens of mosques in Holland have reportedly received letters claiming that Muslims are devil worshippers. The leaflet expressed that the Mosques in question could expect to receive important visitors, pigs, reports DutchNews.
Dutch Labour member of parliament Ahmed Marcouch has called on the government to give Mosques protection and has asked ministers to make statements on the letters.
---
26/02/2016

– 

VIENNA, Austria 

– Migrants stabbing attack at shopping centre

Five Afghan youths aged between 15 and 25 years old were responsible for a "bloody and exceedingly brutal" stabbing attack at 'The Mall' shopping centre in Vienna on Wednesday. Four men, two of whom were Iranian migrants, were attacked and injured, and eyewitnesses claimed a gun was discharged during the altercation, reports Kronen Zeitung.

The men were later arrested by police and a pistol found on one of the perpetrators was reported by police to be a "toy" — possibly a blank firing pistol.
---
26/02/2016

– 

FULDA, Germany 

– Migrant charged with 200 crimes set free

A migrant caught by police masturbating on an intercity train has been released despite boasting an impressive rap sheet. The 22 year old Eritrean migrant has been charged with 189 complaints of fraud, 40 thefts and charges for trespass and criminal damage yet walked free after caught pleasuring himself on a train in Fulda.
---
26/02/2016

– 

BUDAPEST, Hungary 

– Hungary could vote on EU in 150 days

REUTERS — Hungary could hold a referendum on European Union-mandated migrant resettlement quotas in 150 days at the earliest as the government's referendum question makes its way through the legal system, the justice minister said on Friday.

"The earliest possible time is 150 days, while the latest is 250 days," Laszlo Trocsanyi told a news conference.

Hungary has been at odds with the European Commission and some fellow EU countries over how to handle a migrant influx into the bloc. Prime Minister Viktor Orban proposed a referendum on Wednesday to see whether Hungarians accepted the quotas, something his government opposes.

Read more on Hungary's referendum here.
---
25/02/2016

– 

LJUBLJANA, Slovenia 

– Army given police powers

The Slovenian parliament voted on Monday to confer on the army "exceptional police powers". The move, which is most often associated with the declaration of martial law will allow troops to patrol the border and to place illegal migrants when caught under arrest.

The bestowment of powers is initially for three months, and will allow soldiers to restrict movement and to manage groups and masses, reports Slovenske Novice.
---
25/02/2016

– 

COLOGNE, Germany 

– Migrant murders migrant

An Albanian man was found murdered by passers by in a wooded area yesterday. The 26 year old migrant had reportedly been involved in a dispute with his room-mates at a nearby asylum centre earlier on in the day. Police are hunting for the fugitive suspect.

Investigators claim "there are no indications of a xenophobic or politically motivated background" to the killing, reports the German Express.
---
24/02/2016

– 

Sweden 

– Two police stations evacuated after explosives found

A police station in Södertälje was evacuated this morning after two hand grenades were left in the reception area. The station was kept closed until 1230, when Swedish bomb disposal experts declared the grenades to be inert. Grenades have been flooding into Sweden in large numbers over the past few years, following the same smuggling route as many migrants from the former Soviet states in the Balkans.

They have become popular weapons for settling disputes in migrant areas, as reported by Breitbart.

A second station was evacuated this afternoon after sticks of dynamite were left in reception. The police house remains closed while it awaits the arrival of bomb disposal officers, reports Expressen.
---
24/02/2016

– 

MAINZ, Germany 

– Migrant set free after attacking officers

A 31 year old Eritrean asylum seeker has been allowed to walk free after he attacked three officers with a knife. The man had been brought into a station after he was found to have no identification documents, but pulled the knife and went after the men. He was disarmed without managing to injure the officers, and was later dropped off back at his reception centre pending charges of assault, reports Die Kronen Zeitung.
---
24/02/2016

– 

NORDANSTIG, Sweden 

– Migrants smash up accommodation, attack staff

Staff of a Swedish migrant centre were forced to flee the facility on Monday after two immigrant brothers went on a rampage. After one of the men requested medical treatment for feeling 'unwell' — police reports he may have been drunk — but was not given the medicine he was hoping for he began to beat members of staff and throw furniture around.

When staff returned to the building they were chased by the migrants who attempted to stab them. One of the men had injured himself in the course of his rampage. Both were arrested.
---
24/02/2016

– 

FRIEDRICHSHAFEN, Germany 

– Student party celebrating migration ends in brawl

A student's union 'Integration Festival' at the elite Zeppelin Universität ended in violence after a 22 year old refugee guest at the party became drunk and stabbed two other migrants with a broken bottle. The violence has been described as Kurdish-Syrian conflict, reports Schwaebische. The event, where no alcohol was served but Arabic music was played was broken up when five police cars arrived at the college.
---
23/02/2016

– 

GAILDORF, Germany 

– Conman tricked shop out of cash

A customer used a con-trick to distract staff from their cash register momentarily so he could steal money. The man, who has been described as "dark skinned, North African appearance" paid for a spurious purchase with a €50 note but immediately changed his mind, asking for the return of the note with the same serial number. During the confusion he made good his escape. Police are appealing for witnesses.
---
23/02/2016

– 

GIESSEN, Germany 

– Weapons found after North African men attack

Two men aged 35 and 50 are reported to have been victims of a violent attack by "a large group" of North African migrants. Police were called and arrived on the scene, but the victims refused to cooperate. Police later found a cache of wooden club weapons in a nearby church yard.
---
23/02/2016

– 

CLAUSNITZ, Germany 

– Bus migrants press charges against police

A number of migrants who found themselves the stars of a viral video featuring a number of German nationals blocking the progress of their bus and chanting 'we are the people' are now suing Saxony police. Officers dragged a number of migrants off the bus because they were acting to provoke the German citizens outside and contributing to the "heated" situation, reports Focus.

In the video, at least one woman can be seen angrily gesticulating at the crowd and a young man is seen being carried off the bus. Read more at Breitbart London.
---
23/02/2016

– 

INNSBRUCK, Austria 

– Woman raped

A woman was raped on Monday evening after a man leapt from a hidden spot in a doorway and grabbed her, reports Die Kronen Zeitung. Described as having dark hair and a beard, the man spoke English during the attack.  Police are appealing for witnesses.
---
23/02/2016

– 

BURNLEY, United Kingdom

 

– Woman gang raped

A 23 year old woman was gang raped in the very early hours of Monday morning in a remote area near an industrial park by three or four men, not far from the location of another gang rape less than three weeks ago. The attackers were then described by police as being "dark skinned" and "speaking with foreign accents", reports the Lancashire Telegraph.

Police are appealing for witnesses.
---
23/02/2016

– 

ATHENS, Greece

 

– Illegal migrant crossings to Europe on the rise

After a spell of extremely poor weather which saw the number of illegal migrants crossing into Europe fall over January compared to December, numbers are again picking up. Many illegal migrants will have postponed their sea crossings from Turkey to Greece during the storms. The Greek government has registered an average of 2,769 detected arrivals a day over the past week, reports Kronen Zeitung.
---
23/02/2016

– 

Hungary

 

– Border closed to Croatia

The Hungarian government closed the border to trains coming from Croatia on Sunday, citing the "interests of public safety", and announcing it would initially stay closed for 30 days. Railway journeys between Murakeresztúr-Kotoriba, Gyékényes-Koprivnica and Magyarbóly-Beli Manastir are cancelled, reports RP Online.
---
ARCHIVE – You can read all the previous updates here.
---