At least 1.6 million European Union (EU) citizens have moved to Britain over the last nine years, a figure which is greater than the combined populations of Liverpool, Leeds and Manchester. That number does not include migration since 2014, which has been running at record levels.
According to the UK Statistics Authority, in excess of 1.6 million Europeans exercised their right to free movement to come to Britain between 2006 and 2014 – equivalent to 500 people every single day.
The statistic was compiled following a request from eurosceptic Conservative MP Ann Main. She told the Daily Mail: "These figures are alarming because they don't take into account all immigration from the EU.
"This is the choice faced by Britain on June 23: from today until the polling day, the UK will need to find housing, hospitals and schools to accompany a new town the size of Canterbury, Torquay or Folkestone."
Separate figures from the United Nations suggest that there are now 2.9 million EU nationals living in Britain, whereas there are 1.2 Brits living abroad in European member states, and that figure is falling – some 100 Brits are currently leaving Spain every day thanks to the region's stagnant economy. Unemployment in the country is currently running at over 20 percent, while youth unemployment was a staggering 45 percent in January.
However, as alarming as the figure is, it is likely to be an underestimate. Official figures released by the Office of National Statistics (ONS) in February show that, in the year to September 2015 (the most recent figures available), net migration hit an all-time high of 323,000.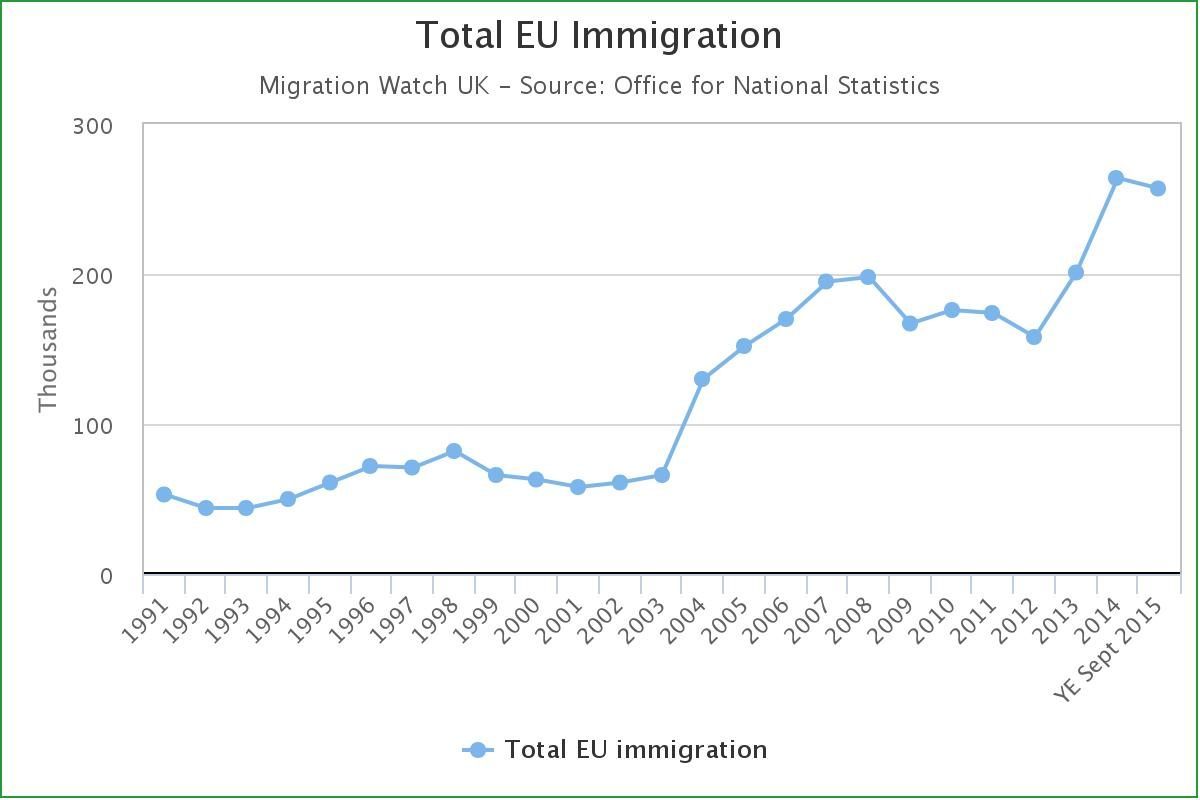 Net migration of EU Citizens during the same period was estimated at 172,000, up from 158,000 in the year to September 2014.
And ONS figures, which were used by the UK Statistics Authority to compile the response to Ms Main's query, also show that 904,000 EU migrants have settled in Britain since June 2010. Yet over the same period, 2.2 million National Insurance numbers have been doled out to EU migrants.
Employment Minister Priti Patel said: "These levels of immigration are far too high for this country to sustain.
"With housing, schools and the NHS all under pressure, this country will not be able to cope with the demands from further waves of migration on this scale from the EU.
"While the UK remains a member of the EU we are powerless to stop or control the numbers coming in. We can only take control of our immigration policy and our borders by voting to leave the EU."
Some experts have called on the government to clear up the confusion by revealing the total of National Insurance numbers which are currently active, meaning that the holder of the number is currently paying tax or receiving benefits.
A Home Office spokesman said: "In the past our benefits system has been a magnet to EU migrants and that is why through our renegotiation we have put an end to the something for nothing system.
"If we left the EU but wanted access to the single market we would have to accept free movement whilst losing our influence in deciding the rules.
"We want Britain to have the best of both worlds – ensuring we only pay benefits to those who have paid into the system whilst keeping access to the single market of 500 million people which secures jobs and financial security."
Under the terms of the renegotiation, settled by EU leaders in February but yet to be voted on by the European Parliament, Britain will be granted an 'emergency brake' on in-work benefits to migrants which will allow the country to taper payments over four years, for a total period of seven years, after which benefits payments will return to the full rate for new migrants.
Deployment of the brake will be a matter for the European Institutions to decide, prompting prominent Tory Nigel Evans to warn at the time: "If we have to phone a friend, indeed in this case 27 friends, to decide that we can put our foot on the brake, then no driver in their right mind would get into a car with those sorts of conditions."
Follow Donna Rachel Edmunds on Twitter:

Follow @Donna_R_E

or e-mail to: dedmunds@breitbart.com