Labour's Sadiq Khan has been elected as Mayor of London, the first Muslim to hold the position.
He easily defeated Conservative rival candidate Zac Goldsmith in the battle to succeed Boris Johnson, who is standing down after eight years in office.
Keep checking below for latest updates:
Delayed official result until midnight.
"There were some minor discrepancies with the Mayoral figures and we have to take the time to check them. We are doing this in conjunction with the Electoral Commission. We are working towards an announcement at around midnight."

Voting discrepancies? In multicultural London? Say it ain't so!

I feel like this whole live tracker thing for #LondonElects was a mistake… everyone's just frustrated the declaration hasn't happened.

— Dan Seamarks (@thedanseamarks) May 6, 2016
You Know It Is Bad When The Morning Star Claims Victory:
Saturday's Morning Star:
Khan takes London for Corbyn's Labour#tomorrowspaperstoday #bbcpapers #LondonElects pic.twitter.com/24Z1O3tgcC

— Nick Sutton (@suttonnick) May 6, 2016
First preference results:
London Mayoralty, first preferences:
Khan: 44.2%
Goldsmith: 35.0%
Berry: 5.8%
Pidgeon: 4.7%
Whittle: 3.6%
Walker: 2.0%
Galloway: 1.4%

— Britain Elects (@britainelects) May 6, 2016
---
Breitbart London's Editor-in-Chief Raheem Kassam Writes:
Dr. [Samuel] Johnson's quote from 1777 begins: "Sir, you find no man, at all intellectual, who is willing to leave London".
A lot of things have changed since then, and in 2016 I would argue that you should find no man, at all intellectual, who is not willing to leave London.
---
YouGov President: Khan To Win Comfortably:
YouGov President Peter Kellner has told BBC Radio London he predicts Sadiq Khan will win by 300,000 votes.
---
Former Tory Mayoral Candidate Blames Central Office For Likely Goldsmith Defeat:
Too much interference? @StevenJNorris thoughts on @ZacGoldsmith campaign @adamfleming #bbcelection #londonelects pic.twitter.com/WfFSevl5DY

— BBC Daily Politics and Sunday Politics (@daily_politics) May 6, 2016
---
LBC: Mathematically Impossible for Goldsmith to beat Khan:
It is now mathemetically impossible for Sadiq Khan to be beaten by Zac Goldsmith in the contest to become London Mayor.

— LBC Breaking (@lbcbreaking) May 6, 2016
---
Sadiq Khan Will NOT Be The First Muslim Mayor Of A Major Western City:
The mayor of Rotterdam, Ahmed Aboutaleb, is a Muslim.
---
Labour Hold Barnet & Camden Despite Jewish Backlash:
Labour have held the seat of Barnet & Camden, which has a high Jewish population, despite growing anger over the party's anti-Semitism controversy.
---
London Assembly Results So Far:
Bexley & Bromley  – Conservative Hold
Merton & Wandsworth – Labour Gain
West Central – Conservative Hold
Lambeth & Southwark – Labour Hold
Havering & Redbridge – Conservative Hold
City & East – Labour Hold
Enfield & Haringey – Labour Hold
Ealing & Hillingdon – Labour Hold
Barnet & Camden – Labour Hold
---
Pollster: Khan Has Won Without Question:
Pollster Peter Kellner tells the Guardian:
"With almost 80% of first-preference votes counted, Sadiq has won without question. He is well ahead on the first count and that's not going to change radically."
---
London Update: Over 90 Per cent Of Votes Counted:
Sadiq Khan maintains his nine-point lead, but as the count has now passed 90 per cent there will now be no more updates until the final result is announced.
---
Quote of the day?
Speaking on Sky News, Sophie Walker, Mayoral Candidate for Women's Equality Party said there is a "woman shaped hole in out political landscape" and it's time to do something about it.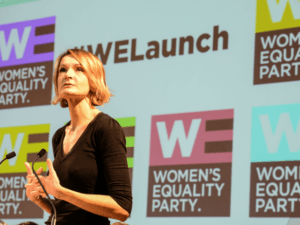 ---
London Latest: Conservatives Set To Lose Merton & Wandsworth:
Labour looks like it has taken the Merton & Wandsworth London Assembly constituency from the Conservatives by a wafer-thin margin.
---
Over 80 Per Cent Of London Vote Now Counted:
Here's where the candidates stand:
Sadiq Khan (Labour): 44 per cent
Zac Goldsmith (Conservative): 35 per cent
Sian Berry (Green): 6 per cent
Caroline Pigeon (Liberal Democrats): 4 per cent
Peter Whittle (UKIP): 4 per cent
Sophie Walker (Women's Equality): 2 per cent
George Galloway (Respect): 1 per cent
---
First London Assembly Result:
The Conservatives have held the Bexley and Bromley constituency with 46 per cent of the vote, a fall of 7 per cent.
---
London Update: With 70 Per Cent of Vote Counted, Khan Still 9 Points Ahead:
With ~30% of the vote left to count Sadiq Khan has a comfortable lead over Zac Goldsmith. pic.twitter.com/TXG9MTFIys

— Britain Elects (@britainelects) May 6, 2016
Bookies and Pollsters Are Calling It For Sadiq Khan:
Sadiq Khan on course to win London. @WEP_UK are beating @georgegalloway Latest votes from @londonelects pic.twitter.com/ZHT33vrPop

— Ben Page, Ipsos MORI (@benatipsosmori) May 6, 2016
Looks like the shrewdies who backed Sadiq Khan to be Mayor at 33/1 a couple of years back are about to get paid out. pic.twitter.com/wpAVMq9Jy8

— Ladbrokes Politics (@LadPolitics) May 6, 2016
---
Breitbart London's Raheem Kassam On The Mayoral Election:
---
Labour Not Performing So Well In Barnet & Camden:
The area has a high Jewish population and Labour won it last time with 45 per cent, compared to 32 per cent for the Conservatives. This time, the two parties are currently neck-and-neck.
---
London Latest: Half Of Votes Counted, Khan Maintains 10 Point Lead:
Around half of the votes have been counted in the Mayoral Election and Sadiq Khan still has a double-digit lead. Almost inevitable he will be mayor.
---
Ken Livingstone Blames 'Far-Right Labour MPs':
The former London Mayor has once again refused to apologise for his comments on Hitler supporting Zionism in an interview on Sky News. Instead, he blamed "embittered old Blairites" for exploiting his comments, even describing them as "far-right".
He also said he was describing "historical reality".
---
Final Result In Wales: UKIP Has Seven Seats:
UKIP has won seven seats on the Welsh assembly, by far their best ever result on the body. Their strong showing has almost certain denied Labour its majority.
The final result in the #Wales2016 Assembly Election https://t.co/dyqb1TuuPl pic.twitter.com/m0CTDimt8Q

— WalesOnline (@WalesOnline) May 6, 2016
---
George Galloway on One Per Cent:
George Galloway has had a terrible day, so far picking up just one per cent of the London vote. Did Khan steal his voters?
---
London Latest: Khan 45 Per cent, Goldsmith 35 Per cent:
As of 11.41am, Khan maintains a 10-point lead over Goldsmith, with around 40 per cent of votes counted. The main question now is whether Goldsmith simply suffers a defeat or a total route.
---
Largely Eurosceptic Dorset Was Keen To Vote:
Hearing lots of people turned out to vote in parts of #Dorset thinking it was #EUref and learning it was just #PCC2016, went away..

— Tristan Pascoe (@TRISTANPASCOE) May 6, 2016
Could this indicate a strong turn out for Leave when the referendum comes?
---
LATEST: Goldsmith Narrows Khan's Lead… To 11 Points:
The Tory candidate is still well behind. It looks near impossible for him to come back from this.
---
Corbyn: "We Hung On"
"Across England we had predictions we'd lose councils. We didn't. We hung on" @JeremyCorbynhttps://t.co/NDogoBJAE7
https://t.co/B8K2mDrh7h

— BBC Breaking News (@BBCBreaking) May 6, 2016
Not really the most reassuring message.
---
Farage: UKIP At An All-Time High:
The UKIP leader told the BBC his party had made "very, very solid steady progress", adding it had "replaced the Conservatives as the opposition party to Labour in the big northern cities".
Attention now turns to the EU referendum:
"And that's a big message when it comes to the refendum in six weeks' time. We've got to get people – not just UKIP voters but Labour voters in the north of England – to come out and vote for Brexit. I think it shows what an important component UKIP is in this referendum campaign."
---
The Best Zac Can Now Hope For Is To Avoid A Double-Digit Defeat:
London looks almost certain to have elected Sadiq Khan as the capital continues to count the votes. Khan currently holds a 12-point lead over Goldsmith. A humiliating result for the Tory candidate.
---
An Unfortunate Mess Up:
Labour supporters waiting for Corbyn to arrive in Sheffield. Apparently he doesn't have a pass to get into the count pic.twitter.com/AHVvxlrtcg

— Frances Perraudin (@fperraudin) May 6, 2016
---
Khan In The Lead:
With around 25 per cent of votes counted, Labour's Sadiq Khan has 46 per cent of the London mayoral vote, while Zac Goldsmith languishes on 34.
---
Conservative Disappointment In Wales:
As everyone focuses on UKIP's breakthrough, it is worth pointing out last night was disappointing for the Welsh Conservatives.
The party lost three seats and dropped to third place behind separatists Plaid Cymru, halting their unbroken run of gains at the Assembly.
---
Scotland Now Has A Blue Beard:
The new political map of Scotland. #sp16 https://t.co/cg28d3RgVK pic.twitter.com/EpU1WPCf7O

— The Scotsman (@TheScotsman) May 6, 2016
---
Farage Hails Wales Breakthrough:
"I am delighted at the significant breakthrough UKIP has made in Wales. It is a victory not just for the party or myself but especially one for our Leader in Wales, Nathan Gill.

"He is an honest, decent, hard working man and I have found him to be a loyal ally at all times.

"I want him to lead our now large voice in Wales to campaign for Brexit. I look forward to my next trip to Cardiff despite the tolls."
---
Counting Under Way In London:
Counting has begun for the London mayoral and assembly election. Sadiq Khan has taken an early lead, but there's still a long way to go yet. Result expected this evening.
---
Former YouGov President: 'Disastrous' Result For Labour:
The former head of the YouGov polling agency writes in Prospect magazine:
"Labour has done badly, albeit not as catastrophically as it feared. It looks like ending up with a net loss of fewer than 50 council seats, not the widely-expected 150. Nevertheless, though Labour has done slightly better than last year, the BBC estimates that its average vote share is four per cent down on 2012. This is bad for a party hoping to regain power nationally at the next general election. Unless today's counts give Labour clear net gains, this will be the first time for more than 30 years than an opposition party has lost ground in council elections. Likewise, yesterday's two parliamentary by-elections, in Ogmore and Sheffield, produced the expected Labour holds, but no surge in the party's support. By any standard other than the pre-election predictions, yesterday was disastrous for Labour."
On Scotland:
"For Labour to come third in a country it used to dominate is truly startling."
---
Ken Livingstone Blamed For Labour Losing Seats In Jewish Areas:
Labour councillor Alan Quinn, who lost two colleagues in Bury, north Manchester, last night, told the Manchester Evening News:
"It's down to one person, and that's Ken Livingstone. He has caused grotesque offence to the Jewish population in Prestwich with his absolutely awful comments. Our councillors put their hearts and souls into representing the area and there really is no place in the Labour Party for bigots like Ken Livingstone."
---
The Independent Enters A Bizarre Fantasy World:
https://twitter.com/Independent/status/728496593163407360
Needless to say this has been widely mocked:
@Independent that's definitely up there on the shiny scale of optimistic assessments

— James O'Leary (@jamesoleary2020) May 6, 2016
@Independent by losing seats?

— David (@Dj12David) May 6, 2016
@Independent er….isn't it the worst result for an opposition party since 1986?

— Lyndon Rosser🏴🇺 (@LyndonRosser) May 6, 2016
I wonder why The @Independent closed as a print publication? https://t.co/PgUMx7bRBC

— Tim Montgomerie (@montie) May 6, 2016
---
Former Tory MP Neil Hamilton Elected As UKIP AM:
Former Conservative MP Neil Hamilton is back in politics as a member of the Welsh Assembly for UKIP. He joins fellow former Tory MP Mark Reckless.
Is Second Independence Referendum Now Impossible In Event Of Brexit?
So it is official, @theSNP loses its majority. I cannot see how there is a legal second referendum in next five years, even if Brexit.

— Faisal Islam (@faisalislam) May 6, 2016
Astonishing. SNP loses its majority in the Scottish Parliament. Surely now impossible to call second indy ref – no clear mandate.

— Pippa Crerar (@PippaCrerar) May 6, 2016
The combined SNP-Green total means there's still a pro-independence majority, though.
---
SNP Lose Majority In Scotland, Tories Beat Labour Into Third Place:
In a surprise result, the Scottish National Party has fallen just short of keeping its majority in the Scottish Parliament. The result will likely make little difference though as it is still way ahead of the opposition.
The Conservatives are now Scotland's main opposition party, with Labour suffering its worst result north of the border for over 80 years.
Scottish Parliament, the final result:
SNP: 63 MSPs (-6)
CON: 31 (+16)
LAB: 24 (-13)
GRN: 6 (+4)
LDEM: 5 (-)

— Britain Elects (@britainelects) May 6, 2016
---
Anti-Semitism Backlash?
Labour has lost a ward in Bury with a high Jewish population, swing away from the party more than 20 percent it sounds like

— Laura Kuenssberg (@bbclaurak) May 6, 2016
Sedgley

CON: 45.4% (+27.2)
LAB: 43.8% (-16.5)

Extraordinary swing https://t.co/lSln4CoXxa

— Alberto Nardelli (@AlbertoNardelli) May 6, 2016
---
Latest Prediction For Wales – UKIP Win Eight Seats:
https://twitter.com/roger_scully/status/728484942427111424
---
Reuters Reports On Labour's Poor Performance:
The Labour Party looks set to lose ground in regional and local elections, partial results showed on Friday, pointing to a dip in support that could challenge the authority of the party's leader Jeremy Corbyn.

In the biggest test of the political mood since David Cameron's Conservative Party won a national election a year ago, Britons voted on Thursday to elect new devolved authorities in Scotland and Wales, more than 2,700 local officials across England and a new mayor of the nation's capital city, London.

The elections have been framed as a test of Corbyn's first eight months in charge of Labour after his surprise victory in an internal leadership contest last September shifted the party's political stance sharply to the left.

With more than half of the results from local government elections in England counted, Labour had lost control of a relatively modest 28 seats. But Labour's share of the vote was down 9 percent in Scotland and nearly 8 percent in Wales.

"We should have been winning by a landslide across the country with the way this Tory (Conservative) government's been acting and the way they've deal with the country," Labour lawmaker John Mann told the BBC.

"We're holding our own, but we should be doing dramatically better than this."

The lone bright spot for a party struggling to hold the government to account may be London's mayoral election, where opinion polls show Labour candidate Sadiq Khan is expected to become the first Muslim to take the post later on Friday.

If overall losses are confirmed, they will represent a negative verdict on Corbyn's leadership, which has so far been dogged by vicious disagreements with a moderate core of Labour MPs and a string of embarrassing crises – most recently over anti-Semitic views expressed by party members.

The scale of Labour's problems were most evident in Scotland, where the Scottish National Party (SNP) was, as expected, on course for a second consecutive majority.

But Labour, who dominated politics in Scotland for decades, could find themselves beaten into third place by the Conservatives.

"What we're seeing tonight is the SNP replacing Labour. The collapse in Labour support is quite staggering," SNP leader Nicola Sturgeon told broadcasters.