The Grassroots Out campaign is set to launch a UK newspaper ad "blitz" lampooning U.S. President Barack Obama's intervention in the European referendum debate in the United Kingdom.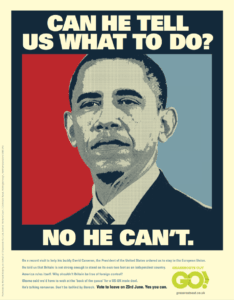 The ad, which plays on the 2008 Obama campaign slogan "Yes We Can" includes a poster of the outgoing president, urging voters not to be "bullied" by David Cameron's "buddy".
The full page adverts will run in 21 major regional newspapers in the United Kingdom including the London Evening Standard, the Liverpool Echo and the Manchester Evening News.
A second advert highlights the many crises currently engulfing the European Union (EU), stating: "It's safer to leave now".
Commenting on the Obama advert, Co-Founder of Grassroots Out, Peter Bone MP said: "It is essential that the Leave campaign make the case for Brexit to as wide an audience as possible.
"A regional advertising blitz takes the leave message across the country.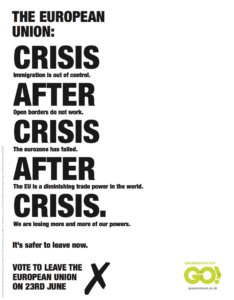 "The remain campaign have dragged out every establishment figure they could find to make the case to stay in the anti-democratic EU superstate.
"The IMF, the Bank of England and of course, US President Barack Obama.
"The Grassroots Out message is very straightforward. This is a battle between the people and the establishment.
"We may be David and they may be Goliath but we can win this referendum and voters must not be bullied by the likes of Obama."
The text of the Obama ad reads: "On a recent visit to help his buddy David Cameron, the President of the United States ordered us to stay in the European Union. He told us that Britain is not strong enough to stand on its own two feet as an independent country.
"America rules itself. Why shouldn't Britain be free of foreign control?
"Obama said we'd have to wait at the 'back of the queue' for a US-UK trade deal.
"He's talking nonsense. Don't be bullied by Barack. Vote to leave on 23rd June. Yes you can."