The UK's third official PEGIDA walk through Rotherham, a town terrorised by Muslim rape gangs for a decade, has passed off peacefully with no reported disturbances.
Around 150 demonstrators from the anti-Islamisation group walked quietly from Rotherham train station to the Town Hall where they listened to speeches.
Roughly 100 counter-demonstrators had gathered to oppose them. They had vowed to turn their back and remain silent, but several turned around and shouted abuse as the PEGIDA walkers passed calmly by.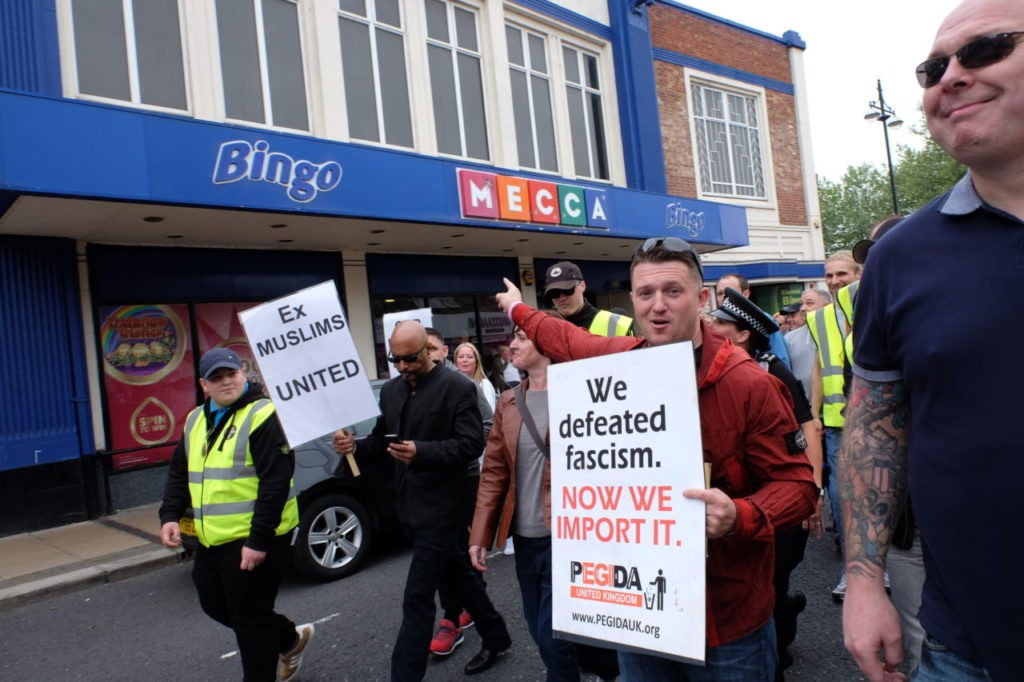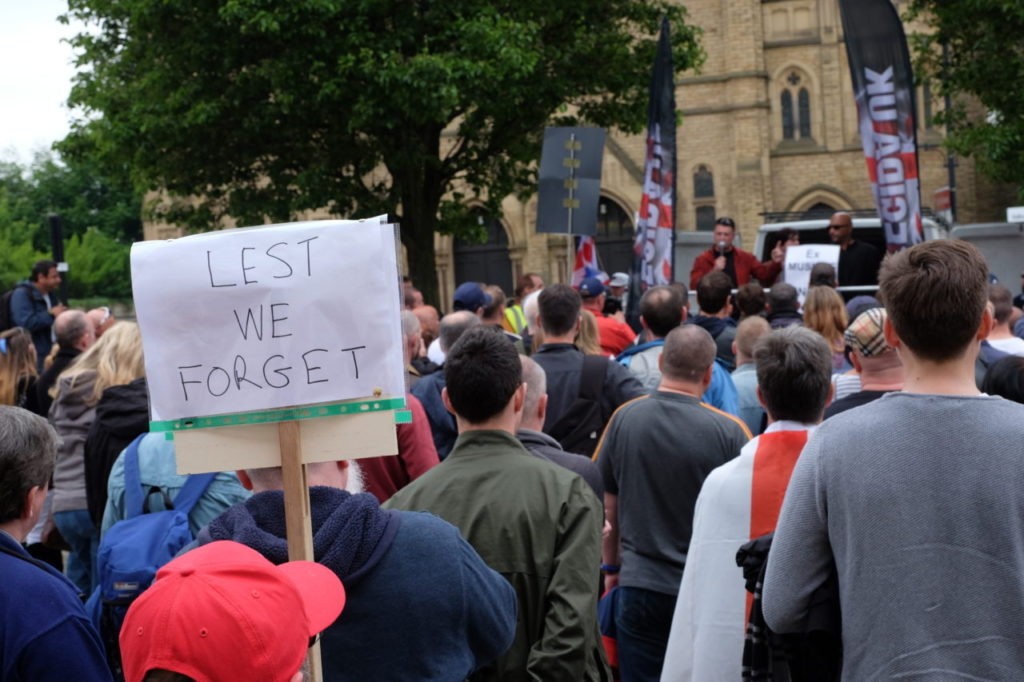 The Muslim rape gangs were allowed free reign in the town for ten years because local cops were paralysed by a fear of being labeled "racist", the government's Jay Report found.
More than 1,600 non-Muslim girls were rape, trafficked and tortured in the town. In February this year, the first convictions for the crimes were made against three Muslim local men.
The police watchdog is now examining almost 200 Rotherham policemen and women after corrupt officers, one related to the convicted groomers, allegedly conspired to protect the child sex gang.
Another officer is accused of having sex with an under-age girl, allegedly passing drugs to the grooming gang and tipping them off when colleagues were searching for missing children, a court was told.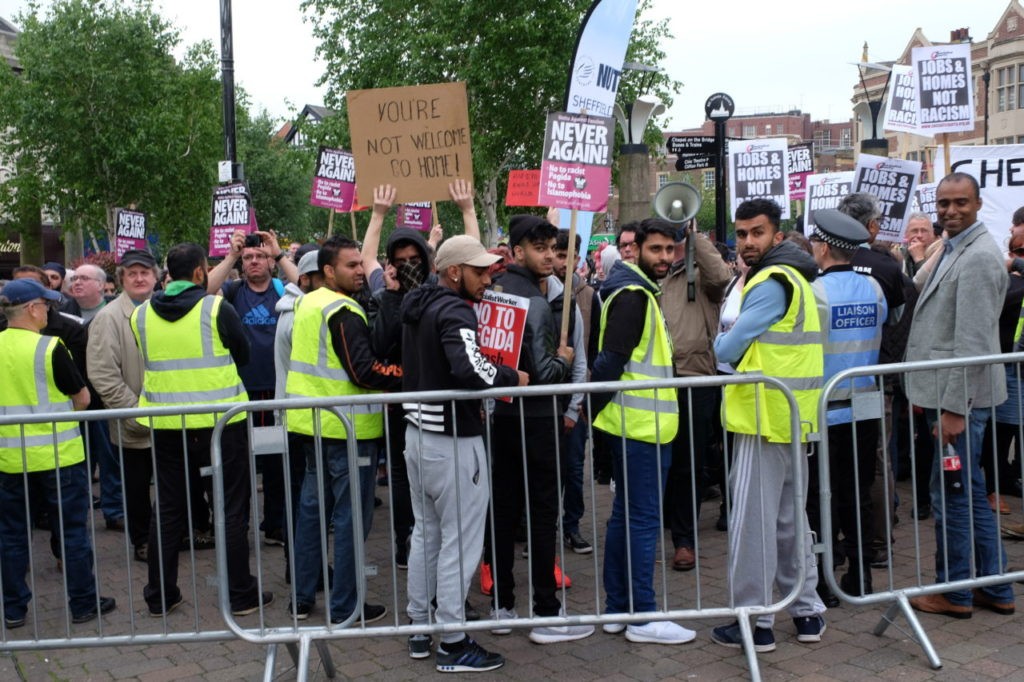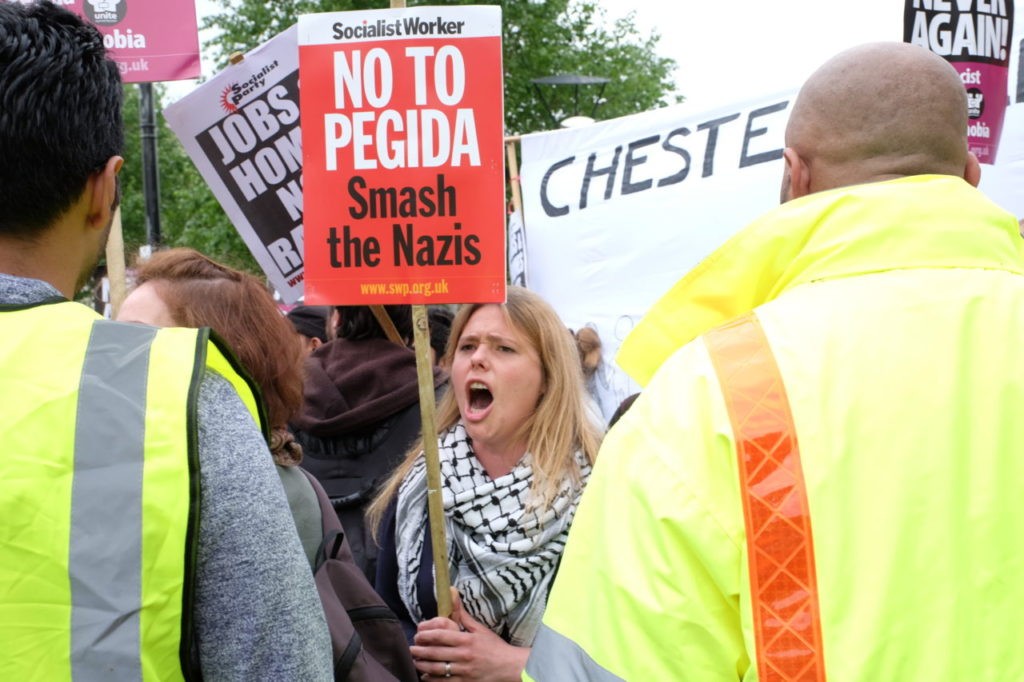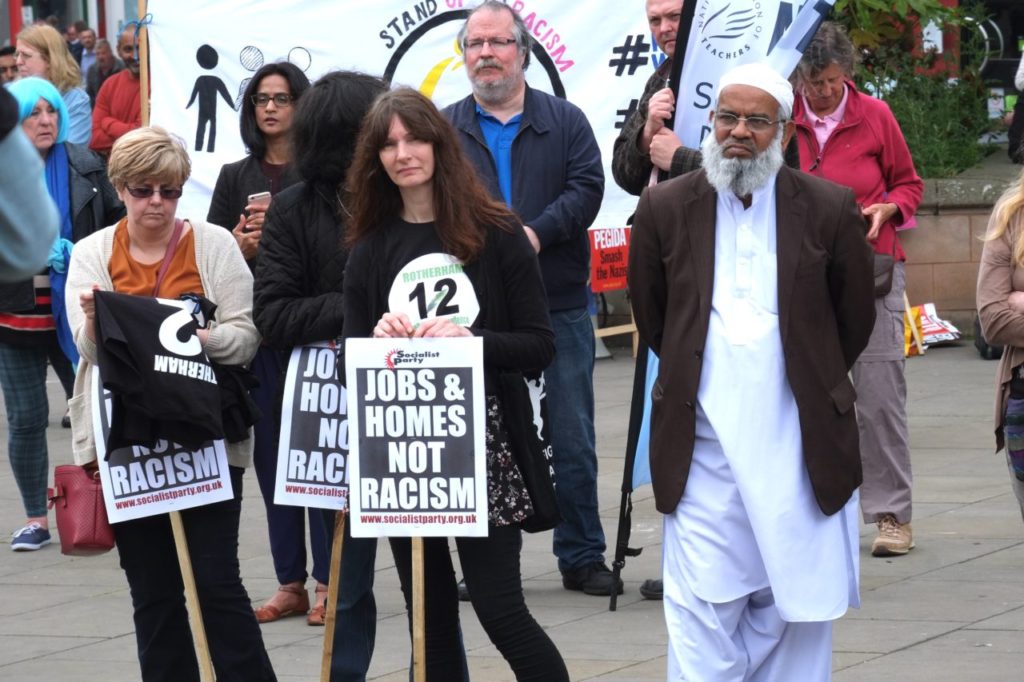 Rotherham Council commissioned a report after local Muslims rioted in the town and an all male, self-appointed group of Muslim 'community leaders' voted to boycott South Yorkshire Police. They argued Muslims had been "stigmatised" after the rape scandal.
The report gave a "diverse", but mainly Muslim, group influence over local policing, which was used to try and block the PEGIDA walk. It did not succeed and the walk went ahead.
The two previous PEGIDA UK walks have taken place outside Birmingham. However, PEGIDA organiser and English Defense League founder Tommy Robinson told the crowd he planed to return to Rotherham in the future.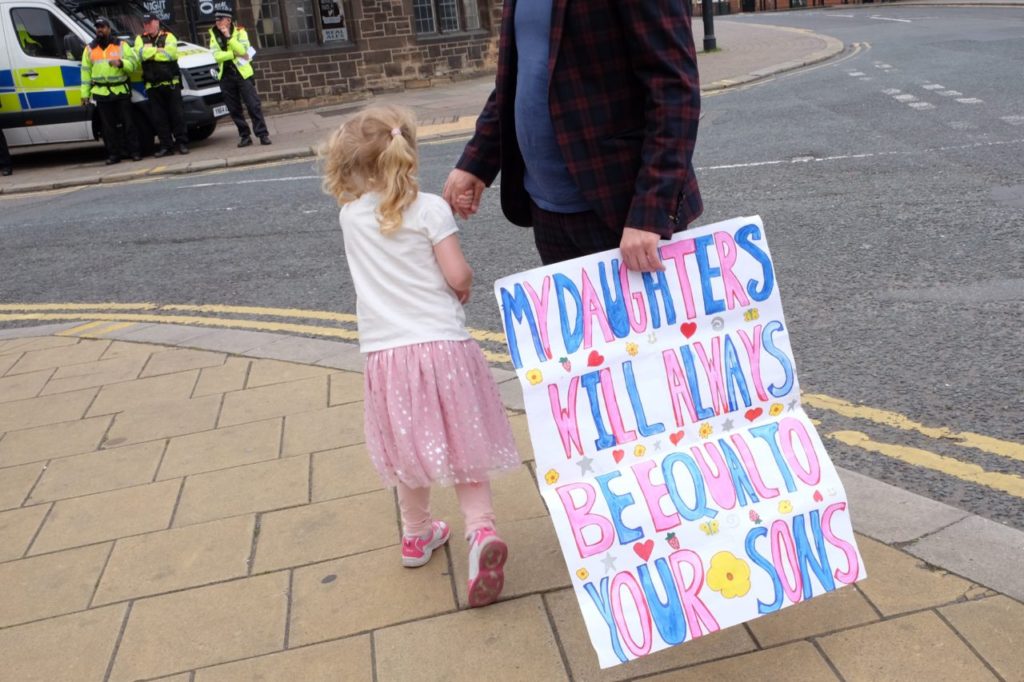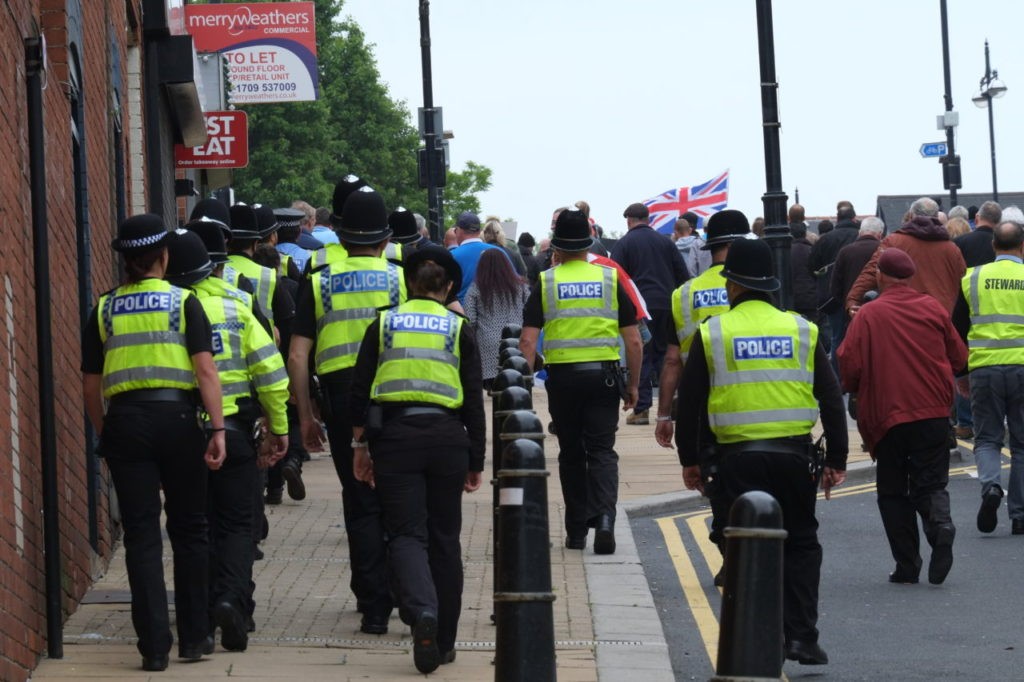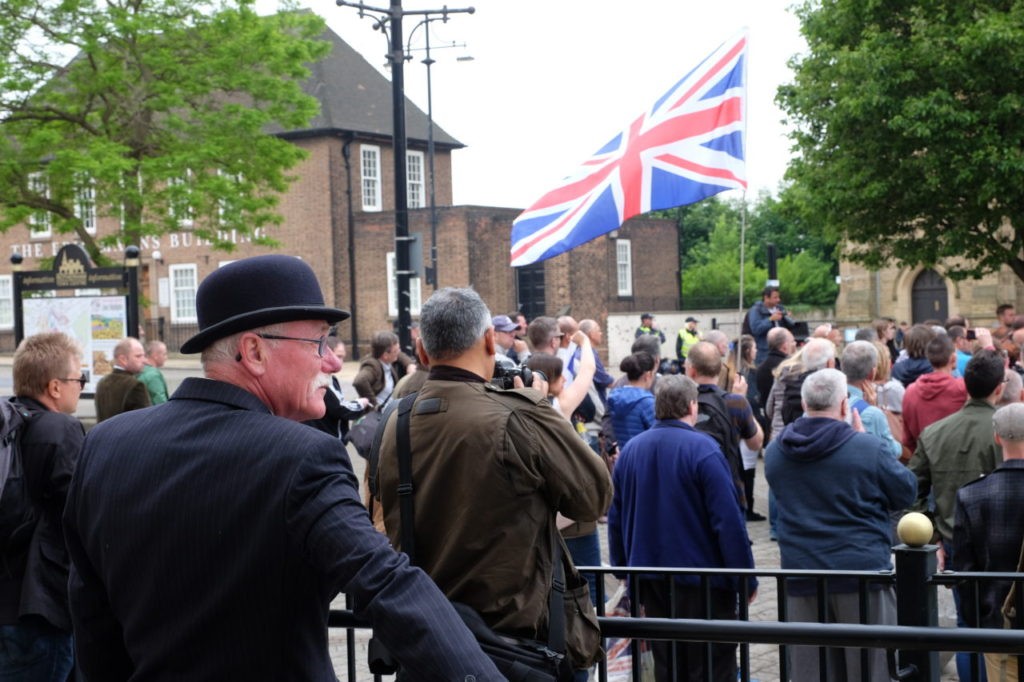 There was a heavy police presence at the event, and the PEGIDA walkers were escorted back to the train station at around 2.30pm, where most boarded trains.
Assistant Chief Constable Jason Harwin told the Sheffield Star: "At the height of the protests we saw around 150 people in one group and 100 in the other. Both groups protested peacefully.
"Two men were ordered to leave the town centre (under section 35 of ASB, Crime and Policing Act). This means they cannot return to the town centre until after 6pm or they could be arrested.
"As I've said before I know how frustrating this is for people living and working locally. We're working closely with the council to do everything possible to limit the impact on you.
"We'll have extra police officers in the town centre late into the evening to provide further reassurance."