Net long-term migration into the UK over the past year was more than 327,000, remaining at a near record level. Almost half of new arrivals came from within the European Union (EU) and there was a surge of Bulgarian and Romanians before the Brexit vote.
The population of non-British nationals in the UK leapt from 5.3 to 5.6 million in 2015. Poland is now the most common non-UK country of birth for people in the country, overtaking India for the first time.
Meanwhile, net migration from Romania and Bulgaria hit a record level of 61,000. In total, more than 180,000 EU citizens came to the UK, down slightly from 184,000 in the year ending in March 2015.
The new quarterly figures from the Office of National Statistics (ONS) also revealed that there were 44,323 asylum applications made over the same period – the 6th successive annual increase.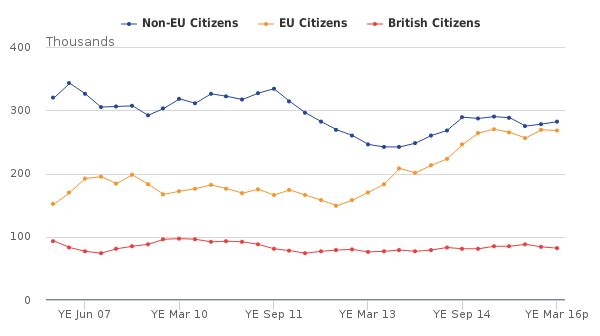 "Net migration remains at record levels although the recent trend is broadly flat. The influx of Romanians and Bulgarians has also reached a new high, although that's off-set by falls in non-EU immigration and from other central and eastern European countries", explained Nicola White, head of migration statistics at the ONS.
"It's important to remember that these figures only go up to the end of March and do not cover the period following the UK's vote to leave the European Union", she added.
The figures, however, cover only "long term" migration.
In April this year, less than two months before the Brexit vote, the ONS was forced to reveal the true scale of EU migration to the UK, after Breitbart and others exposed them as significantly underestimating the figures.
EU migration into Britain was found to be nearly 1.5 million higher than previously thought when "short term" migrants were included.
The ONS said in 2014 that around 220,000 EU migrants had entered Britain over the previous year, yet separate figures showed 421,000 new National Insurance Numbers (NINos) had been issued in the same period.
The discrepancy had arisen because the ONS had refused in include what they classed as "short-term" migrants – people who are estimated or expected to stay less than a year – in the stats.
Former Prime Minister had set his government a target of reducing net migration to under 100,000 when he came to power in 2010, but these latest figures show that six years later that aim is still nowhere near being achieved.