Activists and supporters of Poland's libertarian Freedom party marched on Saturday under the slogan "Wake up Europe", warning that it's the last chance to save the continent from "Islamic invasion".
Crowds gathered along Warsaw's main historic thoroughfare to oppose the political correctness pushed by the European Union (EU), which speakers from Freedom warned is a "gangrene" plunging the continent into "catastrophe".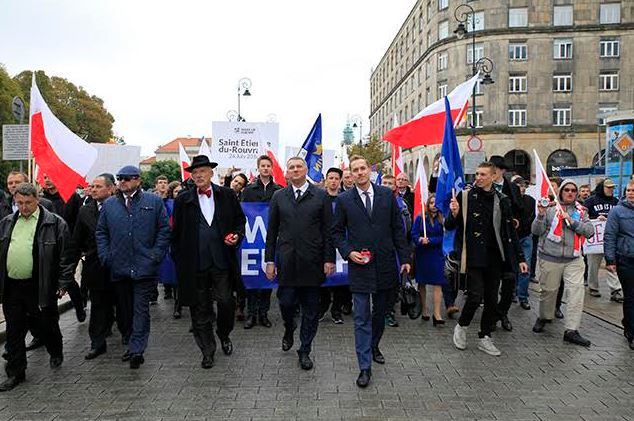 The party's head, popular Member of the European Parliament (MEP) Janusz Korwin-Mikke, said it's "already the 11th hour" for Europe. "This is the last moment to stop the Islamic invasion and save Europe from being led to catastrophe by EU socialists", he cautioned.
The Eurosceptic party's second in command, Przemysław Wipler, said: "Not just Poland, but the whole of Europe needs the New Right [wing movement]. Throughout the EU we see new political movements have formed that will change the face of our continent. A great challenge is before us — we must awaken our countrymen and all Europeans, to save Europe from falling."
The march was also addressed by MEP Robert Iwaszkiewicz, vice-president of the Europe of Freedom and Direct Democracy (EFDD) group. The European Parliament political group is headed by Nigel Farage of UKIP and also includes Alternative for Germany (AfD) MEP Beatrix von Storch.
Iwaszkiewicz told the crowd: "Our nation is not free. Once the law was based in morality; today it results from the cunning and manipulation of interest by the mighty of this world. Ordinary citizens are increasingly enslaved … EU values take precedence over European values."
Konrad Berkowicz, vice-president of Freedom, said that while Poles are hospitable people, "no one normal will give welfare to someone who wants a free lunch" and "no one normal houses someone who doesn't accept the conditions set and wants to establish their own rules".
Marsz Wolności i Suwerenności rozpoczęty! Budzimy Europę! #WakeUpEurope pic.twitter.com/JxVlE7Ijen

— Robert Anacki (@RobertAnacki) October 8, 2016
Robert Anacki, who stood for election for the conservative libertarian party last year, warned Europe is being "consumed by the gangrene of political correctness, which is used to silence people who are against the thieving and barbarous people".
"Europeans are [financially] keeping Islamic immigrants and their children who openly despise us and our culture," Freedom party vice-president Dawid Lewicki added.
Many of the attendees brought with them items commemorating Poles who died by Muslim hands in Munich, Brussels, Nice and other cities across Europe. Several hundred alarm clocks were brought to the demonstration, which Freedom party officials said they hoped would help wake Europeans up across the continent. The clocks rang out at 11:55 to represent Korwin-Mikke's claim that it's the 11th hour for Europe.
Demonstrators marched through suburbs of Krakow chanting slogans including "It's not extreme to want normality" and "Yesterday Moscow today Brussels". The former cry alluded to the Islamic terror attacks which have become commonplace in Europe since the arrival of tens of millions of Muslims, the latter comparing Poland's loss of sovereignty as a member of the EU to being in the USSR.
Upon reaching Warsaw's Presidential Palace, protesters shouted "Freedom, property justice" and called for income tax cuts, before moving on to Castle Square where the march ended with further speeches.