The BBC has been slammed for their allegedly "fawning" coverage of the death of Martin McGuinness after they repeatedly described him as "peacemaker" rather than a militant.
The IRA's guerrilla war against Britain and its democratic institutions claimed nearly 2,000 lives over three decades and ruined many more.
Yet, one guest on BBC Radio 4 this morning even compared Mr. McGuinness to Nelson Mandela, and a BBC News clip described the militant campaigns of the troubles as "a fight for civil rights".
From IRA second-in-command to Northern Ireland deputy first minister: Martin McGuinness dies aged 66.

bbc.in/2n8uC5c

Posted by BBC News on Tuesday, 21 March 2017
Mr. McGuiness was convicted of being a member of the IRA and for terror-related offences – after being arrested near a car containing explosives and ammunition – and served two prison sentences during his life.
At the time of the Bloody Sunday massacre in 1971, he was second-in-command of the IRA in Derry. An inquiry later concluded he had probably been armed with a Thompson submachine gun on the day of the violence.
He has never been convicted of any killings, but there is strong evidence to suggest he was aware of plots to maim and kill civilians, including the murder of the Queen's cousin Lord Mountbatten in 1979.
"I am finding the near-beatification of Martin McGuinness by the BBC rather nauseating," tweeted Chris Whitehouse Tuesday morning.
Another person wrote: "Shame on the BBC giving former IRA commander and murderer Martin McGuinness airtime on his death. Blood on the hands of the BBC."
Other social media users accused the BBC of "lauding a mass murderer like he was on a par with Nelson Mandela" and pointed out the discrepancy between their coverage of his death and the death of former Prime Minister Margaret Thatcher.
"Compare the reverence shown to Martin McGuinness by the BBC with, for example, their sneering hatred for Nigel Farage. No tolerance there?" added Frank Fisher.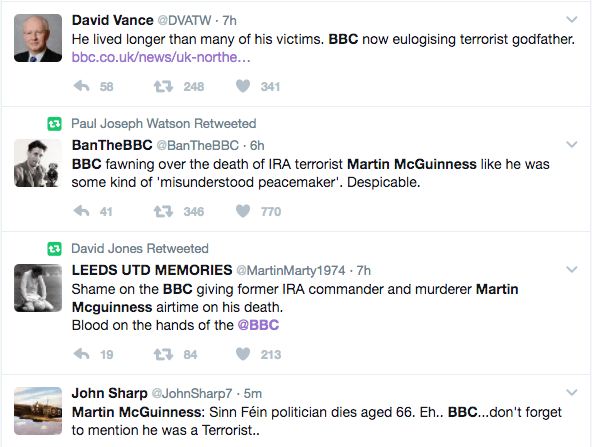 Many on the left praised the former terrorist, however.
"Martin McGuinness played a huge role in bringing about peace in Northern Ireland. He was a great family man and my thoughts are with them," tweeted Labour leader Jeremy Corbyn.
"Martin McGuinness worked decisively for peace and reconciliation in Ireland. Our solidarity to the family and comrades from [Sinn Féin Ireland]," tweeted Pablo Iglesias, the leader of Spain's hard-left Podemos party.
– Update – 
A BBC spokesman said in a statement: "Martin McGuinness' life and legacy fiercely divides opinion. Our coverage has included a range of voices and reaction, including Troubles victims. We have also placed Martin McGuinness' political career in its accurate historical context."