Five have died, including a police officer, after a knifeman mowed down pedestrians and attacked police outside Britain's Houses of Parliament on Wednesday.
Shots were heard late afternoon on Wednesday, with authorities confirming within minutes that the Parliament was on lock down and Members of Parliament were kept in the Commons chamber.
Less than an hour after the attack London's Metropolitan Police declared they were treating the attack as a "terrorist incident".
Incident in #Westminster: We are treating this as a terrorist incident until we know otherwise

— Metropolitan Police (@metpoliceuk) March 22, 2017
The latest: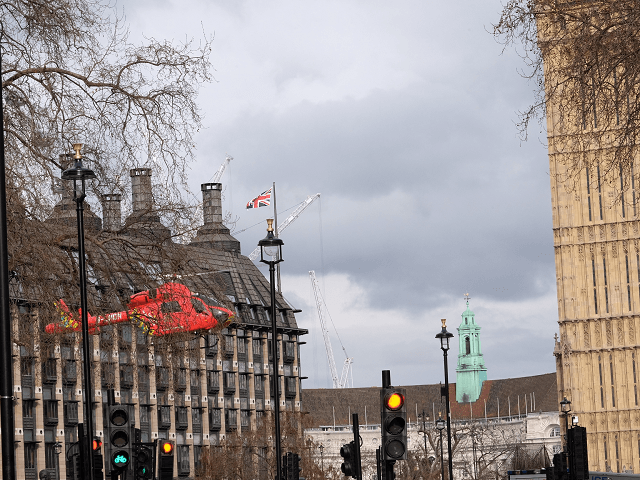 The story so far:
Eyewitnesses report between "eight and ten" figures on the ground on Westminster Bridge, believed to have been the victim of a car ramming attack using a 4×4 vehicle. Eyewitnesses have told how the vehicle mounted the pavement and mowed down pedestrians.
It is currently believed the driver of the car then turned the corner onto Parliament Square before getting out of the car and attempting to get into the grounds of the Palace of Westminster, stabbing a police officer along the way.
https://twitter.com/claudiascore/status/844561131876204544
Paramedics desperately trying to revive injured in New Palace Yard pic.twitter.com/esmQtULO9q

— Libby Wiener (@LibbyWienerITV) March 22, 2017
The man is believed to have been shot by police and put in an air ambulance to a nearby hospital.
Britain's Prime Minister, Theresa May, is said to have been in the division chamber, voting after Prime Minister's Questions, when she was whisked away by a plain-clothes police officer. An air ambulance helicopter has touched down in Parliament square after the attack, which is thought to have consisted of a car attack and a knifeman.
The police and the director of security of the House of Commons have advised the Chamber of the House to be locked down.
Spokesman for President of the United States Donald Trump Sean Spicer confirmed by Twitter Wednesday afternoon that the President had been briefed on the attack.
.@POTUS has been briefed on the situation in the U.K. Continuing to monitor and update

— Sarah Sanders (@PressSec) March 22, 2017
The shots heard fired in the vicinity of the palace are understood to have been by armed police.
A witness within the parliamentary estate told Breitbart London: "We're locked in the office at the moment, waiting to find out what's going on. Looking out the window, I can see Westminster Bridge, there's a man on the floor having a blanket put over him, paramedics are just turning up. There are a few paramedics at the Speaker's end of the bridge. They have been attended to for a while. There are a lot of firearms officers".
Speaking to British media, Journalist Kevin Schofield said: "We heard a very loud bang outside the press gallery. We heard lost of shouting, there were men running around. Then I looked to my left and someone rushed through gates at Westminster and attacked a policeman.
"Another policeman came and rescued him and the man who assaulted him got up and appeared to be carrying a knife. We heard lots of gunfire. Five or six rounds."
Deputy speaker announces UK Houses of Parliament suspended after incident on Westminster Bridge https://t.co/WG8yXWpPVV pic.twitter.com/0SpfNcjAIv

— BBC Breaking News (@BBCBreaking) March 22, 2017
This story is developing.