The Democratic Unionist Party (DUP) are in a powerful position, with the Tories pleading with them to prop up a minority government.
As the conservative, pro-British Northern Irish party negotiates with Theresa May, it is likely they could influence the direction and policies of her government.
So what did the DUP put in their manifesto? Here are some key points:
'Reform' the BBC and 'Abolish' the TV Licence Fee
Like UKIP, the DUP wants to "freeze then cut or abolish the TV licence and reform the BBC".
In their manifesto, they insist the "TV licence fee is a highly regressive tax which was designed for a different era and a world of communication that no longer exists", adding: "The success of Netflix and Amazon streaming services shows that subscription based media can and does work."
They advocate setting up an "independent Commission" to review how the BBC is structured and examine "the opportunities for competitive tendering of key services…"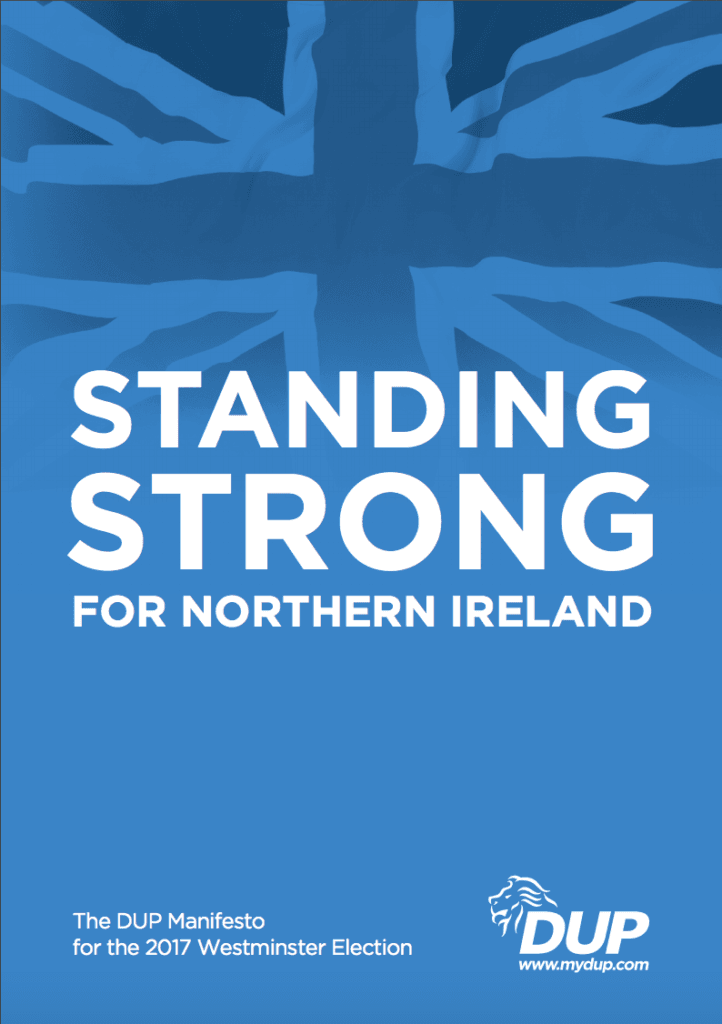 Lower Tax and More Free Trade
The DUP advocates a fiscally right wing agenda of reducing tax and regulation to boost investment and growth.
They want to lower Corporation Tax to at least 12.5 per cent and cut the VAT rate for tourism businesses.
They also want to introduce a Trade Accelerator Plan including an enhanced range of initiatives to help support both new and existing exporters to explore new markets, abolish Air Passenger Duty, and establish low-tax, deregulated Freeports in economically underdeveloped parts of the UK.
They also hint at slashing regulation in their manifesto, promising to introduce "a new Better Business Initiative that will systematically review health and safety legislation working in concert with sectors such as construction…"
'Effective' Immigration
The DUP is strongly against any border checks between the Republic and Northern Ireland, and it is unclear if they want to cut or maintain overall immigration into the UK.
Immigration is only mentioned once in their manifesto when they call for an "effective immigration policy which meets the skills, labour and security needs of the UK" after Brexit.
The party also demands that the "rights of British citizens in the EU and those from EU member states living here [are] safeguarded".
Privatisation and Reducing the Size of the State
The DUP are also in favour of rolling back the size of government and increasing efficiency by giving a greater role to private enterprise and philanthropy.
They want to reduce the number of government departments and Special Advisors, as well as introduce a Civil Service Voluntary Exit Scheme aiming to yield annual savings of approximately £100 million.
The party also proposes exploring the introduction of alternative models of public sector service delivery such as increasing the use of social enterprises.
"Reforming public services is not solely about realising efficiencies so that Northern Ireland can live within its means", they write. "It is also about delivering a more effective public sector and freeing up resources to be spent on priorities like schools, hospitals and policing."