Right wing, male MPs are far more likely to receive abuse online than left wing females, despite claims of feminist activists that women are most vulnerable.
Tory Foreign Secretary Boris Johnson, for example, receives eight times as much abuse on Twitter as Labour Shadow Home Secretary Diane Abbott, an analysis of 840,000 tweets sent in the month before the general election revealed.
Broken down by party and sex, male Conservative candidates were the group who received the highest percentage of abuse in their mentions, followed by male UKIP and Labour candidates, and female Conservative candidates.
The study, by the University of Sheffield and Buzzfeed, found that well-known politicians including Theresa May, Jeremy Corbyn, and Boris Johnson suffer the most abusive comments.
Secretary of State for Health Jeremy Hunt and former Liberal Democrat leader Tim Farron were other common targets, both coming in for more abuse than Mrs Abbott, who has been one of the loudest voices in criticising online abuse in recent weeks.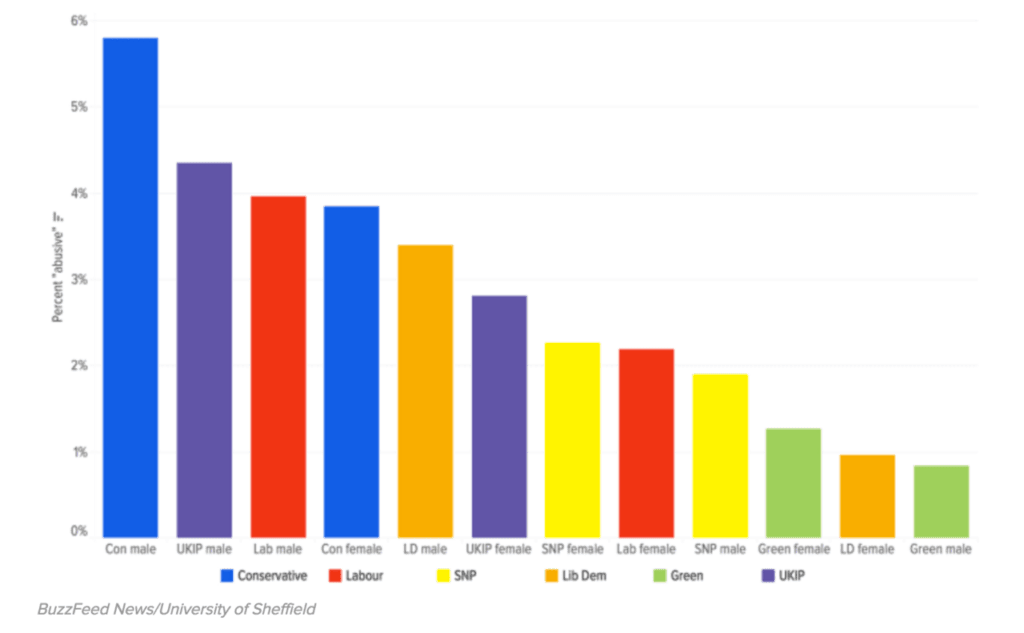 In June last year, Labour MP Tulip Siddiq claimed that "being a female politician, there is no way you are going to avoid abuse" online, as she called for a crack down on online speech.
Danna Abbott just this month railed against online abuse, claiming that it is "characteristically racist and sexist". The Guardian newspaper supported her assertions, with little evidence, insisting women were singled out.
Labour MP Yvette Copper has promoted the Reclaim The Internet campaign, which aims to "stop online abuse especially misogyny, sexism, racism, homophobia and intimidation online."
However, the study contradicted these claims, revealing that Labour women were one of the least likely groups to be abused, and Conservative men the most at risk.
And if you had any doubt about the racism & misogyny in online & offline abuse, watch this – it's vile what Diane's been targeted with https://t.co/etGZXgBdSm

— Yvette Cooper (@YvetteCooperMP) July 12, 2017
Overall, around 30,000 (or 4 per cent) of the messages analysed were classed as abusive using filters which highlight swear words, insults and death threats.
Yet for Conservative, male MPs the proportion was significantly higher, with around 6 per cent of Tweets being flagged as abusive.
Labour men and female Tories received 4 per cent abusive tweets, and female Labour politicians had just over 2 per cent abuse.
Tory MPs recently claimed that the ascension of Labour leader Jeremy Corby and his emboldened far-left supporters had increased the threat of abuse on line.
On the 12th of June, following the general election, the Prime Minister ordered a full public inquiry after he MPs warned of slashed tyres and death threats.
Speaking at the time, Conservative MP Simon Hart said: "Rather than just putting out feeble messages online saying you condemn all this, Jeremy Corbyn needs to actually do something about it.
"Mr. Corbyn and the leaders of Momentum [Corby's faction of the Labour party] need when there is even the faintest whiff of this stuff to say: 'You are not welcome in our party or to campaign on our behalf and wear the Labour badge if this is how you're going to behave'."