Following Breitbart London editor Raheem Kassam's suspension from Twitter, we decided to find out just how many times verified, anti-Trump, liberal tweeters have got away with using the same language.
Kassam's offending tweet — according to Twitter — was as follows: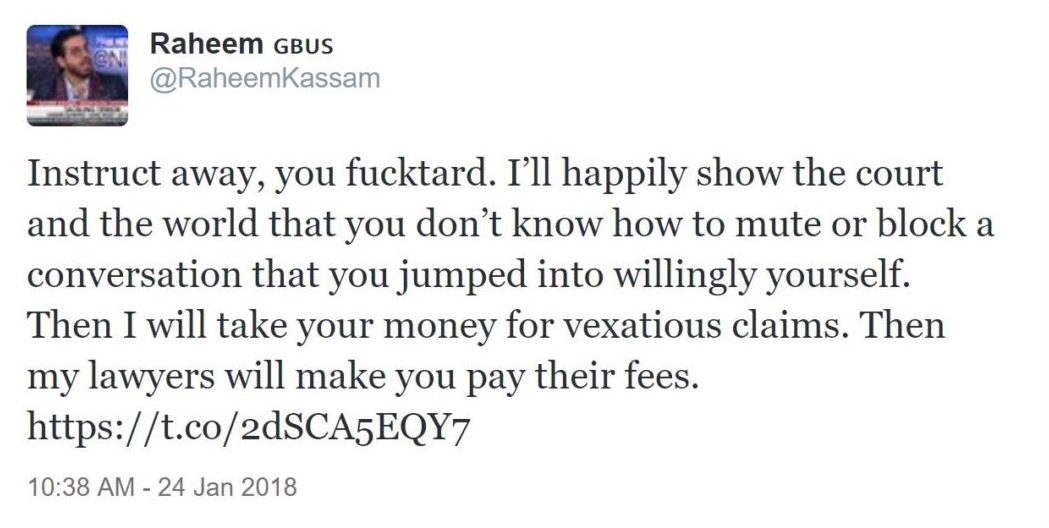 The only presumably offensive part of the tweet is the use of the pejorative "f*cktard". But upon investigation, Breitbart London found hundreds of examples of use of the word, both directed at ordinary people, and at politicians like President Trump, VP Mike Pence, Congressman Paul Ryan, and others which have gone unpunished by Twitter.
Here's a look at the top 67 tweets from just one year, and which verified Twitter users they were sent by:
1. ESPN staffer Katie Nolan:
https://twitter.com/katienolan/status/816319707292823552
 2. Variety Awards Editor Kristopher Tapley:
Spoilers, fucktard.

— Kristopher Tapley (@kristapley) January 4, 2017
3. An angry liberal complaining about Obamacare repeal:
You're a FUCKEN IDIOT if you voted for these fucktard Republicants laughing & gloating about repealing healthcare @SpeakerRyan @mike_pence

— DEADLEE (@deadlee2213) January 4, 2017
4. Never Trumper Ben Howe, who also claims he's been "too polite" to Trump supporters:
We resort to name-calling once we realize that facts have no impact on your teeny tiny little useless brain, fucktard. https://t.co/7pPYHefqLe

— Ben (@BenHowe) January 7, 2017
5. Wall Street Journal/Washington Post writer Amy Westervelt:
Hope this leak is not some rightwing fucktard trying to see how many idiot journalists will fall for his/her ruse.

— Amy Westervelt (@amywestervelt) January 11, 2017
6. Trump derangement syndrome sufferer and HuffPo writer Justin Lew Block:
god I can't even imagine how stupid that fucktard is gonna sound giving his first official address as POTUS

— justin block (has flipped) (@JBlock49) January 11, 2017
7. Daily Beast, Salon, and IJR leftist Gary Legum:
Jews voted against him something like 75-25 so I don't think this actually matters, you weird-haired fucktard.https://t.co/8YlcnskjtV

— Gary Legum (@GaryLegum) January 13, 2017
8. The Mixx Radio Network's corporate account, tweeting at the President of the United States:
https://twitter.com/TheMIXXRadio/status/820619856303288320
9. Anti-Mike Pence/Donald Trump cosplayer and gamer April Hunter:
Listen…no assassination of Trump, peeps. Because then we get Pence. And HE is a fucking fucktard.

— April Hunter (@AprilHunter) January 17, 2017
10. The Daily Beast's Noah Schactman:
I'm quite sure there are other IR trackers. This is pretty clearly an intimidation move. Or the work of a fucktard of an officer.

— Noah Shachtman (@NoahShachtman) January 18, 2017
11. Anti-Trump D-List actor Patrick Brammall:
Well I must say, I'm VERY excited about the impending inauguration of President Fucktard.#PresidentialInauguration #fucktard

— Patrick Brammall (@PatrickBrammall) January 18, 2017
12. Anti-Trump social media manager for Grubhub Mallorie Rosenbluth:
Ahh!! Waking up to @POTUS being taken over by the fucktard ushering in the era of fucking idiots was jarring. UNFOLLOW.

— Mallorie Rosenbluth (@MallorieRose) January 21, 2017
13. A band called Yuck:
People calling me 'snowflake' because I have different views to you. I have name for you too: Fucktard

— Yuck (@Yuckband) January 22, 2017
14. Forbes and New York Times contributor Rebecca Theodore-Vachon:
clearly I don't since I retweeted that on my tl an hour ago you fucktard. @CynthiaEriVo @Karnythia @1followernodad

— Rebecca Theodore-Vachon (@FilmFatale_NYC) January 22, 2017
15. Anti-Trump conspiracy tweeter John Schindler:
.@SkiPhilosopher I love Alger Hiss THIS much, you fucktard https://t.co/hdiv9PD3nT

— John Schindler (@20committee) January 23, 2017
16. American Muslim Women Committee founder Mirriam Seddiq:
Lol at the guy who is continuing to quote tweet me to get his fucktard army out. Good for you dude.

— MirriamRichardMarx4everSeddiq (@mirriam71) January 24, 2017
17. ESPN Radio Contributor Vincent Frank:
Nah. Due to a fucktard.

— Vincent Frank (@VincentFrankNFL) January 27, 2017
18. Anti-Trump "comedian" Christopher Titus:
Thanks for letting Isis win Donny, today we gave up our principals out of fear. You put a target on us fucktard. You made them right. Idiot.

— Christopher Titus (@TitusNation) January 28, 2017
19. Anti-Trump CBS staffer Sasha Charnin Morrison:
#immigration #nowives #trump #fucktard https://t.co/WFlY2Yk3Fz

— SashaCharninMorrison (@sashacharnin) January 29, 2017
20. Anti-Trump tweeter Fresh Daily:
Iranian friends, sorry. Y'all now can't visit your family overseas cuz of President Fucktard Cheetoface https://t.co/c2olndx3IH

— Fresh Daily (@Freshdotdaily) January 30, 2017
21. Deputy Editor of Britain's left-wing 'I' newspaper, Rob Hastings:
Niall Ferguson is a "fucktard" and Britain should "sack all teachers," says Horrible Histories author Terry Deary:https://t.co/HwkN8HMXbi

— Rob Hastings (@robhastings) February 1, 2017
22. Guardian veteran Jack Schofield, twice:
Do run along little fucktard. You're soiling my timeline. Bye! pic.twitter.com/N9YipANNTs

— Jack Schofield (@jackschofield) February 9, 2017
No you didn't. You just showned what a bigoted ignorant fucktard you are.

— Jack Schofield (@jackschofield) February 9, 2017
23. Left-wing newsletter writer Dave Pell:
That decision was court, you fucktard. https://t.co/dtCjmPRIAF

— Dave Pell (@davepell) February 10, 2017
24. Anti-Trump "comedian" Jason Elia:
I mean @realDonaldTrump is an anal leakage licking spineless fucktard. @StephenAtHome & @pattonoswalt are loving educated soulful humans.

— Jason Elia (@jedijamesdean) February 15, 2017
25. Self-professed "fat woman" Becca Stokes:
.@realDonaldTrump OH MY GOD IT IS "NONSENSE" YOU BLITHERING FUCKTARD.

— Becca Stokes (@beccastokes) February 15, 2017
26. Documentary maker Graeme Swann:
@TwopTwips nuclear bunker salesmen. Ensure a swift upturn in business by somehow getting America to vote for a fucktard as President.

— Graeme Swann (@Swannyg66) February 16, 2017
27. Filmmaker Scott Derrickson:
Wrong. You. Fucktard. https://t.co/4su3zvG69t

— Scott Derrickson (@scottderrickson) February 17, 2017
28. Actor Ayden Callaghan:
plenty of takers on this. Look forward to you not following through on this you dopey loudmouth fucktard.

— Ayden Callaghan (@AydenCallaghan) February 20, 2017
29. Writer Ben Rimalower:
GO AWAY, FUCKTARD!

— Ben Rimalower (@benrimalower) February 21, 2017
30. Entertainment Weekly writer Emma Caulfield Ford:
FUCK YOU FUCK YOU FUCK YOU YOU HORRIBLE ORANGE FUCKTARD MONSTER FROM HELL. Sorry for swearing. https://t.co/9oE4FSN2sf

— emma caulfield ford (@emmacaulfield) February 27, 2017
31. Women's March chairman Tee Marie Hanible:
Brainwashed fucktard! You'd shit on me for an asshole who cares more about 💵 & Russia than you or your fellow vets🙄 https://t.co/pVNY9s1bjt

— Tee Marie Hanible (@TheRealTeeMarie) February 27, 2017
32. Clinton fan-boy journalist David Simon:
You fucktard Do you not understand that she relinquished her role to the FBI director? Apparently not. Life, short. You, blocked.

— David Simon (@AoDespair) March 2, 2017
33. ESPN Editor Debayan Sen:
Incidentally, failing to identify a woman's point of view, and then mocking her for it, is perpetuating rape culture, you fucktard! https://t.co/Rtib7twUSf

— Debayan Sen (@debayansen) March 14, 2017
34. Broadcaster Bryn Lucas:
#Trump really is a prize winning fucktard. Sorry but @realDonaldTrump makes me so mad. https://t.co/GaU5xRrca4#climatechange #ClimateAction

— Bryn Lucas (@BrynLucas) March 28, 2017
35. Anti-Trump YouTuber Chef Resha:
y'all really put that orange thick and unresponsive dim witted fucktard in office. pic.twitter.com/dwPe11yTcO

— Resha (no, im not riding) (@ChefResha) April 3, 2017
36. Parks and Recreation actress Mo Collins:
Fucktard, asshat, pig. I can't be nice anymore about it. https://t.co/ezS0CYYiqZ

— themocollins (@THEMOCOLLINS) April 5, 2017
37. "Comedian" Alia Janine:
#Breaking The shit this ignorant fucktard says should not be normalized. Ever. https://t.co/uAFDZhbMLV

— Alia Janine (@TheAliaJanine) April 11, 2017
38. Netflix "comedian" Kathleen Madigan:
grammar cops on twitter r the kids who cried foul in dodge ball. Ah, there's no real rules here fucktard. It's a free 4 all. Just duck.

— Kathleen Madigan (@kathleenmadigan) April 13, 2017
39. Vegetarian food blogger Jerry James Stone:
This fucktard just needs to go away.

— Jerry James Stone (@jerryjamesstone) April 23, 2017
40. Senior editor at E! News Natalie Finn:
Wow, how DID Hillary win the popular vote when Trump is the one getting 9-11 caliber ratings?! #fucktard https://t.co/5qRu0wINHu

— Natalie Finn (@natfinnonE) April 24, 2017
41. Tucker Carlson hater ABCNT:
What kind of mentally deficient fucktard follows Tucker Carlson in 2017? Get lost.

— ABCNT (@ABCNT1) April 30, 2017
42. Guardian/BBC journalist Zoe Margolis:
It's like he's trying to win an award for the most ignorant, misinformed, dim-witted, lying fucktard of a POTUS. Absolute shit-for-brains. https://t.co/LIpe3ifesM

— Zoe Margolis (@girlonetrack) May 2, 2017
43. Guardian/Al Jazeera contributor Sana Saleem:
https://twitter.com/sanasaleem/status/860751613950021632
44. Netflix director Rod Blackhurst:
This tweet aged well considering your fucktard of a boss, The Orange Dumpster Fire, mishandled classified info to the Russians, in the W.H.

— Rod Blackhurst (@rodblackhurst) May 15, 2017
45. Has-been comedian Dom Joly:
You sound like an illiterate fucktard with that spelling. https://t.co/wm7UysFpwW

— Dom Joly (@domjoly) May 22, 2017
46. Plus sized British blogger Georgina Horne:
You victim blaming cunty piece of shit. Immigrants aren't to blame you insensitive fucktard. https://t.co/TxiD62GxYf

— George (@FFigureFBust) May 24, 2017
47. Former BBC journalist Victoria Scott:
Bell-end, turd, fucktard. Pick your appropriate British description. #WeAreNotAfraid https://t.co/Gl2cd6RVay

— Victoria Scott (@Toryscott) June 4, 2017
48. TED talker Dan Bell:
I hate him completely now. What a fucktard.

— Dan Bell (@thisisdanbell) June 13, 2017
49. Signer Alona Tal:
Seriously still can't deal with the fucktard von clownstick presidency we have going on. His whole administration is a disgrace. Gross.

— Alona Tal (@talalona) July 1, 2017
50. Anti-Brexit musician Guy Pratt:
Funny how Brexiters can come up with literally nothing better than a swipe at my https://t.co/ygSjrtYU9Z ever. Dogspangling Fucktard.

— Guy Pratt 🇺 (@guypratt) July 17, 2017
51. Anti-Trump musical producer Christopher Clegg:
FUCK YOU @realDonaldTrump. Seriously, you absolute piece of trash fucktard wankstain tiny dicked cunt faced idiot. https://t.co/9E8NoPeUSZ

— Christopher D. Clegg (@chrisdclegg) July 26, 2017
52. UK-based university lecturer Iain Overton:
As someone just said to me: "Trump is the world's No. 1 fucktard." I think he'd make a great fucktard. THE BEST!

— Iain Overton (@iainoverton) July 26, 2017
53. (Another) Variety editor, Malina Saval:
Last I checked God wasn't homophobic, you dumb fucktard idiot.

— (((malina saval))) (@Malinasaval) July 30, 2017
54. Black Lives Matter supporter Matt Kolsky:
Look in the kid's defense he's still learning how to say "bigoted fucktard" https://t.co/Lt0fxJjcAh

— Matt Kolsky (@thekolsky) August 12, 2017
55. Chelsea Handler:
Captain Dummy has another rally tonight. Let's see if he can avoid supporting neo-nazis, white supremacists, or police brutality. #fucktard

— Chelsea Handler (@chelseahandler) August 22, 2017
56. Documentary maker John Battsek:
Possibly the most non-sensical tweet since whatever that fucktard in the White House last tweeted. Get a grip man you are losing the plot.

— John Battsek (@DiegoisGod) September 1, 2017
57. Washington Post/Salon writer Alan Zilberman:
Screenshot someone who tweeted something stupid (e.g. a pundit or Max Landis), then call them a fucktard.

— Alan Zilberman (@alanzilberman) September 7, 2017
58. Writer Dino Demilio:
Rush Limbaugh is a FUCKTARD of the highest order https://t.co/w9ELd2G5Q1

— Dino DeMilio (@dino101) September 8, 2017
59. Miss Gay America 2010 Coco Montrese:
And yall put this fucktard in the whitehouse? pic.twitter.com/znFHMuAv6Z

— Coco Montrese (@cocomontrese) September 26, 2017
60. HuffPost blogger Jillian:
Keep listening to the fucktard in office with his lies. My father has helped , has a foundation that helps with kids with special needs

— Jillian (@Pheramuse) September 30, 2017
61. Songwriter Diane Warren:
At 32 percent approval ratings r U gonna really talk about taking ratings U orange fucktard?

— Diane Warren (@Diane_Warren) October 10, 2017
62. Portlandia writer Karey Dornetto
https://twitter.com/kareydornetto/status/918712674636120064
63. Canadian actor Michael Shanks:
He's a "Prime Minister" you ignorant fucktard. And we'll be an "Islamic Caliphate" a lot later than you'll be a xenophobic CRATER. Good luck with that. Shit yard https://t.co/PYH4GbLyMQ

— Michael Shanks (@MichaelShanks) November 23, 2017
64. This guy:
Fucktard @AjitPaiFCC following douchbag @Cernovich. What a time. https://t.co/mgDKGDAsSR

— Aléx Young (@AlexYoung) December 30, 2017
65. Forbes contributor Bob Egan:
Is there any doubt this fucktard isn't completely batshit crazy?

Anyone disagree? pic.twitter.com/GzNVUt69ix

— Bob Egan (@bobegan) January 3, 2018
66. Forward.com writer Batya Ungar-Sargon:
https://twitter.com/bungarsargon/status/950433067147112448
67. Actress and Women's Marcher Christine Lahti:
Rapist Child Narcissist Fucktard #RoastTrumpIn4Words

— Christine Lahti (@ChristineALahti) November 26, 2017