Almost 70 percent of Brits think Brexit is going badly, a poll has revealed, with the majority of both Leave and Remain voters blaming the government.
Over 60 percent blamed Theresa May's government and around a third blamed the media for the perceived poor state of the Brexit process.
The YouGov survey comes as Mrs May prepares to meet with her cabinet and set their policy on a customs union and single market arrangements with the European Union, where the Prime Minister is expected to push to stay tied to the bloc.
The poll showed that 77 percent of Remain voters said Brexit was going badly compared to 58 percent of Leave voters.
Only roughly one in six people (16 percent) believe Brexit is going well so far, with Leave voters more inclined to be positive than those who voted for Remain – 26 per cent compared to 6 per cent.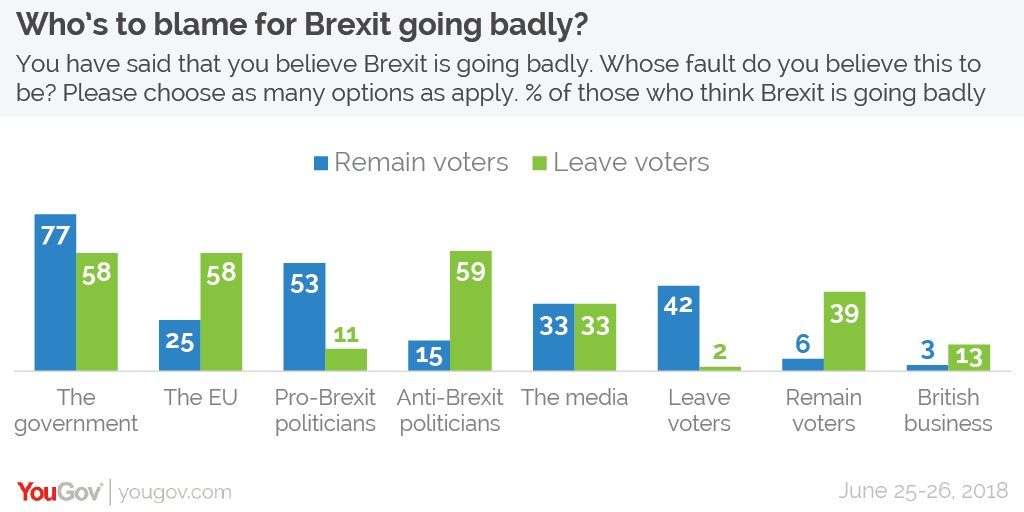 YouGov explained: "Asked who they would blame if Brexit turned out badly in the end, Leave voters who currently think it is going well give very similar answers to their Brexit-backing brethren who think it is going badly, with one exception: they are far less likely to blame the government."
Among Leave voters, 59 percent blame anti-Brexit MPs for the perceived failures, 58 percent blame the government, and another 58 percent blame the EU itself for what they see as the bad state of the Brexit process.
Among Remain voters, 77 percent blame the government, 53 percent blame pro-Brexit politicians, and 42 percent blame their fellow citizens who voted to leave the Brussels bloc.
"While Remain voters are far more likely to blame the government than they are to blame any other group, this is not the case with those who voted for Brexit," YouGov writes.
Adding: "Both sides blame the media in equal proportions – 33 percent apiece – while Leave voters are somewhat more likely to blame British business than Remain voters (13 percent vs 3 percent)."
'No Cake': EU to Reject May's Latest Brexit Offer Despite MORE Concessions https://t.co/Dj8snqByZT

— Breitbart London (@BreitbartLondon) July 2, 2018