The 2018 omnibus provides just enough funds to build 33 miles of fencing on the Texas border — but it also provides $500 million to help Jordan build a wall and defense line against jihad terrorists trying to cross its 287-mile border with Iraq and Syria.
The omnibus budget says on page 394:
SEC. 9011. Up to $500,000,000 of funds appropriated by this Act for the Defense Security Cooperation Agency in ''Operation and Maintenance, Defense-Wide'' may be used to provide assistance to the Government of Jordan to support the armed forces of Jordan and to enhance security along its borders.
On page 375, the omnibus says:
For the ''Counter-Islamic State of Iraq and Syria Train and Equip Fund'', $1,769,000,000, to remain available until September 30, 2019 …

That these funds may be used in such amounts as the Secretary of Defense may determine to enhance the border security of nations adjacent to conflict areas including Jordan, Lebanon, Egypt, and Tunisia resulting from actions of the Islamic State of Iraq and Syria:
The U.S.-funded, $500 million, 274-mile Jordan-Iraq border wall was described by Vice.com, in a 2016 article titled "The Great Wall of Jordan: How the US Wants to Keep the Islamic State Out";
The wall, which began as a $20 million project in 2008 to erect a set of surveillance towers along a 30-mile (50 km) stretch of the border with Syria, has since expanded into a program costing half a billion dollars, according to defense officials who spoke to VICE News. Called the Jordan Border Security Program or JBSP, the wall is ostensibly meant to stop weapons of mass destruction from getting out, but since 2013 has refocused on detecting Islamic State fighters and arms smuggling, as well as refugees, on both sides of the border …

The first phase of the JBSP, the erection of the towers, was completed in September 2009. Phase 1B, the beginning of the fence, was completed in March 2014. Phases 2 and 3, the building of a fully integrated and networked fence running along a 275-mile(442 km) stretch of Jordan's borders with Syria and Iraq and costing some $300 million, are scheduled to be fully operational this year. Further phases will extend the fence along the entire border and improve surveillance and detection gear. Mobile surveillance stations and quick reaction forces will be stationed at vulnerable points or emerging hot spots.

It's all paid for by the United States taxpayer.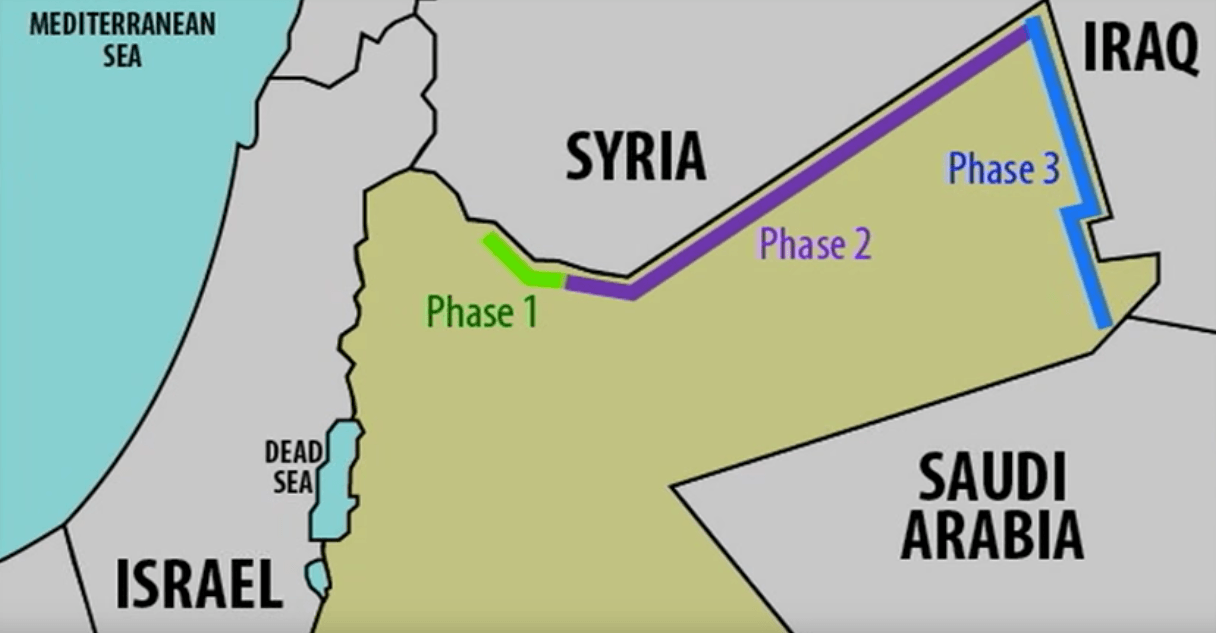 A Pentagon video explains the project, saying the border defense is 552 kilometers.
One of the contractors is Raytheon, which boasted in a 2015 press release:
 "Our team has delivered on that model supporting [U.S. government] DTRA border security contracts across the world in Southeast Asia, Eastern Europe and in Jordan.

"In total, the systems we have installed protect 4,500 miles of borders."
The Jordan wall is designed to block the movement of jihadis — but the U.S. border wall is being designed by Republicans and Democrats to leave large holes for migrants to move into U.S. jobs and into Democrat-run cities, where they force down wages earned by blue-collar Americans and paid by local businesses.
For example, the 2018 omnibus bill only extended the border fence by a mere 33 miles, even though Trump's deputies have developed a plan to close up 700 miles of open border.
The omnibus bill also reduced the number of detention beds kept to hold migrants prior to their asylum and deportation court hearings. Agency officials want additional beds because they are required to release migrants whenever the flood of migrants exceeds their detention capacity. If released, the migrants move into Democratic-run "sanctuary cities" or to GOP-affiliated cheap-labor employers in the agriculture and food industries.
The 2018 omnibus bill also denies Trump's request for explicit authority to block federal grants for cities which shield their large population of low-wage migrant workers from federal enforcement agencies.
Page 376 of terrible, rotten, no-good budget busting bill:

I found it! I found it! Border security, what President Trump wanted!

no . . .wait a minute section says Defense can spend what funds it determines to enhance the border security of Jordan, Lebanon, Egypt, and Tunisia

— Senator Rand Paul (@RandPaul) March 22, 2018
Democrats and business-first Republicans go to great lengths to protect the supply of cheap migrant labor.
In New York, for example, the city's government has declared itself a sanctuary city partly because upper-income residents and business groups are heavily dependent on the cheap labor supplied by a large percentage of the 500,000 illegal immigrants who live in the city. The huge labor force of illegals in New York has successfully kept food-industry wages extremely low, according to 2017 state data, despite the high cost of living in the city.
Nationwide, according to a February 2017 report by the Washington Post:
"In major cities, you're talking about a restaurant workforce that is maybe 75 percent foreign-born, and maybe 30 to 40 percent undocumented," said Saru Jayaraman, a labor activist and the founder of the worker group Restaurant Opportunities Center United. "The restaurant industry in major cities would absolutely collapse without immigrants."
National Public Radio reported:
Tim Zagat, founder and CEO of the Zagat Survey, says that immigrant labor, legal and otherwise, is nothing short of vital to the inner workings of most New York City restaurants.

Mr. TIM ZAGAT (Founder and CEO, Zagat): I go into the backs of restaurants all the time. In most restaurants, and I'm talking about the better restaurants, there may be one European and everybody else is from South and Central America.
California Gov. Jerry Brown defended his state's opposition to immigration enforcement, saying March 7 that enforcement agencies are "going after men, women, and children — some who have worked 10 or 20 years picking our food, washing our dishes, building houses."
In February, Oakland Mayor Libby Schaaf warned a local business association that enforcement agencies were planning to pick up numerous law-breaking migrants in the city. The businesses in the association include numerous restaurants and catering companies: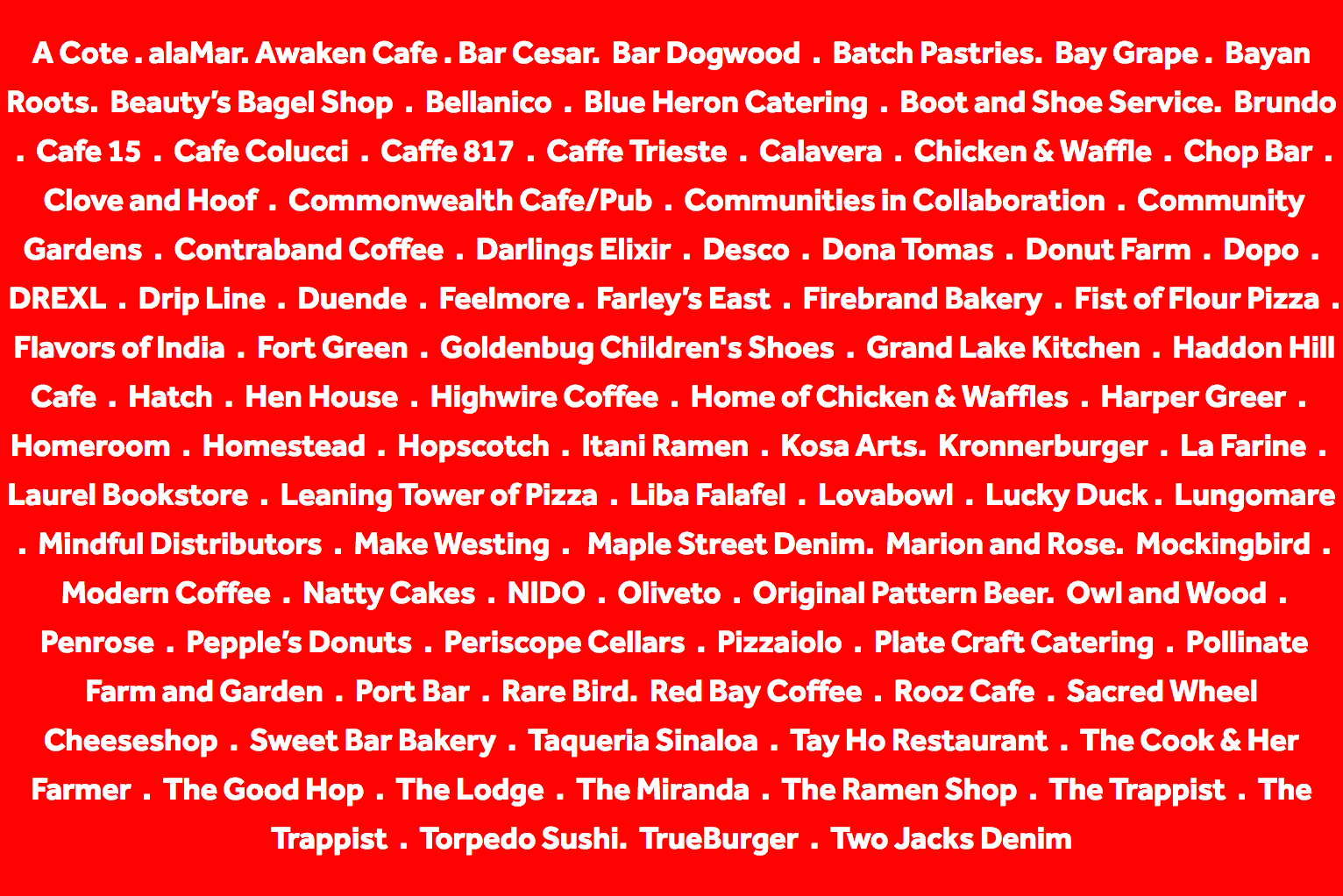 The inflow of cheap labor excludes lower-skilled Americans from jobs. In Chicago, for example, a federal investigation showed hundreds of illegals working at a bakery. Once the illegals were excluded, the bakery's management had to raise wages to attract American workers, including hundred of African-Americans.
Four million Americans turn 18 each year and begin looking for good jobs in the free market.
But the federal government inflates the supply of new labor by annually accepting roughly 1.1 million new legal immigrants, by providing work-permits to roughly 3 million resident foreigners, and by doing little to block the employment of roughly 8 million illegal immigrants.
The Washington-imposed economic policy of economic growth via mass-immigration floods the market with foreign labor, spikes profits and Wall Street values by cutting salaries for manual and skilled labor offered by blue-collar and white-collar employees. It also drives up real estate prices, widens wealth-gaps, reduces high-tech investment, increases state and local tax burdens, hurts kids' schools and college education, pushes Americans away from high-tech careers, and sidelines at least 5 million marginalized Americans and their families, including many who are now struggling with opioid addictions.