ROME — Italian interior minister Matteo Salvini said Sunday he will hold the Netherlands and the European Union (E.U.) responsible for the renegade NGO vessel Sea-Watch carrying 42 African migrants in the Mediterranean Sea.
"I have written to my corresponding Dutch minister. I am amazed that they are turning a blind eye to a boat that is flying their flag, being used by a German NGO, which has been floating in the open sea for 11 days," Salvini said on social media,
"We will hold the Dutch government and the European Union — absent and distant as usual — responsible for anything that happens to the women and men aboard the Sea-Watch," he said.
Italy has allowed a total of eleven of the migrants aboard the Sea-Watch to disembark, including two pregnant women, but denied permission for the vessel to dock in Italy. This leaves 42 people still on board the ship.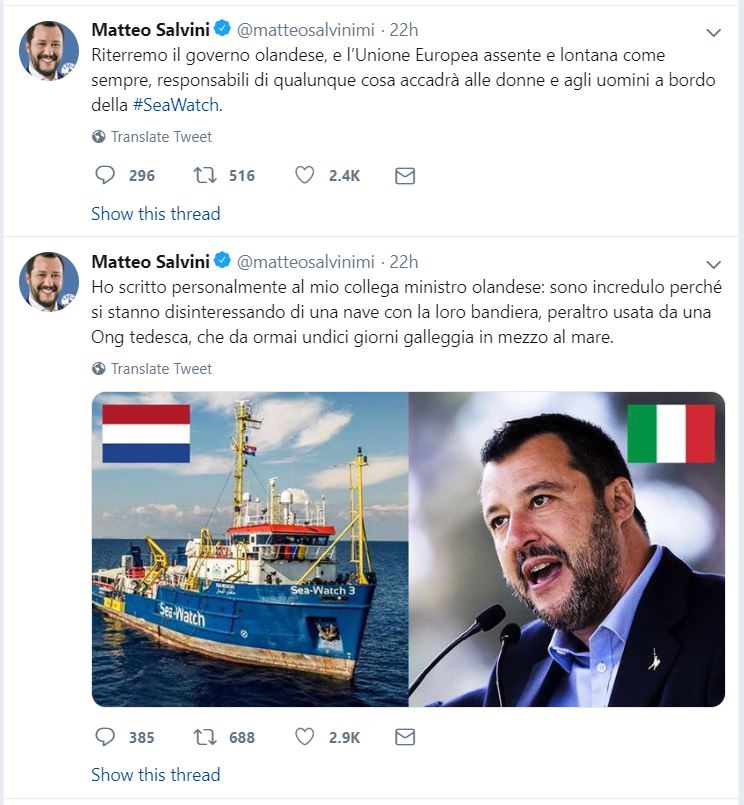 Mr. Salvini, who is also deputy prime minister and head of the League party, has steadily risen in popularity over the last year by maintaining his campaign promise to curb illegal immigration by standing up to Brussels as well as NGOs, which he said had been providing a "taxi service" for African migrants.
In 2017, Salvini described the migrant crisis as an "invasion" that was being orchestrated by Brussels, after E.U.-backed NGOs were accused of working with people smugglers.
"You can't speak about immigration any more but about an invasion organized, financed, and planned by Brussels with the complicity of Rome," Salvini said.
At that time, several NGOs and non-profit groups were under investigation for allegedly exploiting migrants and colluding with human traffickers and the Italian mafia.
Several organizations were accused of arranging to meet migrant boats just a few miles off the African coast to shuttle them to Italy and of accepting bribes from criminals.
The number of migrant sea deaths has plunged since Mr. Salvini closed Italy's ports and are now at their lowest levels since the beginning of Europe's migrant crisis.