Editor's note: The presidential nominating contests in both parties will come down to the California primary.
For Democrats, 548 delegates are at stake — 11.5% of the total. For Republicans, 172 delegates are at stage — 6.9% of the total. Of those, for Democrats, 158 (29%) are divided proportionally on a statewide basis, while 317 (58%) are divided proportionally by congressional district, with each district providing between 5 and 8 delegates. The remaining 73 (13%) are "superdelegates."
For Republicans, 13 (8%) are awarded statewide, with ten going to the candidate with the highest number of votes on a winner-take-all basis, and three going to "pre-determined" delegates (the State Chair, National Committeewoman, National Committeeman). Meanwhile, 159 (92%) are awarded by congressional district on a winner-take-all basis, with each district providing 3 delegates.
The result: a district-by-district battle in both parties, which we preview for you here.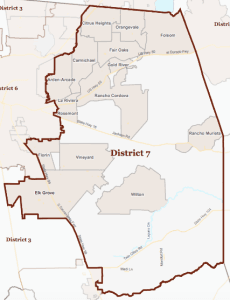 CA-07: One of the most hotly contested swing districts in the state of the California, the area currently represented by Democrat Ami Bera is not only divided between parties, but within them. Democrats want to punish Bera for his centrist policies, including resistance to Syrian refugees. Republicans have been divided among establishment and Tea Party factions. Don't let the vacation homes and bountiful farms fool you: the 7th is a battlefield and bellwether.
Prospects:
Democrats: The race will be very close between Sanders and Clinton supporters, mirroring the fight over Bera.
Clinton 3, Sanders 3
Republicans: Look for Cruz and Trump to fight it out, with Kasich possible playing spoiler for Trump in the end.
Cruz 3, Trump 0, Kasich 0
Joel B. Pollak is Senior Editor-at-Large at Breitbart News. His new e-book, Leadership Secrets of the Kings and Prophets: What the Bible's Struggles Teach Us About Today, is on sale through Amazon Kindle Direct. Follow him on Twitter at @joelpollak.