SAN DIEGO — When Colin Kaepernick arrived at Qualcomm Stadium on Thursday evening, U.S. Navy veteran J.D. McCallum was ready — with a protest sign calling out San Francisco 49ers quarterback for sitting out the national anthem.
The sign read: "COLIN, RESPECT OR LEAVE WHAT US VETERANS FOUGHT FOR."
Mccallum, a Chargers fan from Palm Springs, explained on camera to Breitbart News why he found it important to be at this game where military service members were to be honored — and where Kaepernick continued his protest against the anthem.
"I want to support our troops, me and my fellow veterans," Mccallum told Breitbart News. Kaepernick, he said, was "disrespecting our flag and everything that we fought for."
Kaepernick, who wears the #7 jersey, has been refusing to stand for the Star-Spangled Banner before football games to protest officer-involved shootings of black Americans, in solidarity with the Black Lives Matter movement.
Ahead of Thursday night's football game, earlier photographs of Kaepernick were found showing him in practice wearing his socks depicting police officers as pigs.
Mccallum told Breitbart News that he had never displayed a protest sign before coming to this Chargers-49ers game, but said that it was that important to him this nigh,t given Kaepernick's "disrespect." His daughter brought him all the way from Palm Springs to attend this game, and she was with him at the game. Friends at the senior center helped him make the sign that he brought to the game.
All current and former members of the military were asked to stand during the second quarter of the Chargers-49ers game, and were honored for their service amidst the 47,407 people in attendance.
During halftime, six veterans of the Vietnam War were specifically honored. The lights went out in the stadium, a flag was unfurled over a portion of the middle of the field, and fans held up cell phone lights.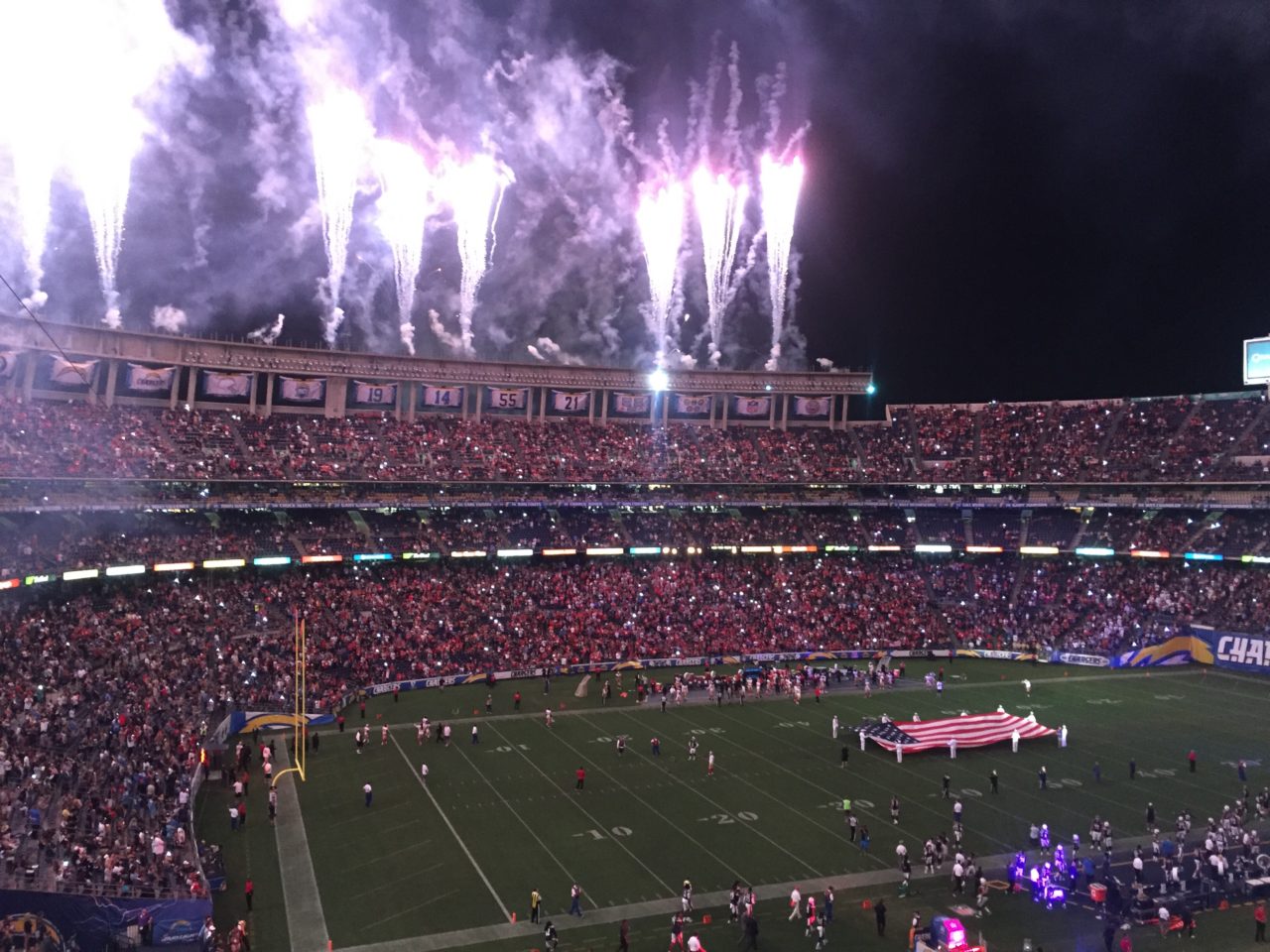 Kaepernick took to Instagram last July in response to the Alton Sterling shooting in Louisiana, posting the inflammatory words, "This is what lynchings look like in 2016!"
Last Sunday, the quarterback told reporters he will continue to sit: "When there's significant change and I feel like that flag represents what it's supposed to represent, this country is representing people the way that it's supposed to, I'll stand."
He added:
People are dying in vain because this country isn't holding their end of the bargain up, as far as giving freedom and justice, liberty to everybody. That's something that's not happening. I've seen videos, I've seen circumstances where men and women that have been in the military have come back and been treated unjustly by the country they have fought for, and have been murdered by the country they fought for, on our land. That's not right.
NFL executives, former fans, Kaepernick's own birth mother, former 49ers football star Jerry Rice, and many others have criticized the football player's protest
Kaepernick said last Sunday that he has plans to engage in more activism: "There are things that I have in the works right now that I'm working on to put together in the future and have come to fruition soon." He also had harsh words for both major party presidential candidates.
When asked, Kaepernick couldn't point to a specific issue that he wanted to see change on to mark a "success."
In the second half of Thursday night's game ,Kaepernick did remain standing for God Bless America, and clapped as it concluded.
Follow Michelle Moons on Twitter @MichelleDiana