Michael Flynn, who previously served as President Donald Trump's national security advisor, made a rare public appearance on Friday to endorse Rep. Maxine Waters' (D-CA) Republican challenger, Omar Navarro.
"What really impressed me most [about Omar] is, he scares the death out of the Democratic Party," Flynn said at the event hosted by the East Valley Republican Women's Federated Group at the Sun City Palm Desert Republic Club in La Quinta. "This young man with his background, dedication and his early public service has demonstrated a commitment to something more than he is," Flynn said.
https://www.youtube.com/watch?v=ns4zYYenKII
Friday's event was his first public appearance since he accepted a guilty plea deal for allegedly lying to the FBI.
"My guilty plea and agreement to cooperate with the Special Counsel's Office reflect a decision I made in the best interests of my family and of our country," Flynn said at the time. "I accept full responsibility for my actions."
On Friday, Flynn told the audience, "When I look at the people who are running, he's the only one that's living in the district." He added, "they've got to crate a policy or a law that if you're going to represent these people, you ought to live and breathe the air, drive in the streets, and shop at the stores that they actually have to use every day."
Navarro is the son of Mexican and Cuban immigrants, Flynn pointed out. "Omar shares legal Hispanic immigrants values in a way that his opponents do not," he added. "He is a great American, a very talented young man, assertive. He's also a Christian, he's pro-life, and he wants safer neighborhoods that aren't sanctuaries for illegal gang members."
The district Navarro is running in consists of a majority Latino and African-American population and approximately 60 percent of registered voters are Democrats.
"Thanks to Lieutenant General Michael Flynn for endorsing my campaign for congress against Low IQ Maxine Waters," Navarro wrote on his Facebook page ahead of Friday's event. "I'm excited to see him Friday for my fundraiser."
Flynn's endorsement of Navarro reaffirms his belief that he's the only candidate who can beat Waters in the upcoming election.
In November, Navarro was endorsed by several more big names at an event at the Trump National Golf Course in Rancho Palos Verdes. Roger Stone, Sheriff Joe Arpaio, comic Dan Nainan, TV host Alex Jones, former Presidential candidate Herman Cain, former Arizona Congressman Barry Goldwater, Jr., singer and songwriter Joy Villa, "Swamp People" case member T-Roy Broussard, and American radio host Larry Elder, among others.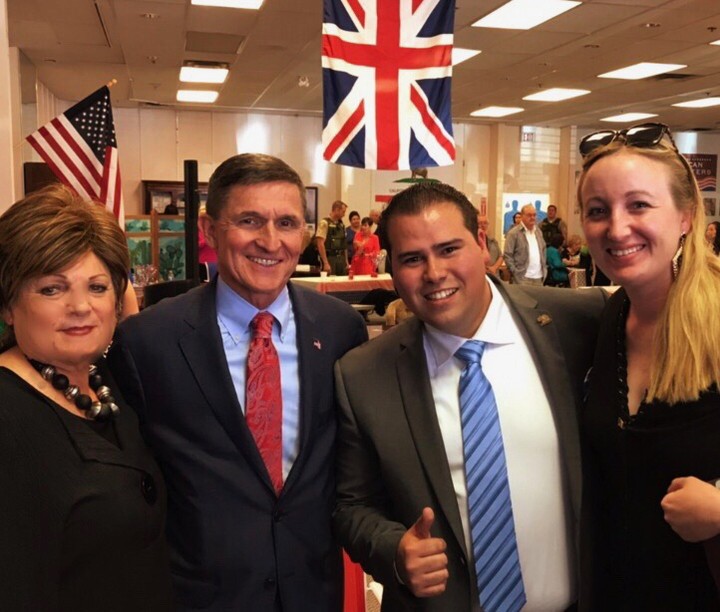 Adelle Nazarian is a politics and national security reporter for Breitbart News. Follow her on Facebook and Twitter.