The hotly anticipated 'Survivors Edition' of French magazine Charlie Hebdo sold out in record time across France this morning, with some buyers taking advantage of demand by placing their copies on eBay, demanding prices of up to £1,000 ($1,500).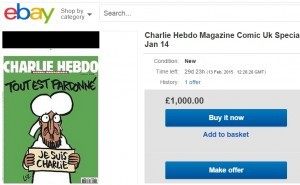 Just hours after the first copies hit new-stands across France, copies were being bought and sold on eBay. Auctions that had reached tens of thousands of pounds this morning have either been completed or cancelled by eBay management, perhaps to clamp down on fraudulent bidding artificially inflating prices.
As Charlie Hebdo continues it's print run, with the magazine hitting the press again tomorrow for a total count of five million copies, the prices may fall as editions again arrive in French newsagents, and on Thursday and Friday in the United Kingdom, Canada, and United States. Prices are more likely to grow on past editions of the magazine, which were printed in small runs of 60,000.
Copies of the last edition before the attack, which leads with a cartoon depicting French author Michel Houellebecq command the highest prices – up to £1,500.
Copies of the Infamous 'Sharia Hebdo' edition, which led to the Charlie Hebdo offices being fire-bombed in 2011 are presently commanding prices of £250, down from highs of over £500 last week.
The high prices reflect the unprecedented interest in the magazine since its offices were attacked by Islamist gunmen last week, killing twelve. Prior to the attacks, just a couple of dozen copies of the magazine were sold in the UK every week, despite London's status as France's unofficial sixth-largest city.