A number of prominent cities could be given key powers over transportation, housing planning and policing as part of a Cities Devolution Bill to be introduced in the Queen's speech next month.
The plans are expected to be laid out in a key speech in Manchester later today. The Chancellor will say the "old model" of running the country from London has caused the economy to become unbalanced and is now "broken". Osborne hopes giving greater powers to cities will reset the country to a more traditional state of affairs under which it operated before the great centralised power-grab by Westminster in the 19th and 20th centuries.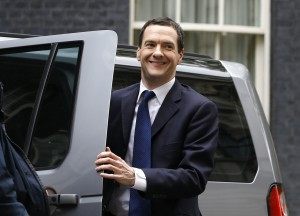 The powers will only be given to metropolitan areas and cities which agree to have elected mayors, like London and Manchester, but Osborne will insist the devolution will not be forced on any areas that didn't want it. It is hoped the plan will further erode Labour's grip on the north of England. It is likely devolved areas will also receive more powers than those being suggested today. Greater Manchester has already had control over the entire local NHS budget given to it, worth £6 billion, reports The Manchester Evening News.
In a speech leaked ahead of its delivery today, Osborne is expected to say:
 "We will deliver the devolution to Scotland and Wales we promised. But today I can tell you we will go much further and deliver radical devolution to the great cities of England.
"I say to these cities: it is time for you to take control of your own affairs. We will hand power from the centre to cities to give you greater control over your local transport, housing, skills and health care. And we'll give the levers you need to grow your local economy and make sure local people keep the rewards.
"But it's right people have a single point of accountability: someone they elect, who takes the decisions and carries the can. So with these new powers for cities must come new city-wide elected mayors who work with local councils.
"I will not impose this model on anyone. But nor will I settle for less. London has a Mayor. Greater Manchester has agreed to have a mayor as part of our Northern Powerhouse – and this new law will make that happen."
The new communities and local government secretary has already spoken out in support of the plans, telling the BBC: "These decisions – about Hull, and about Manchester, and about Leeds, and about Newcastle, and about Birmingham – should be made by the people of those great cities, who know and love their area, rather than having to troop up to London and plead for crumbs from the table.
"That is absolutely the right approach and that's exactly what we're doing. So rather than it being a new layer of government, what it's doing is taking from central government and putting it in the hands of local people".