LONDON – Serena Williams earned a spot in her 25th Grand Slam final after she defeated Maria Sharapova in straight sets. She faces Garbine Muguruza who advanced to her first Grand Slam after she routed Agnieszka Radwanska in three sets.
Muguruza defeated the 2012 Wimbledon finalist in three sets. In the first set, Muguruza played like the veteran rather than the young 21-year-old. Her game looked smooth and precise. If she had any nerves, she shook them off before the first serve. She immediately broke Radwanska, which shook the Pole's game. To make matters worse, Muguruza protected her save and never faced a break point.
The second set started off exactly like the first. Muguruza broke, saved her serve, and went up 2-0. But Radwanska woke up and smoothed her game. Eighty-six percent of her first serves went in while she broke Muguruza twice. The Spanish woman only won one more game before Radwanska cruised to an easy victory.
The Pole started off really strong in the third set. Muguruza lost six straight games, but she was not ready to give up with the prize right in front of her. Radwanska lost control of her first serves, which allowed Muguruza to break her serve. She described how she regained her composure:
Well, I think I was 6‑1, 3‑1. I was like, What? I was playing really good. I was like, Okay, wait. You're the only one that can lose this match. I just get really nervous. And I think Radwanska, you know, she was waiting for this moment. She was like, Okay, she's playing good. I'm going to wait to see if she can handle this situation. She did good. She fight. She won the second set. But I was, Okay, be calm. You're playing against Agnieszka. It's going to be a tough match. In the third, I could find a way, as in the first set, you know, play more aggressive, lose the fear to win the match.
But the dramatic match ended in the most undramatic fashion. On deuce, there were shouts to challenge the point by Muguruza. Apparently, Radwanska's box told her to challenge because they thought Muguruza's shot was out. Radwanska looked like she did not want to challenge, but she did.
"It was 50/50 call in that ball," Radwanska told the press. "I decide to challenge. Wasn't really good decision."
The call clearly showed the ball was on the line, which resulted in a match point for Muguruza, which she capitalized on. She fell to the ground after she won the point.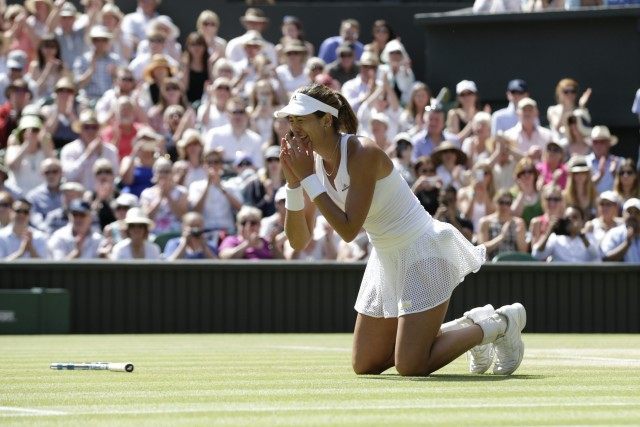 "You work all your life to achieve Grand Slam final, to be in this situation," she said. "It's like a dream, like a present after the hard work."
After she defeated Radwanska, Williams and Sharapova took the court to battle for the second spot in the Wimbledon final. It was never really a contest. The most glaring stat? Williams never faced a break point in the entire match.
Sharapova, with three double faults, gave Williams the break early in the first set. Williams never faced a break point and scored 83% of her first serve points. She looked more in control while Sharapova was a mess. She could not control her serve, throwing the ball too high. Her swings were wild with nine unforced errors. After 33 minutes, the set was over.
"I never really found myself in position to break her today," expressed Maria. "I didn't get any looks at breakpoints, so that was quite difficult."
Sharapova played a tiny bit better in the second set. More of her first serves went in. She also fought off a match point in the ninth game, which forced Williams to serve for the match. With her dominant serve, she slammed six aces and only committed one double fault. She broke Sharapova only once, but again, did not face a break point. It was almost the easiest match she had all tournament.
"You know, I never thought about it," she said when asked about her baseline rallies. "I don't think about that. I feel good when I'm in a baseline rally, because that's my game. I love rallying, running, hitting, so…. That's kind of like my strength."
Muguruza defeated Williams in the French Open in 2014. Williams remembers the defeat and knows she should not overlook her opponent.
"Yeah, well, it's definitely not an easy matchup," she said about the young Spanish player. "She actually has a win against me. We had a tough match the last time we played. And she's given me problems in the past. So this time I have to just, you know, go in it like have fun and do the best that I can, just try to stay positive and stay focused."
Muguruza and Williams play for the title on Saturday at Centre Court.