A British city has banned a number of posters promoting a new book because they feared the sardonic message could be misinterpreted and cause offence, despite there having been no complaints about them.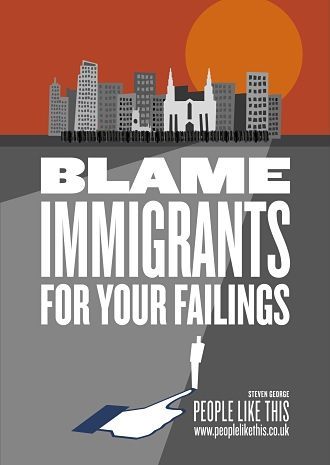 Author Steven George took out the poster campaign to promote his new book People Like This, which is set in Leeds and deals with attitudes towards immigration, life in modern Britain, and the prevalence of social media.
Remarking that the book equally satirises both the British political left and right, George told Breitbart London he felt the council had acted with a "blatant disregard for freedom of speech" and their actions was impinging on his ability to properly advertise his work.
The posters, which feature a number of stark, absurdist messages were torn down and vandalised around the city after the advertising campaign began. The posters were replaced by advertising agency Street Signs, but when they were again defaced, the Labour Party-controlled Leeds City Council got involved.
Contacting the agency directly, the council instructed the posters should no longer be replaced and any remaining should be taken down, as they were liable to be "misinterpreted or regarded as inflammatory and offensive".
When the author contacted the city council to get an explanation for the apparent ban of his posters, he was met with a stony silence. It was only after George wrote to the head of the council and made a Freedom of Information request about the nature of the complaints made about the posters did he receive a reply from the legal department.
In emails seen by Breitbart London, legal chief Mark Turnbull told Mr. George the council had acted to protect the "right to respect for private and family life" for the people of Leeds, and that on balance the risk that people might find the posters offensive outweighed his freedom of speech. Helpfully, the council officer added that the city did not recognise any right to "freedom of forum", and therefore a right to display posters at all.
In a further email, Turnbull then admitted that the council had been acting pro-actively by banning the posters, when he said: "Just to be clear, I have checked with colleagues and the Council has not received any complaints about your posters".
When contacted by Breitbart London on Tuesday, the council stood by its original decision. A Leeds City Council spokesman said:
"We requested that two specific posters about this book on advertising drums in the city be removed or not replaced, due to wording we felt could be misinterpreted or regarded as inflammatory and offensive.
"While we accept that the posters were intended to promote a book by attempting to be satirical, as a council we have a responsibility to ensure that a balance is found between the interests of the individual and community as a whole."
Follow Oliver Lane on Twitter:

Follow @Oliver_Lane

or e-mail to: olane@breitbart.com