Bookmaker Paddy Power has been given a ticking off by the Ireland's advertising standards authority over a humorous advertising campaign designed to poke fun at tennis star Andy Murray. The campaign featured a number of immigrant sportsmen, plus Murray, which was enough for the mirthless authority to deem it "offensive".
A lorry emblazoned with the slogan "Immigrants, jump in the back! (But only if you're good at sport)" was driven by the bookmaker from Dover to Calais in July, as the migrant crisis was gathering pace.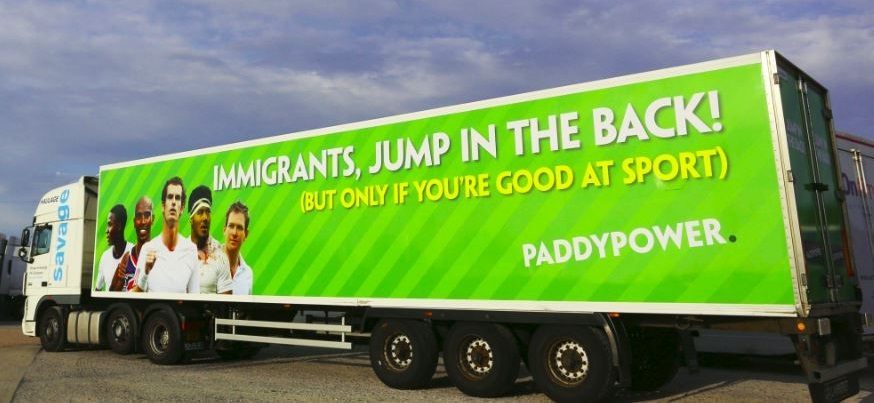 It also featured images of five sports stars: Jamaican-born England footballer Raheem Sterling, Mo Farah, who is originally from Somalia, rugby player Manu Tuilagi, who is of Samoan origin, Irish born England cricketer Eoin Morgan, and most prominently Scottish born Wimbledon champ Andy Murray.
Murray's nationality has become something of a running joke among the public, as he is often said to be British when he wins, but Scottish when he loses. The joke even spawned the 'AndyMurrayometer', a website which gave a running verdict on whether Murray was Scottish or British, depending on latest career highs and lows. In 2013, when he became the first British male to win Wimbledon for 77 years (and the first Scottish man to do so in 117 years), the site declared him 100 percent British in perpetuity.
But the bookmaker's campaign was panned on Twitter, deemed offensive and "a new low". A number of people are understood to have complained.
At the time, Paddy Power was unapologetic. "We're not commenting on the migration crisis. What we're doing is making a joke about Britain's leading sports stars, in particular Andy Murray. That's where it ends for us. We're not wading into discussions about what's going on. This is predominantly about Andy Murray's nationality," a spokesman for the company said.
"It's a bit of craic, it's a bit of fun. Listen, it's just a joke, and we're referencing the long-running joke about Andy Murray and the issue of if he's Scottish. That's all it is. It's meant to entertain. It's certainly not meant to offend. Humour is subjective."
But the Advertising Standards Authority for Ireland disagrees.
In a draft ruling by the ASAI, seen by The Guardian but yet to be approved by the organisation's complaints committee, it has deemed the Dublin based company to be in breach of no less than three sections of Ireland's advertising code: one which stipulates that campaigns must not cause general offence; one about avoiding offense on grounds including race; and a third which references sensitivity regarding diversity.
The report says that Paddy Power has defended its campaign on the grounds that the company is "edgy, humorous and engaging," and that the way the campaign was distributed, mostly through social media, meant that the intended audience would appreciate that the company was setting out to make "mischief".
But the ruling body concluded: "In this case the committee accepted that while the majority of Paddy Power followers on Social Media and Twitter would probably be aware of their 'edgy' sense of humour that it was nevertheless inappropriate for advertisers to refer to vulnerable groups, in a manner that highlighted their current high profile difficulties, in marketing communications merely to attract attention."
A Paddy Power spokesman said: "We did not design the ad to cause offence or to be insulting to immigrants, rather we were simply referencing a long-running joke regarding Andy Murray's nationality and it was just that – a joke. We regret any offence that was taken by the complainants."
Follow Donna Rachel Edmunds on Twitter:

Follow @Donna_R_E

or e-mail to: dedmunds@breitbart.com