The new cover of French magazine Charlie Hebdo sparked feigned outrage on social media with its coverage of the topic of the Brussels terror attacks.
In the first edition of the weekly magazine released since the Brussels terror attacks the satirical provocateurs at Charlie Hebdo decided to focus the magazine cover on what had happened last week.
The cover shows a picture of a famous Belgian pop star/rapper named Stromae, with body parts scattered across a Belgian flag. The caption on the picture reads in French: "Papa, where are you?" — a reference to a song of the same name by the artist that went to number one on French music charts in 2013.
Additional text reads "here", coming from the body parts as an allusion to the Brussels attacks in which high explosives were used in multiple locations killing at least 35 people and injuring 300.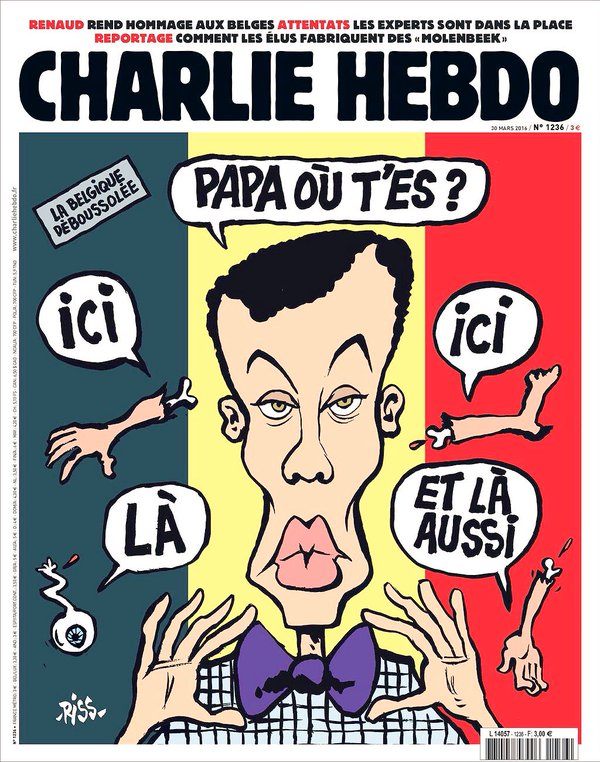 Didier Pasamonik — a publisher and historian of comics — said the cover was nothing new in an interview with French paper La Figaro. When asked for his opinion on the piece he said: "Whatever one may think, the drawing remains in the tradition of the satirical newspaper. It's a cover which clashes, which is against the current, and therefore shocking."
The artist behind the cover was the legendary Laurent "Riss" Sourisseau who has drawn many of the most notorious covers of Charlie Hebdo, including the most famous one directly after the attacks on the paper in January of 2015. Pasamonik said of Riss:
"Really, I'm not surprised about that kind of drawing coming from Riss. He himself was a victim of the attacks on the 7th of January 2015. Nothing scares him now that he has experienced death. Riss has never been kind, but here we must recognize (the attacks) radicalised his humour."
Riss and Charlie Hebdo are masters of causing controversy. As mainstream media were publishing the now famous photo of drowned child Aylan Kurdi on their front pages, Riss drew a cartoon about Kurdi wondering if he would grow up to join the large list of migrants who are committing sex attacks across Europe.
Many critics took to social media to be offended on behalf of the victims. French and Belgian social networks were abuzz with users signalling how offended they were about the cover. French media reported that Stromae's family was also apparently deeply offended because Stromae's father had been murdered in the 1994 genocide in Rwanda.
Pasamonik defended Riss' use of Stromae saying that the rapper was as much an icon of Belgium as Tin Tin. While he was sure Riss, as usual, meant to provoke, he didn't mean for the cartoon to merely seek offence. Rather like most of Riss' cartoons it's meant to provoke people into realising horrible things are going on and need to be addressed in a meaningful way. He explained:
"This shocking picture intends to remove us from taboos and from political correctness. This image takes us out of the video game in which we have fled. The war is not virtual but real. Events in Brussels remind us that this is the case. Actually, Charlie confronts us with our contradictions. If it shocks us, then it is good. It means that one is always able to respond."