TEL AVIV – A prominent U.S.-based Jewish human rights group slammed Amazon Germany's promotion of a book entitled "The Rothschilds: A Family that Controls the World" as an "outrage."
The Simon Wiesenthal Center's France-based director for international relations, Dr. Shimon Samuels, said in a letter to Amazon CEO Jeff Bezos that promoting the "anti-Semitic" book was a violation of Amazon's own regulations.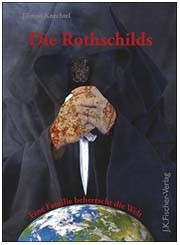 "This blood libel could have been drawn from the ravings of Hitler to the genocidal charter of Hamas."
Samuels told Bezos, "For the last 12 years, we have monitored the Frankfurt Book Fair and their Arab counterparts, identifying books such as 'The Rothschilds' on the display stands. In most cases, the Frankfurt authorities will confiscate those we expose on grounds of violating the contract (and in many cases German law) between the publisher and the Fair — that contract explicitly prohibits fomenting hate and violence."
Samuels went on to urge Bezos "to follow that principle, whether through Amazon.com, Amazon.de or any part of your constellation. Amazon must not serve as a fig leaf for conspiracy theories or defamatory incitement that endangers us all."
The cover of the book features a shrouded figure plunging a dagger into a globe.
An excerpt from the Amazon review describes the book thus:
Far from adventurous conspiracy theories, this book identifies the Rothschild family as the core of a worldwide conspiracy of high finance, whose control network, like a Kraken's arms [both a horrifying monster and a currency exchange], are wrapped around the whole globe squeezing ever closer together. They systematically create crises with which they can further expand their power. The blood of all the great wars has been clinging to their hands since the beginning of the French Revolution. They proved their inhuman contempt by financing the National Socialists and sending millions of their own religious community to their death. But their blood thirst is far from being satisfied: their goal is an all-destroying Third World War and a world government controlled from Jerusalem.