Vile death threats were made against a Jewish gym owner in Melbourne, Australia after he slammed terrorist attacks performed by Islamic militants against Christians.
Avi Yemini, a former sharpshooter for the Israeli Defence Forces, posted a video to Facebook on Saturday where he took on the terrorist groups wreaking havoc on Christians in Egypt and the Philippines. He added that Ramadan is fast becoming "the month of Jihad", according to the MailOnline.
In response, he was sent a Facebook message by a man from the Sydney suburb of Parramatta who said he was ready to meet Yemeni and fight him over his beliefs. See the exchange below: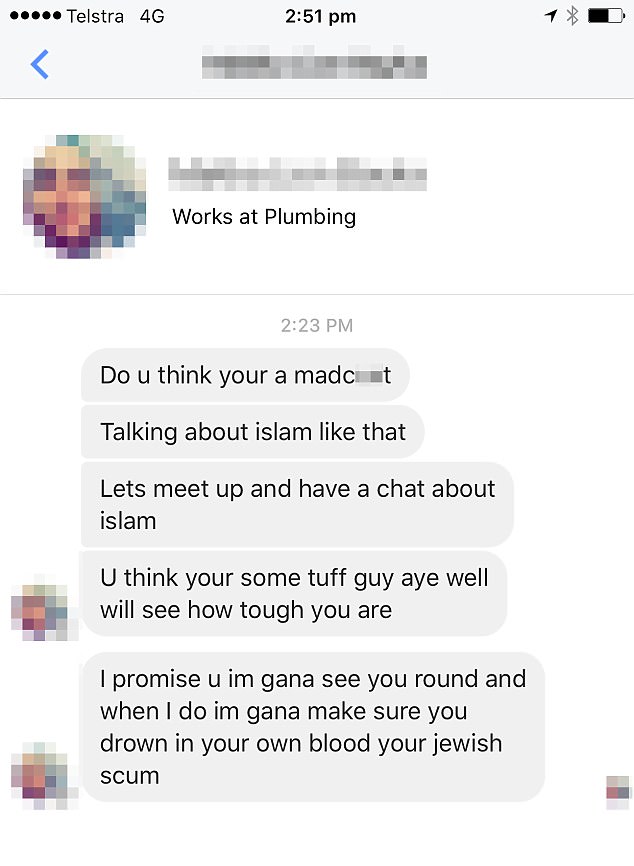 "Do you think your [sic] a mad c***. Talking about Islam like that," the message began.
"Let's meet up and have a chat about Islam. U [sic] think your [sic] some tuff [sic] guy aye well [we] will see how tough you are.
"I promise u [sic] I'm gana [sic] see you round and when I do I'm gana [sic] make sure you drown in your own blood your [sic] Jewish scum".
Yemini teaches the IDF martial art, Krav Maga, at his gym and has made a name for himself as a staunchly pro-Israel advocate. He told the Mail the message proved a point he has long making against the actions of radical Islamic terrorist.
"He's clearly not too happy, but he's kind of proved my point," he said. "You can scream and shout that you're part of a religion of peace, but in the same sentence you threaten you're going to murder someone.
"For any religious man to sit behind a computer and think it's okay to talk about murdering someone else, it's mind boggling."
Yemini said that he forwarded the threatening message to Victoria state police, but holds little hope for a resolution on the matter. This follows the response to a similar threatening phone call in March he passed that met with no response from authorities.
"I've forwarded it all through to the police," he said, adding "I just hope [the people threatening me] don't shoot me in the meantime."
Follow Simon Kent on Twitter:

Follow @SunSimonKent

or e-mail to: skent@breitbart.com