TEL AVIV — A Palestinian assailant wounded one Israeli soldier in an attempted car-ramming and stabbing attack outside the West Bank settlement of Tekoa, northeast of Hebron.
The attack comes three days after the United Nations Educational, Scientific and Cultural Organization (UNESCO) on Friday declared the Tomb of the Patriarchs – considered the second holiest site in Judaism after the Temple Mount – a Palestinian world heritage site in danger.
Besides the tomb, UNESCO's World Heritage List also declared the City of Hebron a danger site located in the "State of Palestine," even though no such state exists.
Hebron's Tomb of the Patriarchs is believed to be the resting place of the biblical patriarchs and matriarchs Abraham, Isaac, Jacob, Sarah, Rebecca and Leah. Rachel is believed to be buried in Bethlehem.
On Monday, an Israeli soldier suffered light wounds in the Palestinian terrorist attack at a junction just outside of Tekoa. Israeli forces shot and killed the terrorist at the scene.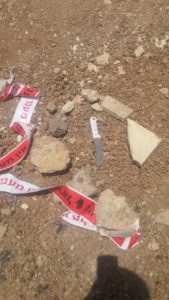 The Israel Defense Forces (IDF) released the following information:
A Palestinian assailant attempted a car ramming attack at a junction in Tekoa, northeast of Hebron. He then exited the vehicle, armed with a knife, and attempted to stab IDF soldiers standing nearby.

An IDF soldier was lightly injured in this incident and is receiving medical treatment in the hospital. In response to the immediate threat, forces fired towards the assailant, who died.
The IDF released a picture of the knife used by the Palestinian terrorist  (at right).
The Times of Israel has more on the attack:
According to Magen David Adom, the soldier was not hit by the vehicle but was instead injured by a streetlight that fell on him after it was hit by the driver. The soldier sustained wounds to his arms and legs.

He was taken to Jerusalem's Shaare Zedek Medical Center for treatment.

According to a hospital spokesperson, the soldier's main injuries were to his right knee and right forearm. He was fully conscious.
Aaron Klein is Breitbart's Jerusalem bureau chief and senior investigative reporter. He is a New York Times bestselling author and hosts the popular weekend talk radio program, "Aaron Klein Investigative Radio." Follow him on Twitter @AaronKleinShow. Follow him on Facebook.