TEL AVIV – Iran is constructing a weapons factory for long-range rockets in northwest Syria, Israeli media reported Tuesday.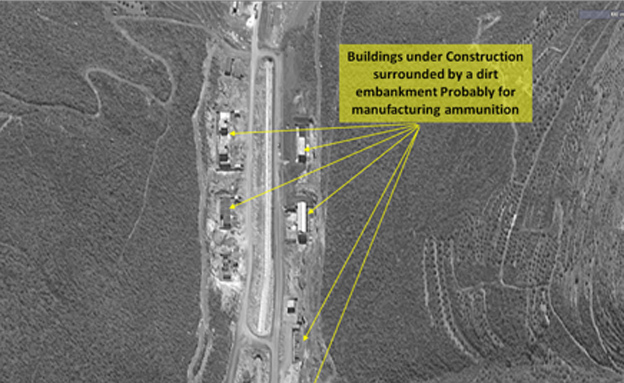 Satellite images of the alleged Iranian weapons factory in Syria (Channel 2)
The report came after warnings from Prime Minister Benjamin Netanyahu that Tehran was bolstering its presence in Syria and that Israel would respond strongly to any threat posed by the Iranian regime.
"Our policy is clear: We vehemently oppose the military buildup by Iran and its proxies, primarily Hezbollah, in Syria and we will do whatever it takes to protect Israel's security," he said.
The report showed images taken by an Israeli satellite of a facility said to be storing explosives near the Syrian coastal town of Baniyas.
Images of a rocket factory near Tehran were shown side by side with the Syrian images with the similarities evident.
Last month, the U.S. announced new sanctions against Iran for what Treasury Secretary Steven Mnuchin described as "malign activity."
Mnuchin said the sanctions would "send a strong signal that the United States cannot and will not tolerate Iran's provocative and destabilizing behavior" and stressed that Iran would be pressured to stop both ballistic missile research and deploying the Iranian Revolutionary Guard Corps to destabilize other countries in the region.
On Thursday, President Donald Trump said Iran was not keeping up its end of the nuclear deal inked under the Obama administration.
"I don't think they're living up to the spirit of the agreement," Trump told reporters at his private golf club in Bedminster, New Jersey.
"They are not in compliance with the agreement, and they certainly are not in the spirit of the agreement in compliance, and I think you'll see some very strong things taking place if they don't get themselves in compliance," added the president.