UK Labour Party leader Jeremy Corbyn's poor response to anti-Semitism charges and his "hostility" to the Jewish community has led to the Israeli Labor Party cutting all ties with its British counterpart.
Avi Gabbay, the chairman of the Israeli Labor Party, made the announcement in a letter sent to Mr. Corbyn's office. He informed the Labour leader of a "temporary suspension of all formal relations" due to the bigotry exhibited by the hard-left party since Mr. Corbyn assumed the leadership.
He wrote: "It is my responsibility to acknowledge the hostility that you have shown to the Jewish community and the anti-Semitic statements and actions you have allowed as Leader of the Labour Party UK.
"This is in addition to your very public hatred of the policies of the Government of the State of Israel, many of which regard the security of our citizens and actions of our soldiers – policies where the opposition and coalition in Israel are aligned."
Mr. Gabbay said in his letter that Israel was reminded of the horrors of anti-Semitism in Europe as it approached Holocaust and Heroism Remembrance Day this week.
He then added: "While there are many areas where our respective parties can and will cooperate, we cannot retain relations with you, Leader of Labour Party UK, while you fail to adequately address the anti-Semitism within Labour Party UK."
The full text appears below: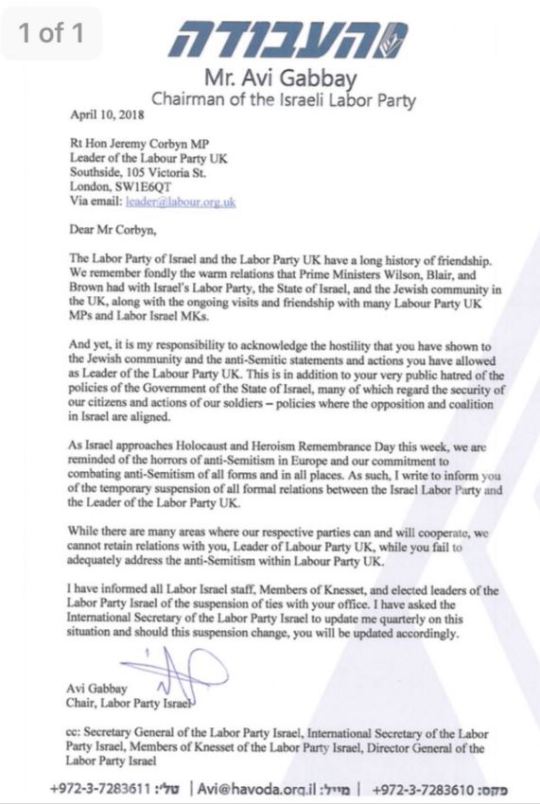 Mr. Gabbay has subsequently ordered his MPs and staff to cut contact with Mr. Corbyn and his office.
Just last week, Corbyn attended a Passover seder organized by the far-left Jewdas, which routinely calls for Israel's destruction. Over the weekend, he called for a review of arms sales to Israel because of its "illegal and inhumane" actions against Palestinians.
Mr. Corbyn's deafness to accusations of anti-Semitism in his party is being noticed in the broader electorate.
A new poll has found that more than half of voters think Labour has an anti-Semitism problem and over a third think Mr. Corbyn is himself anti-Semitic.
Almost 51 percent also think Labour has at least pockets of anti-Semitism, and 34 percent think those pockets include the leader.
Follow Simon Kent on Twitter:

Follow @SunSimonKent

or e-mail to: skent@breitbart.com