One company is offering $230 for a day's unskilled manual labor. Another company is seeking drivers for roughly $25 an hour. Line cooks are being offered $14 an hour, security people are being offered $25 an hour, and janitors are being offered $15 an hour.
That's what a national labor shortage is doing to the wallets of young voters in Minneapolis, Minn., as Super Bowl LII vendors compete for the unskilled workers they need during the football game.
The resulting political question is simple: Will this local trend spread across the United States before the elections in November, boosting political support for President Donald Trump? Or will Trump and GOP's business-first wing squash the pending national wage surge by creating an amnesty which delivers millions of extra workers to companies?
The imported workers might be offered to business in next Tuesday's State of the Union speech, where Trump may unveil a new "Phase 2" amnesty for the estimated population of 8 million employed illegals. Any promise to legalize 8 million illegal workers would instantly ice down Americans' wages because it would assure executives that they can mollify American workers with temporary bonuses pending the arrival of more imported workers on top of the 1 million legal immigrants each year.
In Minneapolis, the Star Tribune reported:
The Bullseye Event Group, which is hosting an event called the "Players Tailgate" a couple blocks from U.S. Bank Stadium, posted on Craigslist last week looking for up to 32 dishwashers, food passers, and bussers, offering $15 per hour for six- to eight-hour shifts. NFL players and celebrity chefs such as Guy Fieri will host people inside a tent on 3rd Street.

Karin Gorman, head of operations for Bullseye, said she's never had to post to Craigslist before in 30 years of organizing Super Bowl parties. The Super Bowl host committee has been good to work with, she said, and the permitting process with the city has been the best she's experienced. But finding staff for the event has been a battle, Gorman said … Staffing agencies are quoting her prices that are twice as high — up to $50 an hour — as what she usually sees.
A state database says Minnesota food workers normally earn $10.05 an hour, while janitors earn $13.65 an hour.
Another company, S.A.F.E. Management, posted an online ad seeking security people for roughly $21 an hour.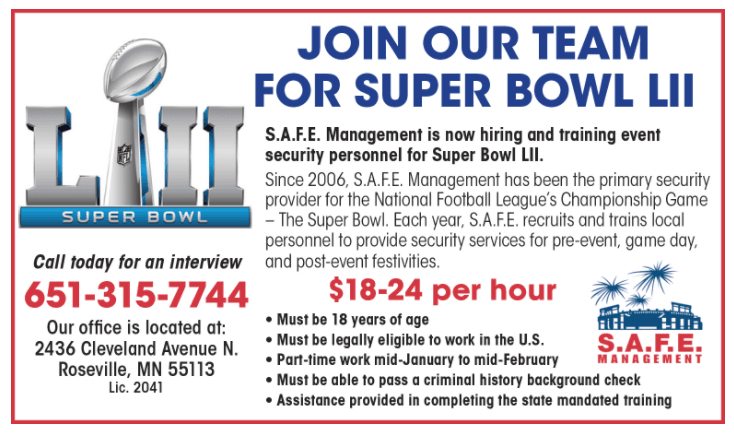 So far, Minneapolis' bidding-war in a tight labor market is an exception, even as CEOs nationwide complain heatedly about a shortage of cheap workers. Wages are going up at WalMart, Starbucks and JPMorgan Chase bank, but for most workers, wages won't start rising until a hot market suddenly starts boiling and the resulting steam pressure drives up wages as companies compete with each other for workers.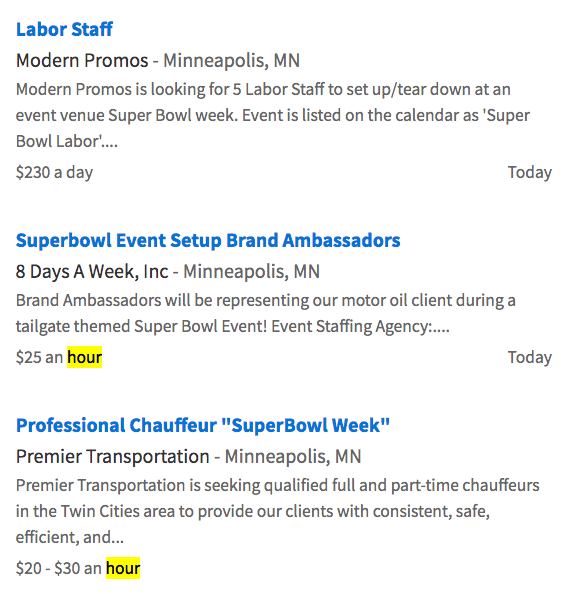 That hot-to-steam change has not happened outside the Super Bowl market — but Donald Trump's policies can make it more or less likely to happen in the next ten months before election day.
Whatever policies Trump adopts, he can't change the fact that 4 million young Americans enter the workforce each year.
But he can reduce the volume of imported cheap workers who cool the labor market, freeze Americans' wages, drive up profits and spike stock values.
Under current laws, young Americans must look for jobs in a labor market flooded each year by the roughly 1.1 million legal immigrants (which means roughly 800,000 working immigrants) who are brought into the United States by the federal government's economic policy of mass immigration.
Trump's "Buy American, Hire American" policy is cutting the supply of imported workers.
He is pushing Democrats (and the business-first Republicans) to cut chain migration and the visa lottery. That would cut legal immigration numbers by roughly a third, to around 750,000 a year. In turn, that would chop the legal worker supply by roughly 250,000 a year or 6 percent — and would force employers to raise wages and hire sidelined American workers.

The border wall and legal reforms, if fully successful, would block roughly 250,000 new illegal workers each year.

Trump has already killed off the Trans-Pacific Partnership which would have allowed American companies to import a huge volume of Asian workers at very cheap wages.

He is constricting several guest-workers programs such as the H-1B program, and has announced an end to the 690,000-strong 'DACA' amnesty.
That DACA amnesty was supposed to fade out by roughly 1,000 people a day after March 5. But a West Coast judge ordered Trump to revive the program, so it may expire suddenly in June once the Supreme Court announces its review of the judge's order. If the DACA program goes down in June, the labor shock may release a nationwide surge in wages for voters in the last few months before the November elections.
But Trump may also use his State of the Union speech to offer an immigration policy which would radically expand the number of workers — and thus flash-freeze the higher wages sought by Americans.
On Thursday and Friday, Washington expects officials to start leaking parts of Trump's amnesty-and-immigration "framework," developed for his pending State of the Union speech.
To assess the impact of the Trump's framework, "look at the specifics," urged Mark Krikorian, director of the Center for Immigration Studies. He continued:
What is the size of the amnesty that they are suggesting? Are they talking just about peope who have DACA work permits like in the [Rep. Bob] Goodlatte bill, or are they expanding that definition as Marc Short suggested up to 1.2 million?

Second, what does border security means? Is it a very narrow definition where they get some money for wall-building or a broader definition that address asylum fraud which drives [illegal] traffic at the border.

The third thing is whether this proposal actually eliminates the chain categories and the visa lottery, or is it a deceptive effort along the lines that [Sen. Lindsey] Graham and [Sen. Dick [Durbin] tried … to reallocate the visas so they to pretend to end it, they don't really end it …

Also, watch in the State of the Union [speech to see] has the president abandoned the idea that he brought up during the [January 9] televised meeting of a two-phase thing, where resolving the DACA is just Phase 1 [to be followed by a much bigger amnesty in a 'Phase 2']. I assume that [idea] is kaput, but I can see that being rhetorically added.
Some GOP leaders are cheering for higher wages. Rep Raul Labrador — the co-author of Goodlatte's "Securing America's Future Act"  — say the proposal will also help raise wages. "We need higher wages — that is the most important thing," he told Breitbart January 12.
As the wages raises creep closer, the amnesty push by business groups is growing more desperate.
GOP Sen. Lindsey Graham, for example, told uncomprehending reporters that he is still pushing for a huge cheap-labor amnesty, despite repeated defeat and rebuffs by Trump and his deputies. He said January 21:
We need more legal immigration … I don't want green cards just for computer engineers. If you are out there working in the fields, if you are a construction worker, I want some of those people to have a way to stay here, because if you are running a business and you have a guest worker who is really good, and would add value to our country, I want them to have a chance to get a green card. I just don't want to be a country in the future of just computer engineers or high-tech people.
White-collar business groups see the cuts in legal immigration as a bigger threat to their profits than the fate of the 690,000 DACA illegal immigrants. For example, the FWD.us lobby group, formed by information-technology investors such as Bill Gates and Mark Zuckerberg, is urging reporters to focus on Trump's popular cuts in legal immigration:
Coverage of POTUS's coming immigration proposal is radically missing the mark. The President has rejected 3 bipartisan overtures. And Cotton even is totally fine with citizenship for the folks from DACA. Citizenship is the shiny object. Substance is massive legal immigration cuts

— Todd Schulte (@TheToddSchulte) January 25, 2018
Amid the furor, Trump has shown little interest in rising wages. He is far more concerned about the number of jobs and the extra income for investors generated on Wall Street. On January 24, for example, he told a meeting of mayors:
We've gained in market value, in the stock market, $8 trillion since Election Day.  I mean, that's something that's pretty amazing — $8 trillion.  And set every record in doing it.  Most days, where we had new records — you know, our stock market, I think, since election, it was 82 or 84 times where we set a new record for the stock market.
Trump is also watching companies offer one-time bonuses and the equivalent of toaster ovens to their workers instead of permanent raises. He told the mayors:
More than two million American workers have already received tax cut bonuses from their employers all because of our incredible tax cut bill.  And I must tell you, this has worked far greater — because nobody thought in terms of the companies coming out and paying $1,000; and $2,000; and $2,500 per employee.  They have hundreds of thousands of employees in some cases …

And Kellyanne [Conway], we never used to talk about that because it wasn't really in the realm of thinking.  And it's turned out to be, really, an avalanche.  And it's been a beautiful thing to watch.  People are walking away with $1,000 and $2,000, and much more.
Trump showed the mayors he is watching for jobs:
We have created nearly 2.4 million jobs since the election.  Nobody thought that was going to be happening, right?

The unemployment rate is at, now, an 18-year low … African American unemployment is at its lowest rate ever recorded.  That's not bad. Unemployment for women is at its lowest rate in 17 years, and that's going to be a very new standard very soon. And Hispanic American unemployment, like African American unemployment, is at the lowest rate ever recorded.  That's a long time.
But he doesn't appear to be tracking wages — they did not get a mention in his speech to the mayors.
In a January 14 interview with the Wall Street Journal, Trump even talked about opening up the floodgates to allow more foreign workers to reduce job pressure in his growing economy.
WSJ: Is there a possibility that Donald Trump could sign a comprehensive immigration bill which would provide a path to legal status, citizenship for 11 million people who are here illegally?

Mr. Trump: Well, I'm not talking amnesty at all. I'm not talking amnesty at all, that's the other thing. No, I think my base is with me. My base feels that these 800 thousand young people should not be thrown out of the country, OK? My base is with me and now I you know; and I think my base actually gets bigger.

And I'm not doing it because of the base or anything else, I'm doing it from the standpoint of heart, I'm doing it from the standpoint of common sense. I'm doing it from another standpoint too. You have a lot of people of those 800, they work hard, they have jobs. We need workers in this country; we need people to come in and work because I have a lot of companies moving in …

We need people so we have to be a little bit flexible. I don't want to be so—I've had another pledge that I'm going to move companies back into this country. I don't want to make it so tough that they can't come back in. Would you say that's a correct statement, Gary, we have to have people.

[Economic advisor] Gary Cohn: Yeah.

WSJ: So when you say you have to have people, clearly there's the 800,000 'Dreamers,' but there's also the larger group of people who are currently in the country… When—on Tuesday you said that you supported the idea of signing comprehensive immigration reform…

Mr. Trump: No, no I support the idea of discussing it. And, maybe, it's possible to get it. You know, that's what I do, I make deals.
Four million Americans turn 18 each year and begin looking for good jobs in the free market.
But the federal government inflates the supply of new labor by annually accepting roughly 1.1 million new legal immigrants, by providing work-permits to roughly 3 million resident foreigners, and by doing little to block the employment of roughly 8 million illegal immigrants.
The Washington-imposed economic policy of economic growth via mass-immigration floods the market with foreign labor, spikes profits and Wall Street values by cutting salaries for manual and skilled labor offered by blue-collar and white-collar employees. It also drives up real estate prices, widens wealth-gaps, reduces high-tech investment, increases state and local tax burdens, hurts kids' schools and college education, pushes Americans away from high-tech careers, and sidelines at least 5 million marginalized Americans and their families, including many who are now struggling with opioid addictions.

The cheap-labor policy has also reduced investment and job creation in many interior states because the coastal cities have a surplus of imported labor. For example, almost 27 percent of zip codes in Missouri had fewer jobs or businesses in 2015 than in 2000, according to a new report by the Economic Innovation Group. In Kansas, almost 29 percent of zip codes had fewer jobs and businesses in 2015 compared to 2000, which was a two-decade period of massive cheap-labor immigration.
Because of the successful cheap-labor strategy, wages for men have remained flat since 1973, and a large percentage of the nation's annual income has shifted to investors and away from employees.