A Gallup poll shows a very mixed reaction by Americans to the GOP tax cut, creating another November problem for the establishment wing of the GOP.
"Republicans have been increasingly more positive about their federal income taxes since [President Donald] Trump took office last year … [but] independents' and Democrats' views have not changed much," Gallup reported April 16 about its survey of 1,015 adults, which was conducted early April.
That's bad news for the GOP leadership, which is hoping that the tax benefits will spike turnout by GOP voters, help with independents and mute Democratic opposition. Without strong voter support for the tax bill, beleaguered GOP legislators will be pressured to find other issues to champion, such as President Donald Trump's successful low-immigration/high-wage platform.
The Gallup survey noted:
The poll finds no change in Americans' reaction to the [tax] law since the last update in February, with 39% saying they approve of it, and little improved over Gallup's initial post-passage reading in January, when 33% approved. The majority, 52%, disapprove of the law.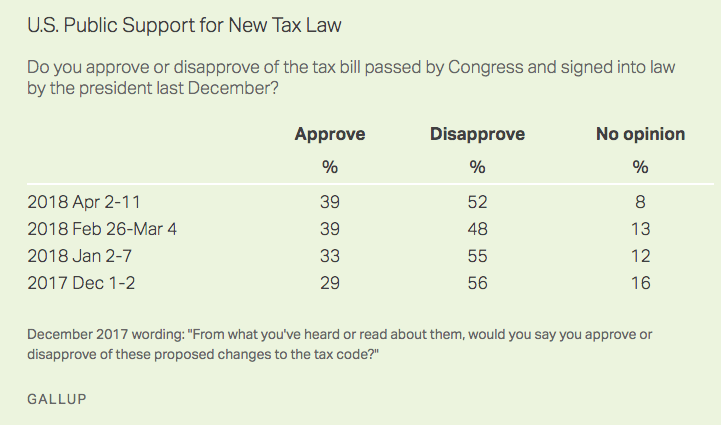 But there was some good news:
Naturally, support for the law differs by party as 78% of Republicans versus 36% of independents and 15% of Democrats approve of it. Republicans broad support conforms to their lower belief that their own taxes are too high.

…
Eleven percent of independent voters told Gallup that the tax bill has raised their taxes, 13 percent say it dropped their taxes, and 62 percent were unsure or declined to answer.
Among Republican voters, 6 percent said their taxes have gone up, 28 said their taxes went down and 56 percent are unsure.
The survey reported the most positive results for middle-class people amid optimistic responses from Republicans and independents:
The proportion of Americans saying middle-income people pay their fair share rose this year from 40% to 51%. The percentage saying middle-income people pay too much dropped concomitantly from 51% to 42%.
Tax cuts for corporations didn't win the GOP any favors, according to Gallup. "Now, while the majority of Americans continue to say corporations pay too little, the percentage saying "fair share" has edged up by five percentage points.," the survey said.